We know that there's delight in the details. Defining modern T&E management is part of a constant evolution and our teams work on updates and improvements much in the same way that an artist consistently works at their craft.
In this monthly blog post, we'll be highlighting the new features and functionality that are now live on the TripActions platform. Our latest three innovations are especially important to the executive and administrative assistants who are relying on TripActions now more than ever to help protect their travelers while delivering a best-in-class experience as they get back out on the road. We're consistently seeing that C-level executives are the first to travel in their companies and their EAs need access to the most up-to-date-information and services to ensure the trip is smooth and safe. Each new feature is designed to make T&E management more efficient for executive and administrative assistants.
New International Travel Information
TripActions recently introduced an integration with Sherpa, allowing travelers easy access to relevant information for international travel. It is available to all users directly in the main search from the app. Through the integration, TripActions users gain access to:
International travel restrictions in a centralized placed before booking travel
Visa requirements based on destination and traveler passport type
Mandated health procedures/documentation required upon entry
Quarantine and mask requirements upon arrival
The ability to apply for and purchase a visa from the TripActions platform, powered and supported by Sherpa
Now you can check your executives' trip right in the TripActions app to find out what exactly they need and what they can expect upon arrival to their international destination:
Global Black Car Service
TripActions users now have self-serve access to world-class black car service providers directly in the TripActions app. Through our new partnership with Groundspan, users can book pre-vetted, professional drivers from more than 5,000 global vendors. Travel managers and finance leaders can now achieve consolidated reporting on this important travel segment and have the control to offer black car service based on traveler policy buckets: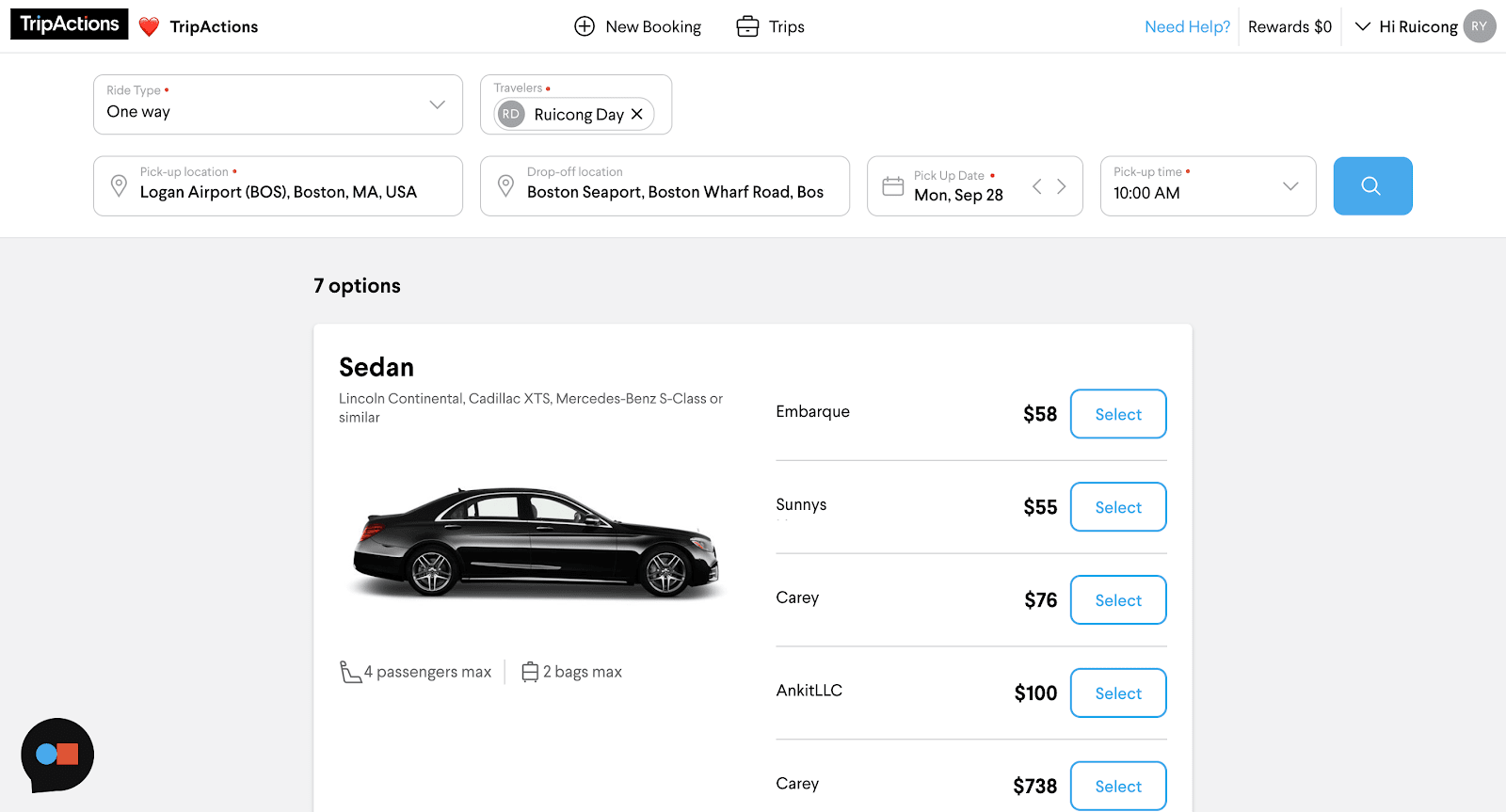 New Flight Holds
A flight hold allows TripActions users to reserve space on a specific flight without having to complete the purchase at the time of hold. They are commonly used by executive and administrative assistants, as well as road warriors who might be:
Searching multiple flight options but not yet ready to make a purchase
Waiting for trip confirmation before purchasing a ticket on a flight with limited space
Save a spot on routes that have limited flights due to COVID19
A few details to know:
There's no fee to hold a flight on TripActions
The length of hold is dependent on the airline
A flight hold does not lock in the price, it ensures a traveler will have a seat by reserving 1 of the remaining tickets for a set time period
Flight holds work for all booking types, including through our newest offering Trip Proposals
To hold a flight, all you need to do is click the "Hold for [time]" button on the Checkout page. A notification email will be sent once the hold is confirmed, as well as 12 hours and 3 hours prior to the expiration time. To ensure you have easy access, flight holds can be found in the main search screen and you'll be able to purchase or release these flights with just a few clicks. Want to share these great new features with your executive or colleague? Download this PDF.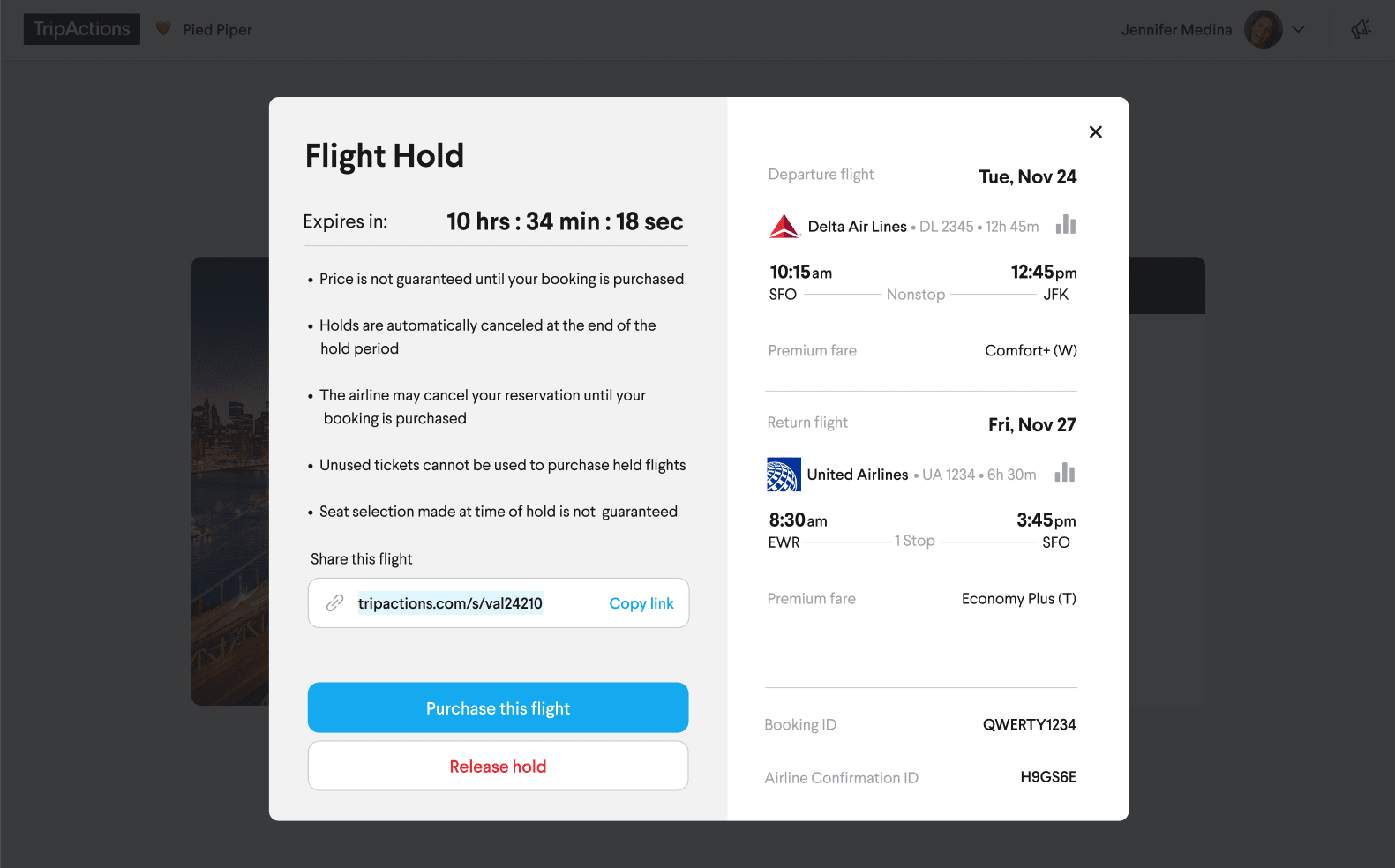 These specific product updates are part of our constant evolution to bring our users the most innovative and comprehensive T&E management platform in the world. While we believe deeply in getting the details right, we also know that change happens at scale when you think big. Learn about how we're putting an end to expense reports forever with TripActions Liquid™ here.