Business Travel Is a Strategic Lever for Growth
TripActions partnered with Skift to understand the role that business travel plays in company decision-making and business growth worldwide -- especially as business travel often accounts for as much as ten percent of an organization's annual budget. As a result, The State of Business Travel 2020 analyzes the attitudes and opinions of corporate travel managers and business travelers from around the world.
More than 78 percent of survey respondents were based in the United States, another 10 percent of respondents were based in Europe, and a little more than three percent were from Asia. Nearly half of respondents worked at small- and medium-size enterprise companies while the others worked at larger, enterprise-scale companies with 2,000+ employees.


Business Travel as a Strategic Lever for Growth
More than 90$ of respondents -- including business travelers and corporate travel managers -- agreed or strongly agreed that business travel is important for driving company growth. Business travelers and travel managers were mostly aligned on the reasons for work trips. For corporate travel managers, the most important reason for business travel was to close a deal. More than 50% of travel managers noted "closing a deal" as the top reason for business travel, followed by 40% agreeing that "establishing new business relationships" is a very important reason for work trips.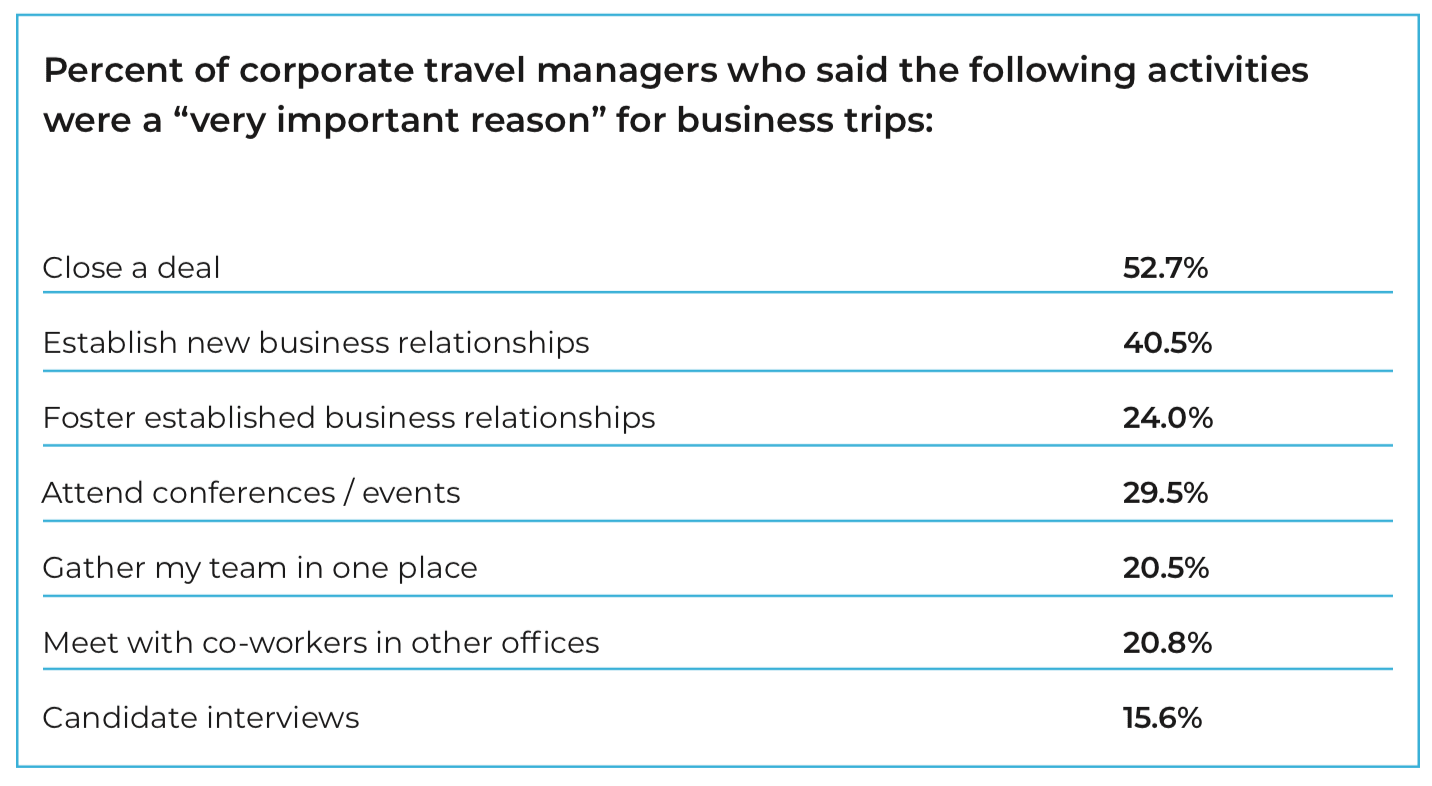 For business travelers, the most important reason was fostering established business relationships. Forty-six percent of business travelers cited their number one reason for work trips is to "foster established business relationships" while nearly 39% also noted "establishing new business relationships" as a very important reason for travel.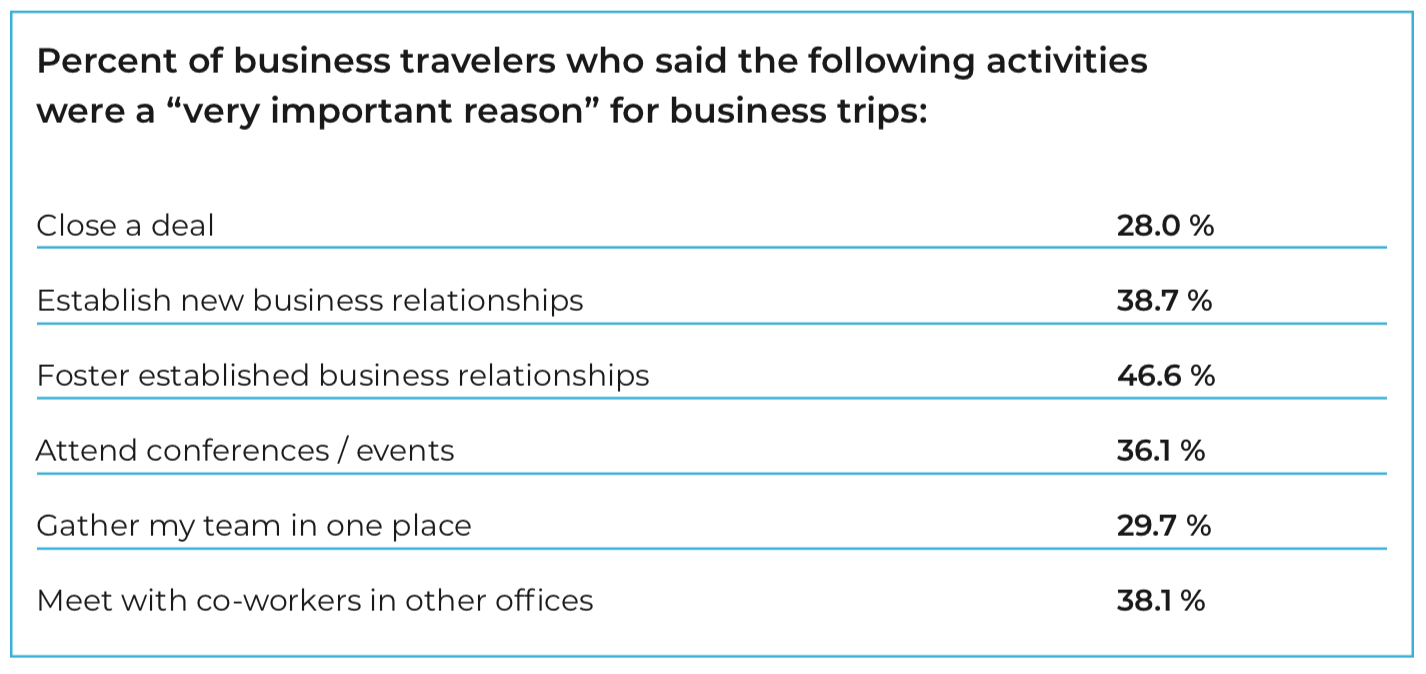 This slight difference in perception between business travelers and corporate travel managers is likely due to the breadth of roles held by business traveler respondents including those outside of sales roles. One-third of business travelers surveyed reported traveling more than 16 times per year for work.
These figures make one thing clear: being there in person is powerful. It enables employees to build relationships, close deals, and drive growth.
In-Person Connections in a Digital World
Business travel continues to have significant value in an era of increasing digital connectivity.
Even as virtual meeting options like video conferencing and the omnipresence of online chat tools become more prominent in businesses of every size, survey respondents were unanimous in their belief that in-person meetings continue to serve an important purpose.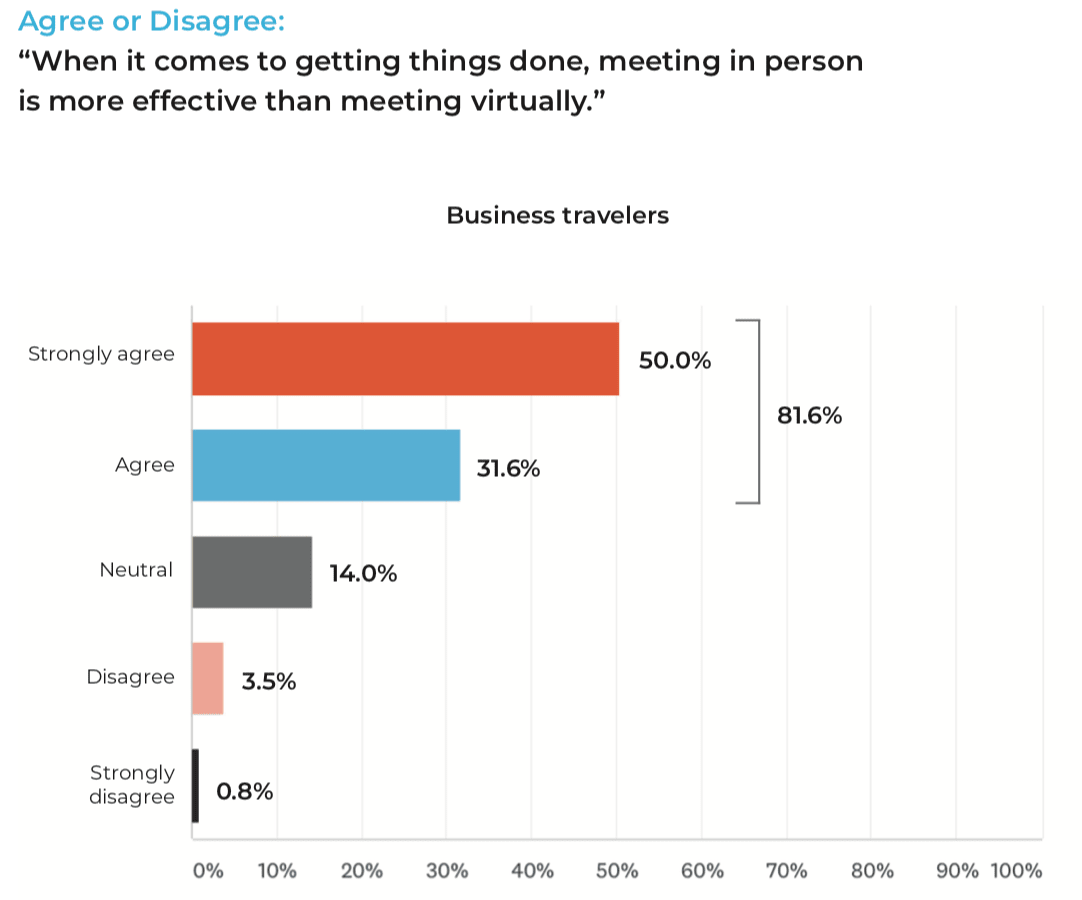 "For my job it's pretty critical," said Mike Ramirez, director of enterprise sales for software firm Looker, told Skift. "Selling into the enterprise space...you're doing a couple pretty massive deals a year, which really requires face time."
Around 80 percent of corporate travel decision-makers and business travelers either agreed or strongly agreed that "meeting in person is more effective than meeting virtually."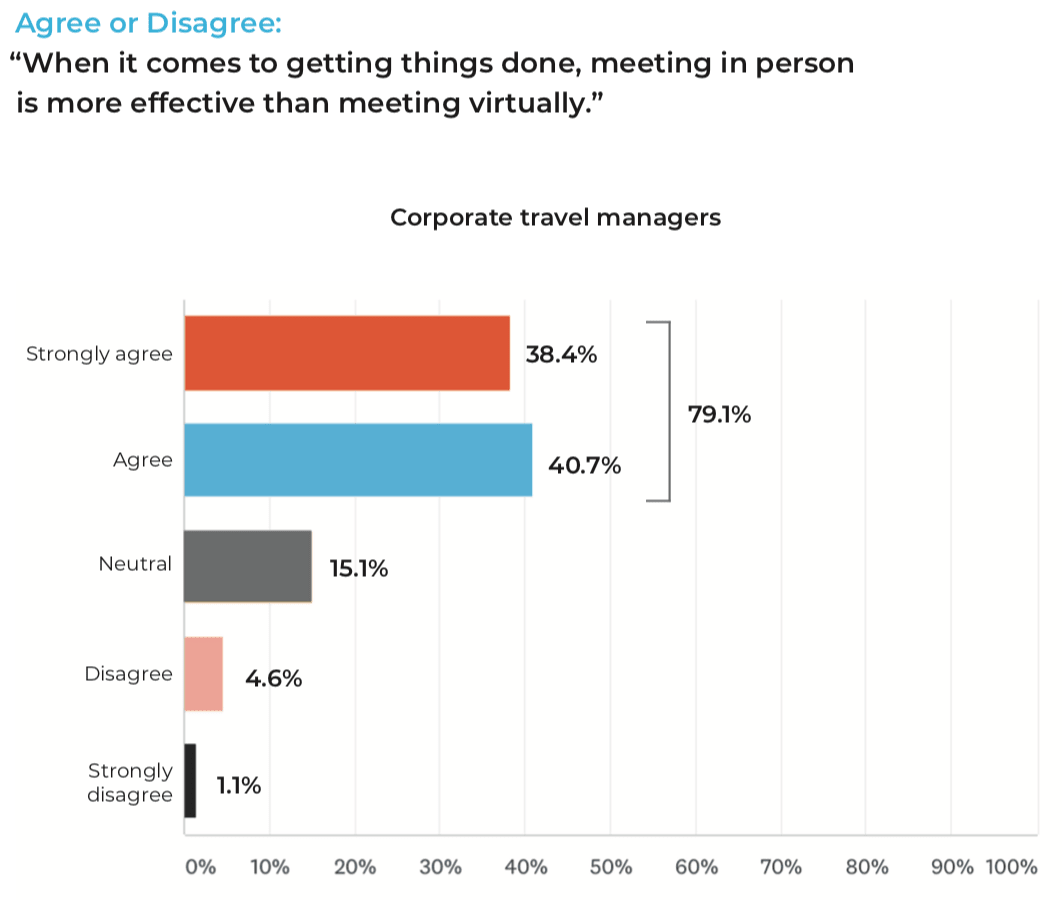 "The ability to be on-site with your customers, to look them in the eyes and ask them hard questions that you wouldn't normally ask remotely, is invaluable," Dialpad sales engineer DJ Gillit told TripActions.
Business Travel for an Empowered Culture
Employees are not only willing to travel, but they do so with the intention to drive business performance. Organizations who deliver a best-in-class corporate travel program can further position employees for success while on the road to fully leverage travel as a strategic lever for business growth.
Beyond closing big deals and establishing new relationships, the ability to travel for business boosts employee morale — which further drives business forward. Studies consistently find that employees with high, positive morale have better attitudes towards their work. They are more present and productive, more attuned to the needs of customers, and more observant of processes, standards and systems. A highly engaged workforce can result in 21 percent greater profitability.
According to TripActions research, 90% of business travelers see traveling for work as a perk — allowing them to discover new places, rack up loyalty points, and, most importantly, play a pivotal role in advancing their companies and their careers. The best corporate travel managers empower their organizations' employees with corporate travel policies and booking tools that boost employees' productivity, morale, and health.
To learn more, download The State of Business Travel 2020 Report, which provides a look at how the corporate travel industry landscape is shifting, and explores topics such as the importance of business travel to overall company goals, attitudes towards loyalty programs and business travel perks, and feelings towards emerging business travel trends.