Travel managers play pivotal roles at their organizations, especially when it comes to ensuring the health of both their business travel program and traveling employees. A travel program is nothing without protected employees and a truly well thought out system to support them.
The new TripActions Business Travel Resource Center is exclusively built for corporate travel managers, chock full of content, tools, and in-depth information to help guide travel managers to corporate travel and expense program success. It's designed to help you stay informed and bring together the resources you need to plan and pivot for today's challenges.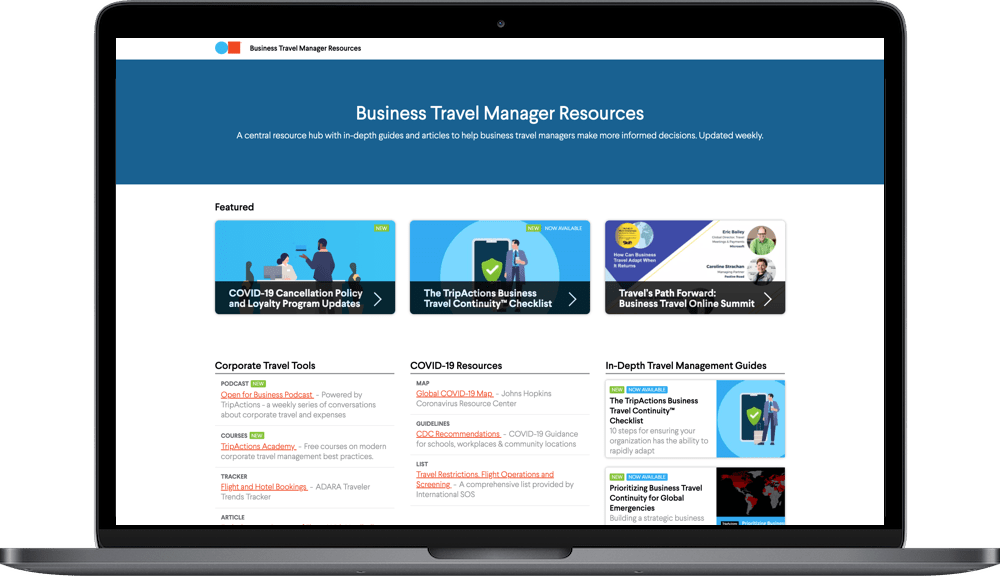 With the travel industry rapidly evolving and new updates from airlines, hotels, and regulators each day, the future of business travel and expense is being shaped in real-time. In addition to strategic and day-to-day tactical responsibilities, it can be difficult to stay on top of this rapidly changing environment, sifting through all of the available information to find valuable insights — so we've brought it together in one convenient spot for you.
The content you'll find on the TripActions Business Travel Manager resource center is a mix of third-party sources, news articles, guides written just for travel managers, and commentary from the TripActions Community.
You'll get up-to-date details on cancellation policies, traveler safety tips, loyalty program extensions, flight data trackers, and more — all in one convenient place, updated weekly. With this data and knowledge in tow, you'll be able to answer questions like: What changes should I make to my travel policies to keep employees safe? How do I define essential business travel for my organization?
TripActions is here as your trusted partner for all things business travel and expense, now and long into the future. Our Business Travel Manager resource center and all its insights are available now for you to explore — we'd love to know what you think!