Quick: You're a road warrior who is, appropriately, on the road—running through airports, dashing across cities, and driving around towns. Where do you stop for sustenance?
Analyzing spend data from TripActions Liquid customers during 2021, we can unequivocally say that the business travelers' top choice is…drumroll…Starbucks! Yes, the java joint that gave us the PSL led traveler meal spending in 39 of 50 states and accounted for a whopping 24% of all fast-food spend while on a business trip.
Count this win as one thing the pandemic has not changed. The Starbucks Siren also lured more business travel dollars than anyone else back in 2014 (albeit with a different data set; TripActions wasn't around yet!). Other spots that rank as hot spots in our state-by-state breakdown: McDonald's, Dunkin' Donuts, Panera Bread, and Chick-Fil-A snagged two states each, while Chipotle and Domino's each made one appearance.
In some states, however, the national chains took a backseat to their local cousins. These homegrown winners included Radina's in Kansas, B-Bop's in Iowa, Hawaiian Aroma Caffe in the Aloha State, and, in the State of Washington, Woods Coffee.
Ah, coffee. It's certainly one thread connecting many of the winners. And sure, the jolt from a cup of joe helps fuel any road warrior's packed itinerary. But coffee isn't the only commonality among these cathedrals of caffeine. Wi-Fi remains a draw: Our reliance on a reliable signal hasn't changed much from 2014—nor, of course, has the comfort of a familiar brand, especially for on-the-move movers and shakers.
So did the pandemic change nothing? Well, all of this coffee consumption didn't necessarily happen too far from home base. Many of us remain hungry for a change of scene after being cooped up: Almost 80% of the respondents in a 2021 Accenture survey said they'd like to work from a space other than their home or an office. Policy permitting, perhaps some of these spenders were simply neighborhood nomads.
Regardless, the overarching takeaway is that sometimes you just want fast food. When TripActions Liquid customers went fast, here's where they went big.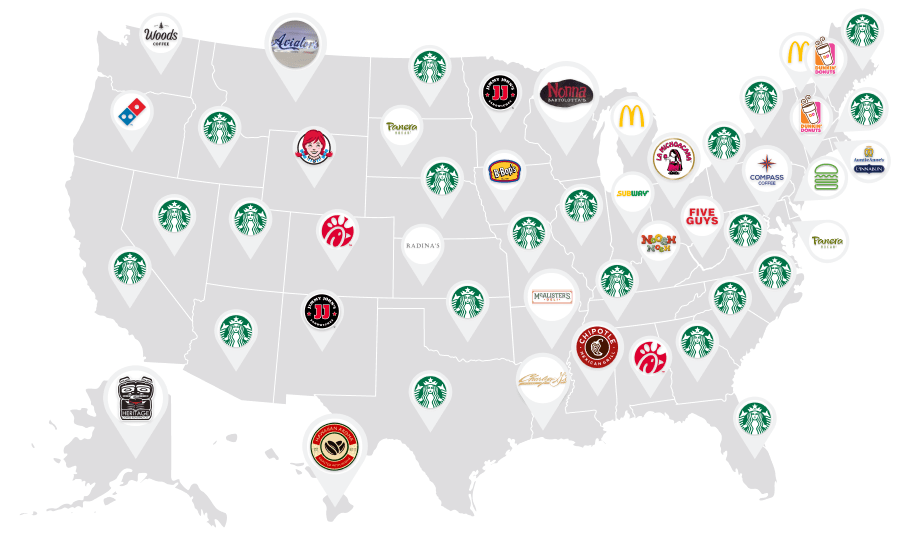 Alabama: Chick-Fil-A
Alaska: Heritage Coffee Roasting
Arizona: Starbucks
Arkansas: McAlister's
California: Starbucks
Colorado: Chick-Fil-A
Connecticut: Dunkin' Donuts
District of Columbia: Compass Coffee
Florida: Starbucks
Georgia: Starbucks
Hawaii: Hawaiian Aroma Caffe
Indiana: Subway
Iowa: B-Bop's
Idaho: Starbucks
Illinois: Starbucks
Kansas: Radina's Coffee
Kentucky: Noosh Nosh
Louisiana: Charlie G's
Maryland: Panera Bread
Massachusetts: Starbucks
Michigan: McDonald's
Minnesota: Jimmy John's
Mississippi: Chipotle
Missouri: Starbucks
Montana: Aviator's BBQ
Nevada: Starbucks
New York: Starbucks
Nebraska: Starbucks
New Hampshire: Dunkin' Donuts
New Jersey: Shake Shack
North Dakota: Starbucks
New Mexico: Jimmy John's
Ohio: La Michoacana
Oklahoma: Starbucks
Oregon: Domino's
Pennsylvania: Starbucks
Rhode Island: Auntie Anne's/Cinnabon
South Carolina: Starbucks
South Dakota: Panera Bread
Tennessee: Starbucks
Texas: Starbucks
Utah: Starbucks
Vermont: McDonald's
Virginia: Starbucks
Washington: Woods Coffee
West Virginia: 5 Guys
Wisconsin: Nonna Bartolotta's
Wyoming: Wendy's