When I interviewed for my role at TripActions earlier this year, I was evaluating the company and its leadership team just as much as they were evaluating me. A mission-driven organization, values-based culture, and an environment that celebrates each individual's diversity, unique perspectives, and contributions were all important to me. You see, I feel passionately that an organization can't be successful without a deep understanding of the customers and users it serves. And the best way to understand a diverse set of customers and users is to have that diversity represented among the organization's leaders and employees.
I was impressed by the consistent, mission-driven organization I saw, from my interviews with the co-founders, to senior leaders, peers, and my future team, as well as during the company's weekly All Hands meeting that I attended while onsite. I was impressed by the gender representation in leadership (57% female; 43% male) and across the company (50% female, 50% male). I was proud to hear of other members of the LGBTQ community among the leadership team and across the company. And I was pleased when my interviewers inquired deeper when I spoke of my husband and our lives together.
As a road warrior who had experienced the frustrations of poorly-designed corporate travel booking tools and feeling left stranded by corporate travel agencies when the unexpected happened during work trips, I was personally inspired by the TripActions' mantra of focusing on the user (all of them, all the time) to deliver the best experience in business travel.
In the three months since I joined the company, I've seen the TripActions team disrupt and reinvent the antiquated product, service, and experience of the corporate travel industry time and again, all with the user and their experience top of mind. From our Next Gen Storefront (NGS) deployment, to our New Distribution Capability (NDC) launch with United Airlines, to launching free in-app flight changes, we've looked at how things have always been done in the corporate travel industry and consistently built a better way for our users.
In keeping with our focus on the user — all of them, all the time — I'm proud to share that we've launched non-binary options when booking flights on the TripActions platform. That means that individuals can select from one of four options: non-binary / unspecified, female, male, or undisclosed.
For far too long, individuals who don't identify with their gender assigned at birth have been forced to select that gender simply to appease legacy systems, in particular for airport security screening. In focusing on all users and their travel experience, our goal is to eliminate as many of the hassles of work travel as possible so our users can focus on what they need to accomplish while there, not the process of getting there.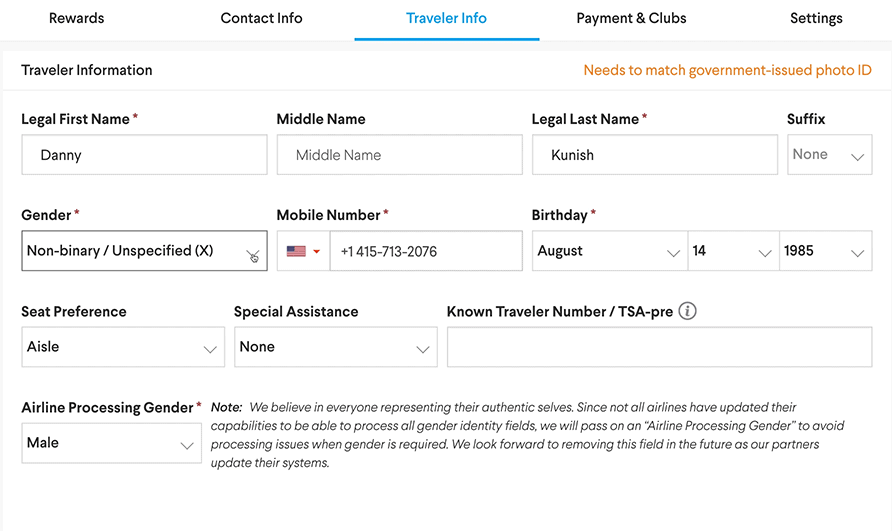 At TripActions, we believe in everyone representing their authentic selves. We hope that adding non-binary options to our platform will inspire the industry. However, since not all airlines or the TSA have updated their capabilities to process all gender identity fields, when those instances arise we will use an "Airline Processing Gender" as a placeholder to avoid processing issues when binary gender is required.
For transgender and non-binary travelers, having to select a gender that does not reflect their true, authentic self is, at best, an inconvenience, and for most, a painful reminder of how far we still have to go as a society to truly respect, support, and celebrate every person for the individual that they are.
I believe our non-binary options are a step in the right direction and am proud to see TripActions leading the way by putting the user first — all of them, all the time.