The COVID-19 pandemic caused the largest disruption to global travel in our lifetimes. Travelers had to adjust their itineraries instantly and cancel upcoming flights and hotels for weeks and months out. For business travelers and the travel managers that oversee corporate travel programs, it was one of the busiest times in their career.
Here are 5 stories from the front lines of our travel agent team -- individuals who work after-hours and around the clock to take care of travelers and get them where they need to be. Their stories underscore the importance of having experienced, always-on global travel agents at the ready when traveling for business. In addition to industry-leading, proprietary technology that enables them, it is the human touch that makes the real difference when support is in a crisis, no matter how big or small.
Making Sense of Canceled Trips
A business executive had a busy March and April planned out when travel restrictions led to changes for five upcoming trips. He was all over the place with his expenses and unable to locate which charges referenced which trips.
Senior Travel Experience Agent Julie Jackson was able to make sense out of a chaotic expense situation. She was able to provide him with all the invoices that he was searching for including details such as which trips still had credits and which were voided and refunded. Tracking multiple travel disruptions is only possible when the trips and their updates are kept organized.
The business traveler didn't need to worry about what was happening on the backend. All he needed was the information that he requested, and his gratitude was evident.

Saving Money for Companies
The thought of dozens of important trip cancellations is daunting even without tallying up the total money lost, especially during uncertainty when companies are looking to conserve cash for the future. This was on the minds of many executives as they contacted their travel agents to start the cancellation process. Our TripActions travel agents worked tirelessly to get travelers refunds for the hotel rooms and flights whenever possible. One particular business traveler was so grateful for the refunds our team received on previously non-refundable rooms that he went a step farther than most and explained how those funds would be used in the future.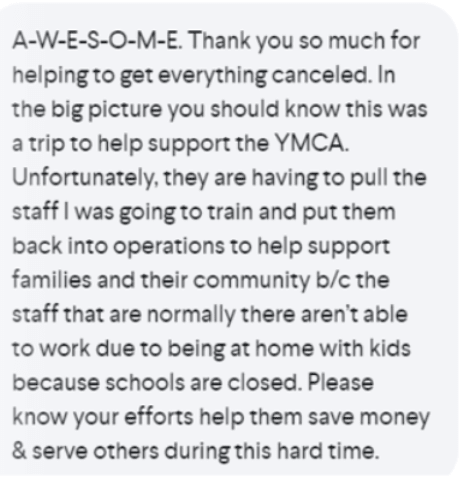 "He wrote a message about how our efforts saved the company money. I was moved to tears because this was a really hectic day and we had been super busy. Sometimes it is easy to forget about how impactful our job is, but his comment actually made me step back and realize how grateful I am that we're able to help people out," explained TripActions Travel Experience Agent Lakeisha Johnson.
"It's more than helping companies save money. Our travelers get stranded in places all over the world and they contact us. They trust us to help them and we go an extra mile for each person. We help people in ways that we might not even realize."
Teams Working Behind the Scenes
Business travelers usually only interact with one or two travel agents when they contact travel support for trip disruptions. While there is only one name that the traveler knows, there is an entire network of travel agents around the world supporting one another behind the scenes to do the best job possible.
Senior Travel Consultant Andrea Johnson was offline when government-imposed travel restrictions led to an up-tick in support requests. But she knew that her colleagues in Sydney would already be in the eye of the storm. Andrea started texting one of her less tenured colleagues in Sydney who was confused on how waivers worked in this unique situation and was looking for flight alternatives for a traveler. Andrea contacted a friend at Enterprise Car Rental who confirmed they were waiving fees for one-way rentals. The normal cost for a one-way rental would traditionally be more than $800, but she was able to confirm pricing closer to $200.
"I am very analytical and think through various scenarios. I think about cases in my sleep and wake up to Slack my colleagues who are online just so they can have all the options. I really remove my travel consultant hat at times to put myself in the travelers' shoes. I just want everyone to get home safe. It doesn't matter what my hours are — I am a human helping humans, first."
Andrea was in the middle of her move from Chicago to Dallas to start work in the TripActions office when the situation started. She had no furniture, but she did have electricity and she signed on immediately to help.
Back Up for the Heroes Fighting Bad Guys
A senior global intelligence officer was traveling in London last month when he needed to find the next flight home to California. He painted a chaotic picture of his current environment, with ambulances roaring in the background and police officers running through the streets. And he was worried that he wouldn't get home to his family in time. After contacting the TripActions travel agent team, he was on a flight within 24 hours of the restrictions announcement. He explained how the calm and steady demeanor of the TripActions travel agent completely shifted a stressful situation for him.
As a professional whose job it is to track down the bad guys, he needed a hero of his own that day: Travel Support Specialist Stella Dimgba.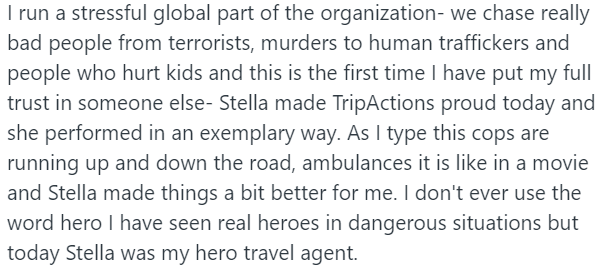 "In my 20 years of working in Silicon Valley for tech companies, Stella provided the best customer service that I have ever experienced," he concluded.
A Transcontinental Journey to Get Home
Travel Experience Specialist Jakob Miller has a habit of jotting down the plot to some of the extraordinary travel cases that he handles, but even he was unprepared for the feats of travel that happened right as restrictions were put into place. He was contacted by a traveler who had to get from Banjul, Gambia, to the Netherlands. The traveler had already driven through Mauritania and Senegal to arrive in Banjul, but the only TUI flight leaving the country for Amsterdam was full. Jakob suggested a business-class seat on Turkish Airlines to Luxembourg with a train option to Amsterdam at the end. But there were issues with the itinerary. Ultimately, travel agent team was able to find a charter flight from Banjul straight to London Gatwick and got the business traveler home safe in time.
While your organization may not be actively traveling, TripActions travel agents stand at the ready should you need to make a booking, adjust future plans, or cancel a trip.