Return to blog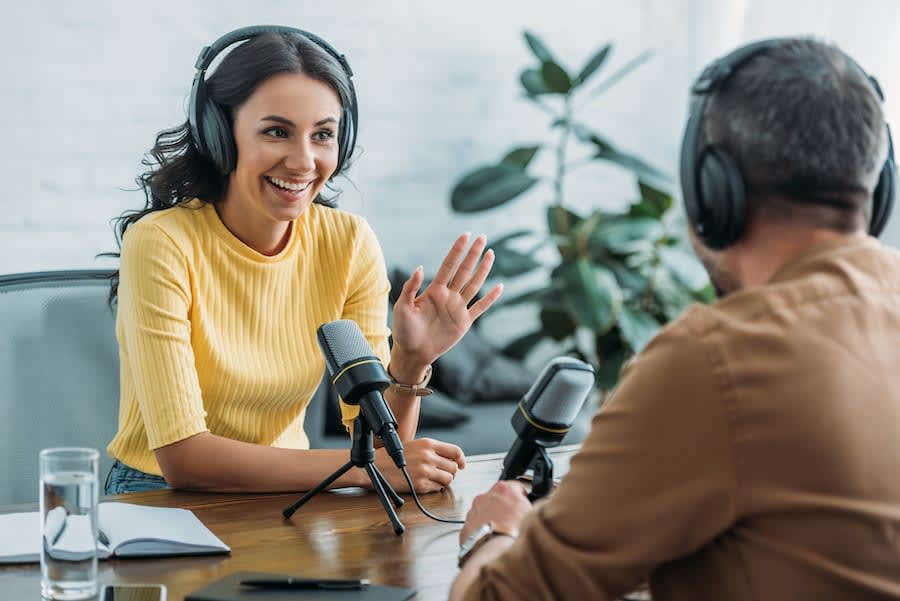 December 30, 2020
Die 5 Besten TripActions Podcast-Episoden Des Jahres 2020
April 2020 war ein hervorragender Zeitpunkt, um einen Reisepodcast zu starten.
Die Welt hatte sich mit Lockdowns und Reisebeschränkungen abgefunden. Die Sitze in der Business Class waren leer. Die Minibars in den Hotelzimmern blieben unberührt.
Doch hinter der scheinbaren Flaute verbarg sich etwas Faszinierendes: Im Home Office (und an Küchentischen) auf der ganzen Welt arbeiteten Travel Manager, Entwickler, Finanzleiter, Risikoberater und Interessenvertreter der gesamten Geschäftsreisebranche fleißig weiter.
Wie werden wir kurzfristig damit fertig? Was bedeutet das langfristig? Wie betreuen wir unsere Mitarbeiter? Wie können wir unsere Verluste begrenzen und uns auf die Zukunft vorbereiten?
Open for Business: Ein Corporate R&S Podcast Powered by TripActions startete im April 2020, um die Gespräche in Echtzeit festzuhalten. Das TripActions-Team hat es sich zum Ziel gesetzt, einen positiven, ehrlichen Raum zu schaffen, in dem die vielen R&S-Themen, die Geschäftsreisende, Geschäftsreisemanager, Finanz-, Betriebs- und Personalleiter beschäftigen, frei diskutiert werden können.
Bei unseren Gästen handelte es sich um Vordenker und Entscheidungsträger, die einzigartige Perspektiven und ein spezifisches Fachwissen mit unserem Publikum teilten. Auch wenn jede einzelne Folge es wert ist, gehört zu werden (die meisten dauern nur 30 Minuten), möchten wir Ihnen die 5 am häufigsten heruntergeladenen Episoden vorstellen:
Die 5 besten TripActions Podcast-Episoden des Jahres 2020
Warum jetzt der perfekte Zeitpunkt ist, um Ihre R&S-Plattform zu modernisieren: Hören Sie sich an, wie Jonny Bryan, Chief of Staff bei Unit4, über die Entscheidung des Unternehmens spricht, inmitten der weltweiten Pandemie auf ein modernes R&S-Management umzusteigen, und wie die Situation dem Unternehmen bewusst machte, was nötig war, um seine Reisenden wirklich zu schützen und die Kosten durch sein R&S-Programm zu kontrollieren.
Was passiert, wenn nicht mehr gereist wird: Werfen Sie einen Blick zurück in die Vergangenheit und hören Sie sich die Ratschläge an, die Caroline Strachan, Manager Partner bei Festive Road, und Mira Rosenweig, Enterprise Customer Success Manager bei TripActions, Travel Managern gegeben haben, damit sie ihre Unternehmen darauf vorbereiten können, ihre Geschäfte und Geschäftsreisen wieder sicher aufzunehmen.
Aufbau einer Kultur der Gesundheit, zu Hause und unterwegs: Die allgemeine Reisepause bot der Branche eine einzigartige Gelegenheit, ihr Verhältnis zum Thema Wellness auf individueller und organisatorischer Ebene neu zu bewerten. Hören Sie Wellness-Experten (und ehemalige Außendienstmitarbeiter), die über die Bedeutung von körperlichem und geistigem Wohlbefinden für Arbeit, Produktivität und Gesundheit sprechen.
Wie Remote-Unternehmen über Geschäftsreisen denken: Diese Diskussion wird im Jahr 2021 noch wichtiger werden. Darren Murph, Head of Remote bei GitLab, und Job van der Voort, Gründer und CEO von Remote, erläutern die wachsende Bedeutung von Geschäftsreisen in einem Unternehmen, das auf Remote Work setzt, und wie verteilte Belegschaften zusammenkommen, um die persönlichen Kontakte zu fördern, die es den Mitarbeitern ermöglichen, Beziehungen aufzubauen, Geschäfte abzuschließen und das Wachstum in der Zukunft zu fördern.
Kontinuität und Wiederherstellung von Geschäftsreisen: In dieser spannenden Folge hören wir direkt von Ilan Twig, Mitbegründer und CTO von TripActions, und Rob Winters, Director of Data bei TripActions, wie ihre Teams die Macht öffentlich verfügbarer Daten zusammen mit TripActions-eigenen Daten nutzten, um die Produktmerkmale und -funktionen zu entwickeln, die die Branche braucht, um wieder sicher und kostengünstig zu reisen.
Gefällt Ihnen, was Sie gehört haben? Abonnieren Sie noch heute Open for Business: Ein Corporate R&S Podcast und Sie werden benachrichtigt, wenn die erste Folge der zweiten Staffel im Januar veröffentlicht wird. Los geht's!
Return to blog