Return to blog
April 7, 2021
TripActions Bereitet Reisende Mit Neuen Sicherheitsfunktionen Darauf Vor, Wieder Abzuheben
Geschäftsreisen können sehr anstrengend sein - und das war schon vor COVID-19 so. Während die Welt wieder zur Tagesordnung übergeht, suchen Reisende und ihre Unternehmen nach den Tools und Informationen, die sie benötigen, um sich sicher zu fühlen und mit Zuversicht zu reisen. TripActions hat eine Reihe innovativer Funktionen für jede Phase einer Reise entwickelt, um Reisende und ihre Manager mit Echtzeitdaten und Support auszustatten.
Die Return to Travel Funktions-Reihe
Die Daten von TripActions zeigen, dass zwischen November '20 und Januar '21 bei 67 % der internationalen Reisen eine Änderung der Reisebeschränkung zwischen Buchungsdatum und Abflug erfolgte. Und viele Reiseziele und Fluggesellschaften verlangen inzwischen einen Nachweis über den Gesundheitszustand, um reisen zu können.
Während der Geschäftsreiseverkehr also weiter zunimmt, insbesondere durch die beschleunigte Einführung von Impfstoffen, gibt es auf dem Weg zur ersten Teambesprechung eine neue Normalität zu bewältigen. Geschäftsreisende freuen sich darauf, wieder auf Reisen zu gehen, aber das Risiko und die Ungewissheit über sich ändernde Beschränkungen können Führungskräfte davon abhalten, ihre ersten Meetings zu organisieren.
TripActions hat die gesamte Arbeit automatisiert, um alle Fragen zu beantworten, die ein Reisender haben könnte, und macht es gleichzeitig für Admins durch einen Klick möglich, zu überwachen und zu kontrollieren, wo und wann ihre Teams reisen, damit sich alle sicher fühlen.
Zusätzlich zu den bestehenden Funktionen der Business Travel Continuity Suite, wie z. B. erweiterte Richtlinieneinstellungen, Sicherheitsprotokolle von Fluggesellschaften, Genehmigungen vor Reiseantritt und Selbstbucher-Reiseänderungen und -Stornierungen, umfasst die "Return to Travel"-Reihe drei neue Funktionen:
Verbesserungen bei Benachrichtigungen
Reisende können jetzt Benachrichtigungen über Änderungen von Reisebeschränkungen für bestimmte Reiseziele erhalten, um sicherzustellen, dass sie über die neuesten Echtzeitdaten und -informationen über die weltweiten Reisebedingungen verfügen. Live-Updates und Änderungen sind verfügbar für Einreisebeschränkungen, Quarantänebestimmungen, Anforderungen an Gesundheitsdokumente, COVID-Tests, Krankenversicherungsanforderungen, Visabestimmungen, Transitbeschränkungen und mehr.
Digitaler Gesundheitspass
TripActions bietet Reisenden jetzt einen digitalen Gesundheitspass, in den sie alle für Inlands- und Auslandsreisen erforderlichen Gesundheitsdokumente hochladen und in einem zentralen Hub speichern können. Diese Informationen können jedem, der bei der Ankunft an einem beliebigen Zielort einen dokumentierten Nachweis einfordert, leicht angezeigt werden.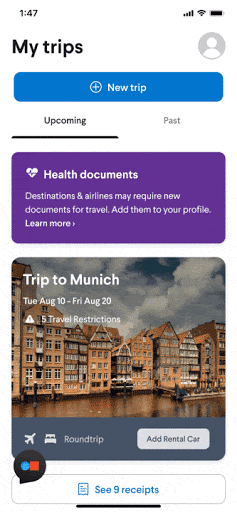 Automatische Anwendung nicht genutzter Tickets
TripActions hilft Unternehmen jeder Größe dabei, jeden ausgegebenen Euro durch die automatische Anwendung neuer oder teilweise genutzter Credits für alle zukünftigen Buchungen zu berücksichtigen.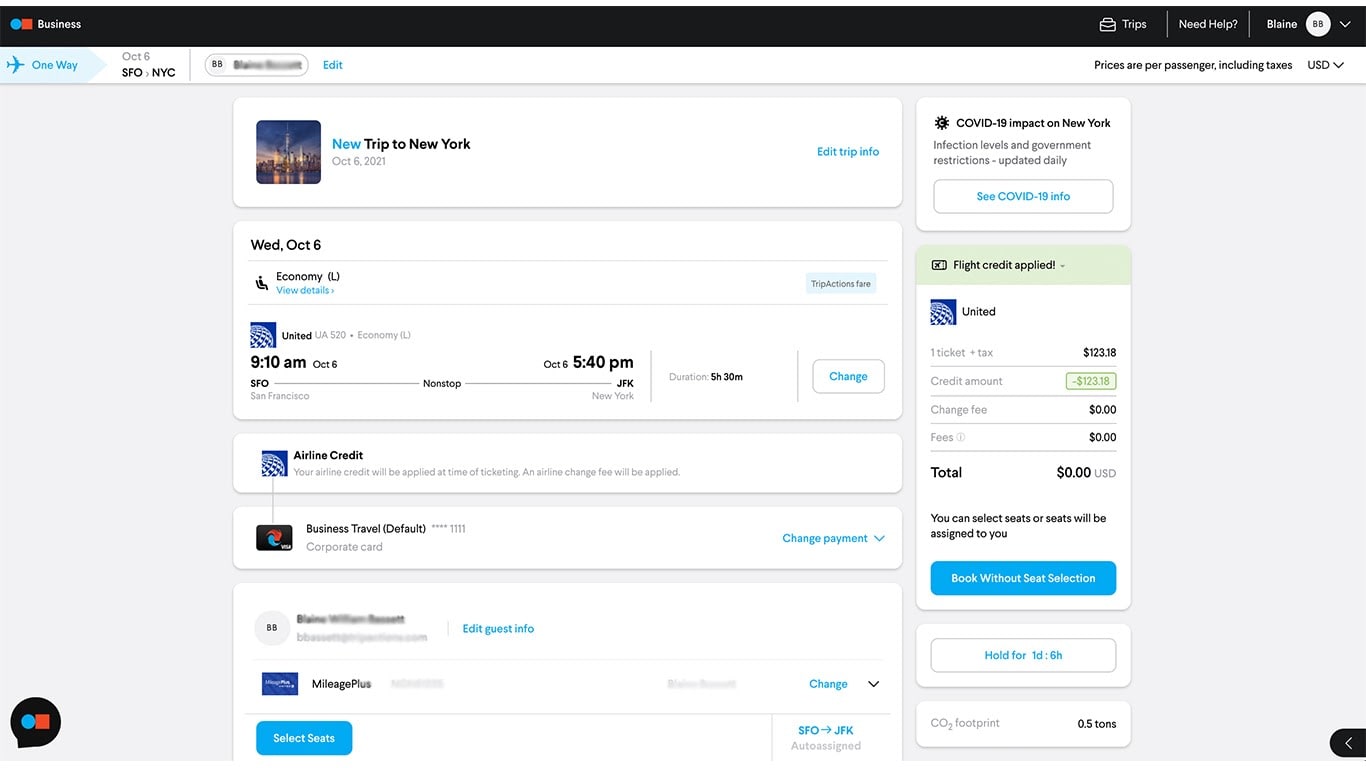 Werfen Sie noch heute einen Blick auf die "Return to Travel"-Suite und erfahren Sie mehr darüber, wie sie Geschäftsreisende und Unternehmen zu persönlichen Meetings verhelfen kann - denn Geschäftsreisende sollten sich darauf konzentrieren, vor Ort zu sein, und nicht, wie sie dorthin kommen.
Return to blog