Enterprise users rank TripActions #1 with 98% satisfaction —14% points higher than second-ranked solution.
TripActions continues to add more enterprise customers and the finance, travel, HR, and procurement leaders running these organizations aren't shy about sharing how the unique full-stack T&E solutions have transformed their travel policies and expense programs.
Enterprise leaders around the world ranked TripActions #1 in the latest G2 Grid® for Enterprise Travel Management. TripActions was rated with a satisfaction score of 98% -- fourteen percentage points ahead of the second-ranked solution. It beat legacy TMCs and smaller upstarts across a broad range of factors.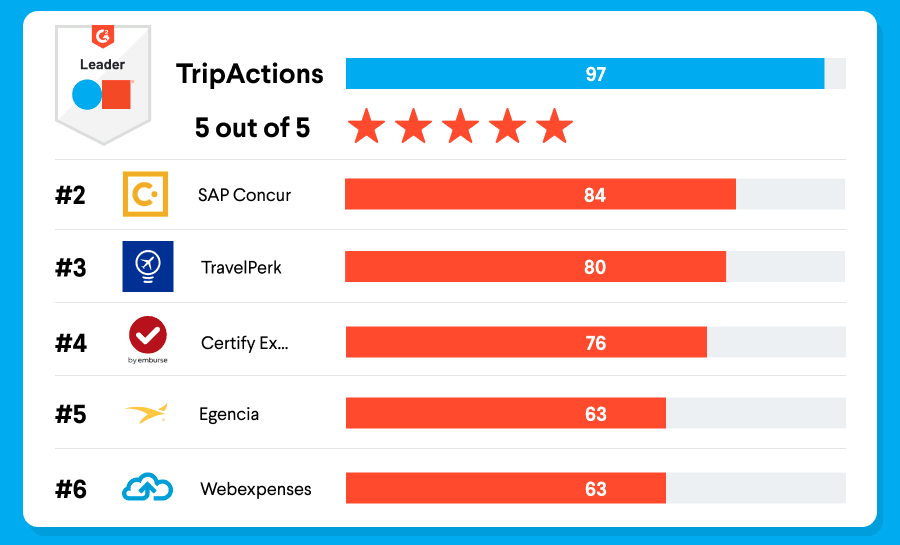 Users applauded TripActions for its:
Ease of use with a 96% rating versus a 90% industry average
Ease of doing business with at 98% versus an 84% industry average
Ease of set up at 94% versus an 85% industry average
Quality of support at 96% versus an 88% industry average
Ease of admin at 95% versus an 81% industry average
The ranking comes from G2 -- a popular third-party site that independently assesses the quality of a product. G2 collects feedback from users and provides independent scores on how TMCs and expense solutions perform.
TripActions is no stranger to the G2 leaderboards. It has led the Travel and Travel & Expense categories in the G2 Summer 2020 Reports and G2 Spring 2020 Reports, but the ranked categories only scratch the surface of what makes TripActions a unique product and platform for enterprise organizations.
TripActions: Tailored for Enterprise
Unlike traditional corporate travel solutions, TripActions is a full-stack travel management company, online booking tool, and payments and expense solution.
This technology stack solves the full equation from trip booking, travel agent support, payment, expensing and reconciliation -- all on one simple and user-friendly platform. Outside of travel, TripActions Liquid also allows for payments and expenses for day-to-day corporate purchases.
With TripActions in their corner, enterprise travel managers and finance professionals no longer have to compromise. They can effectively manage T&E to control costs without sacrificing employee experience or safety -- all while supporting their organizations' growth trajectory up and to the right.
By putting users front and center in its product, TripActions creates a better user experience, which ultimately drives platform adoption. With adoption high, finance leaders and travel managers have the spend visibility, control, data and insights they need to optimize their programs and policies for employee experience and cost savings.
Trusted by nearly 4,000 companies globally, TripActions empowers organizations with real-time data and insights to make business decisions, paired with flexible travel management and expense tools that enable quick and decisive action to keep traveling employees safe, control costs and save money. Schedule a demo today.