Travel is transforming today's innovative businesses.
We experienced this first-hand when more than 800 business travel leaders arrived in San Francisco last week for TRAVERSE 19. We're still flying high on the connections, best practices, and learnings shared at the two-day travel + tech festival where we dove deep and discussed how business travel is fueling growth at innovative companies.
During the event, the Future of Work panel led by TripActions Chief People Officer Leslie Kurkijan Crowe broke down how business travel is helping transform today's most innovative businesses.
The panel covered choosing corporate travel platforms for high-growth companies, what success looks like for a travel leader, and how employee expectations are changing which tools and policies work best as we enter a new age of work.
From Unmanaged to Managed Travel
Curtis Atkisson, CFO at Sojern, was hired to scale the company six years ago when it had 100 employees. Before TripActions, Sojern didn't have a corporate travel solution and everyone was booking on their own.
Curtis recognized that employees had different expectations of corporate booking tools as a result of consumerization. (This theme was further explored by David Wieseneck, VP of Finance at letgo, who discussed how business apps are shifting to consumer models.)
Curtis also approached corporate travel from a unique perspective.
"Sojern drives bookings to hotels and airlines in the unmanaged travel space through advertising. Being in the travel space, we needed a solution for our 200-person sales team who travel all around. I have a lot of responsibilities as CFO and finding a solution that works for everyone is an important part of that," he explained.
In choosing a platform to scale the company's global growth, Curtis considered several factors.
"It has to make my job easier and save the company money. I always dreamed of a travel management platform that would sell itself instead of having to beg people to comply. To get people to keep using it, that was the dream," said Curtis who has used TripActions to drive satisfaction and urge compliance for two and a half years.
"I was recently among executives and everyone started comparing who saved our company the most money, and got the most rewards using TripActions. At that moment, I knew that I was successful."
Vik Shah, Corporate Controller at Zoom Video Communications, also comes at business travel from a unique perspective.
Fueling International Expansion
Zoom is a critical tool for many businesses who host meetings through the video conferencing platform. Despite that, he recognized that meeting customers, clients, and colleagues in person was critical to the company's international expansion.
Shah works to balance in-person and virtual meetings throughout the company. He is focused on making sure business travelers are happy despite having to sacrifice time to travel for work.
"One of the things that I focus on is our travel and expense program. We want to make sure that everything we do serves our customers and employees alike. We always make sure that employees are happy at the end of the day," said Vik.
Zoom is expanding internationally this year and learning best practices at scale. As an employee at Zoom, which has helped paved the road to the future of work, he spoke about his belief in innovative solutions.
"I'm a huge believer in thinking outside the box. Business travel doesn't have to be done the same way it's always been done," said Shah.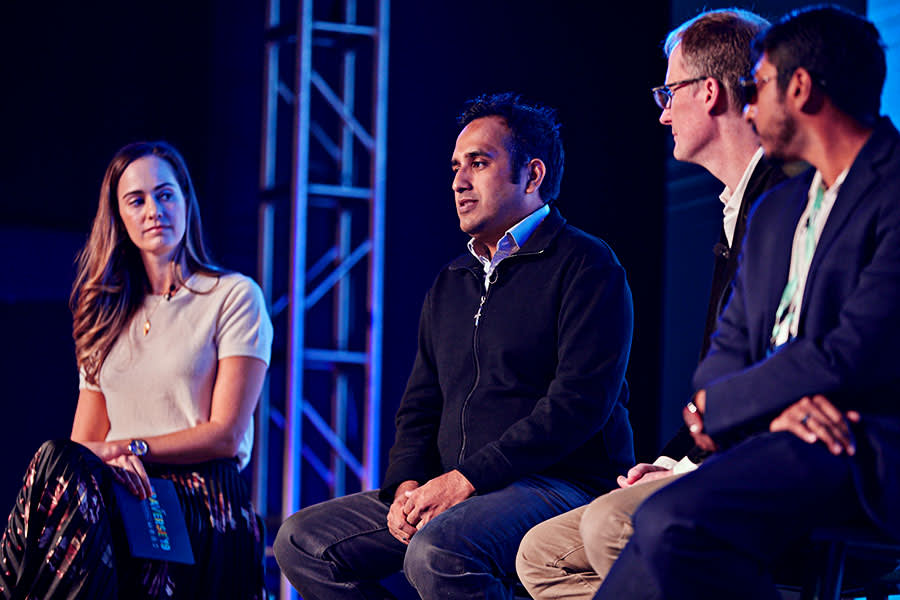 Omar Ghani is the Group Manager of Global Supply Management at Lyft. He had to manage a quickly growing travel program as well as the challenges that arise when a company prepares to IPO.
"In my two-year journey at the company, our employees have grown 4x. We knew very early that travel and expenses were going to be an important part of that growth. When we implemented TripActions, we saw a 12x uptick of expenses actually going into the travel tool as compared to our previous supplier. That really spoke to the implementation process," said Omar.
Best-in-class platforms drive high adoption which allows travel, finance, and procurement teams such as Omar's greater insights and control over where money is being spent. Without employees actually using the platform and putting their expense into the platform, it is impossible to have any meaningful data or work towards greater efficiencies.
"I celebrate TripActions so much because we have an amazing customer success team. We were able to implement in 4 weeks. The ability that TripActions had to listen to our IPO needs was critical to our success," explained Omar.
Omar highlighted the importance of customer service management in managing business travel amidst global expansion and even an IPO.
"Our mission is to serve people's lives with the best transportation, and so much of that is through customer service. We wanted to make sure that our employees felt that when they were on business travel."
Customer service was a topic that came up consistently throughout TRAVERSE 19.
Prioritizing Safety in the Global Economy
All of the panelists discussed how and why they've made their corporate booking tools mandatory for business travel. The policies and tools ensure that everyone from new employees to executives receive the same standard of care. It also puts the company in a position to prioritize traveler safety and fulfill their duty of care commitment.
TripActions delivers a live traveler map that allows program managers to keep up with movement and communicate with the entire traveling workforce at the click of a button. When employees book outside of the tool, it becomes impossible for leaders to react and protect travelers as efficiently as possible simply because they don't have good data on where their travelers are traveling.
"We have a pretty disciplined policy that all bookings should be done on TripActions," says Omar.
Better Bookings Means Better Business
An audience member asked about which KPIs they consider when overseeing corporate travel programs. The panelists offered two responses: the human impact of travel and cost savings.
"A big part of our RFP was looking at booking times, because we really do believe at Lyft that the less time you spend on business travel spend and stress are minutes that you're putting back into the work," explained Omar who has seen 2-3 times faster booking behavior since implementing TripActions.
The panelists also spoke about how the right tools can save finance and procurement leaders time, making them more productive. The data gives full visibility to the corporate teams and business travelers to make smarter decisions and craft more effective policies.
"With whichever tool that you're considering, be mindful of how much time it takes accounting teams to retrieve data. It is about employee optimization as much as cost savings."
Business Travel Part of the Future of Work
In discussing the future of work, it becomes clear that employees have a different perspective of business travel than in the past.
"It is increasingly obvious that millennials do see business travel as a perk," said Omar.
And more travelers are taking advantage of work trips by adding a bleisure component to their itineraries. As a result, Sojern permits employees to add one night to a business trip if it meets certain criteria in terms of distance and length of trip.
Innovative businesses understand that the way we see work is changing, and are adopting their policies and platforms to fuel growth and increase satisfaction while building best-in-class products.
If you missed out on TRAVERSE 19, register now to join our webinar encore of the session, "No Passport Required: A Futuristic Vision of Business Travel," on October 17 at 11AM PT/2PM ET.