The people have spoken: A consumer-like experience is needed on an enterprise level in order to keep employees engaged, productive, and happy in today's digital world. We've seen this shift across the business technology landscape and the business travel booking process is not exempt.
Enterprise apps are becoming more "consumer-grade," which means they are more visually appealing, naturally intuitive, responsive, and accessible in part because users are becoming the decision-makers. This presents travel managers with the opportunity to provide business travelers with a tool that they actually want to use as well as increase their own visibility into spend and strategy.


A Conversation on Consumerism & Travel Policies
At TRAVERSE 19 last month, dozens of leaders from multidisciplinary fields came together to discuss and imagine what business travel would look like amid rapidly changing technology and behavioral habits. Among them was David Wieseneck, VP of Finance at letgo, who discussed this transition to a more consumer-grade experience in our enterprise-level tools and apps and how it impacts the strategy around building a corporate travel policy.
"Millennials are growing up with apps and bringing those expectations to work. They want similar experiences with the tools that they use at work," said David. "The users, or employees, are becoming the decision maker in what tools they use."
As a result, we're getting a more consumer-grade experience in our enterprise apps.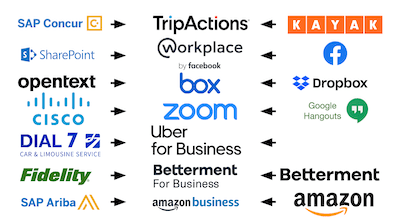 In his talk "Rethinking Controls & Policy as Business Apps Shift to Consumer Models," David provided a fresh perspective around how to drive adoption and how important it is to provide a good booking experience. He believes employees want to do the right thing and follow their company's policies and processes -- but travel managers have to pave the way for them.
The policy managers' objective is to get business travelers from A to B, to balance controls with ease of use, freedom and choice for the end-user, and to reach full adoption. The question that David asked based on this shift towards consumerization is, "How do we approach policy and process with this new opportunity and these user expectations?"
David then outlined 7 factors to consider when crafting a corporate travel policy based on this shift:


How to Strategize Policy Based on Travelers' Consumer Expectations
Keep Policy as Short as Possible: David recommends keeping policies as short as possible and distilling the main facts into a powerpoint presentation or one pager. Few employees will take the time to read through a 10-page document or complete a thorough training.
"One hundred perception adoption is only possible if the system is so simple that employee don't even require training," advises David.
Build the Policy Into the System: Using smart technology providers, travel managers can bake the policy into the system which will not only drive adoption but automate expensing and guide users to make good choices.
"Build your policy into the system. Choose the tools that allow you to do that. Guide the user into making a good choice," Dave told the audience at TRAVERSE 19.
The Right Way = Fastest Route: Employees want to do the right thing. They also want the right thing to be the easiest to do it. When policy makers design the right way to also be the fastest way, business travelers will recognize that is the best path to follow.
"I've overheard people on my team say that the process was much easier than they expected. This is great to hear as someone who implemented the process. Business travelers either had low expectations from other companies or were fearful," explains Dave.
Illuminate the Path from A to B: Travel policy makers should design a system that makes the end goal known and achievable to the business traveler. Every journey starts with a single step and David recommends de-risking the first step in the process.
You'll know that you've achieved this when you hear, "That was much easier than I expected."
Meet People Where They Are: Make sure that the process is accessible. Mobile is an absolute necessity to day, but there should be multiple modalities to on-ramp to the program.
"It is important to create on ramps and off ramps. Allow business travel to come back into the system after a mistake. You have to allow people to come back because they realize that procurement will save them a lot of money and time," explains Dave.
Remove Gatekeepers & Roadblocks: These only lead to bureaucracy and mistrust. Remember that people want to do right by the company and that they were hired because they were trusted with their role. With this in mind, travel policy makers can empower their colleagues by minimizing the number of approval steps.
Search for the Workarounds: If someone in your organization is doing a workaround, find out why. Talk to your users, do surveys, and listen in on the conversations that aren't brought to you specifically.
"You have to think of your role as a product manager. When you implement a policy, your job is not done. You have to listen. Find out why they're going around the path that you set up. Then make changes. Get people back on the path," advises Dave.
Even if you missed TRAVERSE 19, you can watch the webinar encore of the session, "No Passport Required: A Futuristic Vision of Business Travel" here.