TripActions is excited to announce the launch of our new Preferred Hotel Tagging feature, which gives travel managers the ability to highlight and label a preferred property in any region within the TripActions platform, without needing a negotiated rate.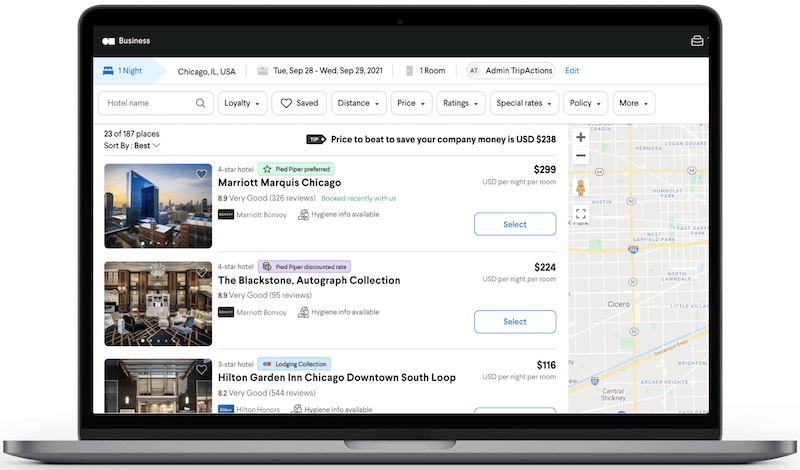 Preferred hotel tagging will help companies empower employees to make more informed business travel decisions without disrupting the superior booking experience they get with the TripActions platform. This translates into a win-win for companies and their travelers.
This update holds true to the philosophy behind the TripActions platform--a straightforward UI that's easy to use and calls out all the most relevant booking information. Here, TripActions equips companies with the ability to add one more layer of relevancy: The ability to identify the most preferred properties among a collection of great lodging options their travelers will encounter when searching on our platform.
As companies return to travel, giving travelers more context can lead to greater confidence. Enabling the Preferred Hotel Tagging feature directly in the booking experience can help identify safer options that are better located, or provide superior levels of customer service.
In fact, even tags that highlight discounted rates negotiated with a chain can be given a preferred tag at the property search level, so travelers know which among the chainwide discounted properties best meets their needs.
Like many new features launched by TripActions, this was the result of clients asking for help with a problem that had never been addressed in our industry before. Specifically, clients had asked to help promote properties to their travelers:
With the best location in a city among a few properties with chainwide discounts
In a neighborhood they identified as safe
In an area with easier access to the worksite (to avoid heavy traffic areas)
With great customer service feedback
Plus, this preferred tag can also help direct volume to a particular property where companies may want to pursue a future agreement.
The Preferred Hotel Tagging feature also underscores TripActions' unique commitment to delivering an unbiased inventory, which means delivering inventory options based only on traveler and client preferences.
TripActions does not believe in share-shifting, or artificially promoting booking options that may negatively impact traveler experience. Instead, TripActions remains agnostic while delivering unparalleled user experience and focusing on helping companies and their travelers find the right travel options.
Set up a demo to learn more about how TripActions is uniquely positioned to help support company and traveler preferences.