With all that's happening right now, we know many companies are actively working on their strategy for getting back to business travel safely. To help, the TripActions Travel Impact Dashboard is now available to all customers. The TripActions Travel Impact Dashboard provides travel leaders with a comprehensive hub where they can instantly see global events that could impact their business travelers and business travel programs. With curated content, granular data and traveler communication features, travel managers can easily view alerts on global events and then respond quickly and decisively to ensure the safety of their travelers when unexpected events put them in harm's way. Global events may include natural disasters, social unrest, transportation strikes and health crises — as well as updates to travel bans, airlines operations and more.
The TripActions Travel Impact Dashboard comes with communication features such as 'chat to change' and 'email to travelers' that empowers organizations to better look after their employees should unforeseen events occur.
The TripActions Travel Impact Dashboard enables travel managers to:
Monitor travel alerts: Get an at-a-glance look at events that could impact business travelers with curated content based on employees' past, current and upcoming trips.
Assess the impact: Understand which employees are at risk or impacted now and in the future.

Respond quickly and efficiently: Take action immediately by reaching out to at-risk or impacted travelers and/or connecting them with TripActions travel agents to rebook or cancel travel.

With the TripActions Travel Impact Dashboard, travel managers can identify at-risk employees, communicate with affected employees, and understand when to scale business travel up or down. HR professionals are able to ensure that duty of care commitments are fulfilled and finance leaders can understand the financial impact of large scale cancellations to employee travel.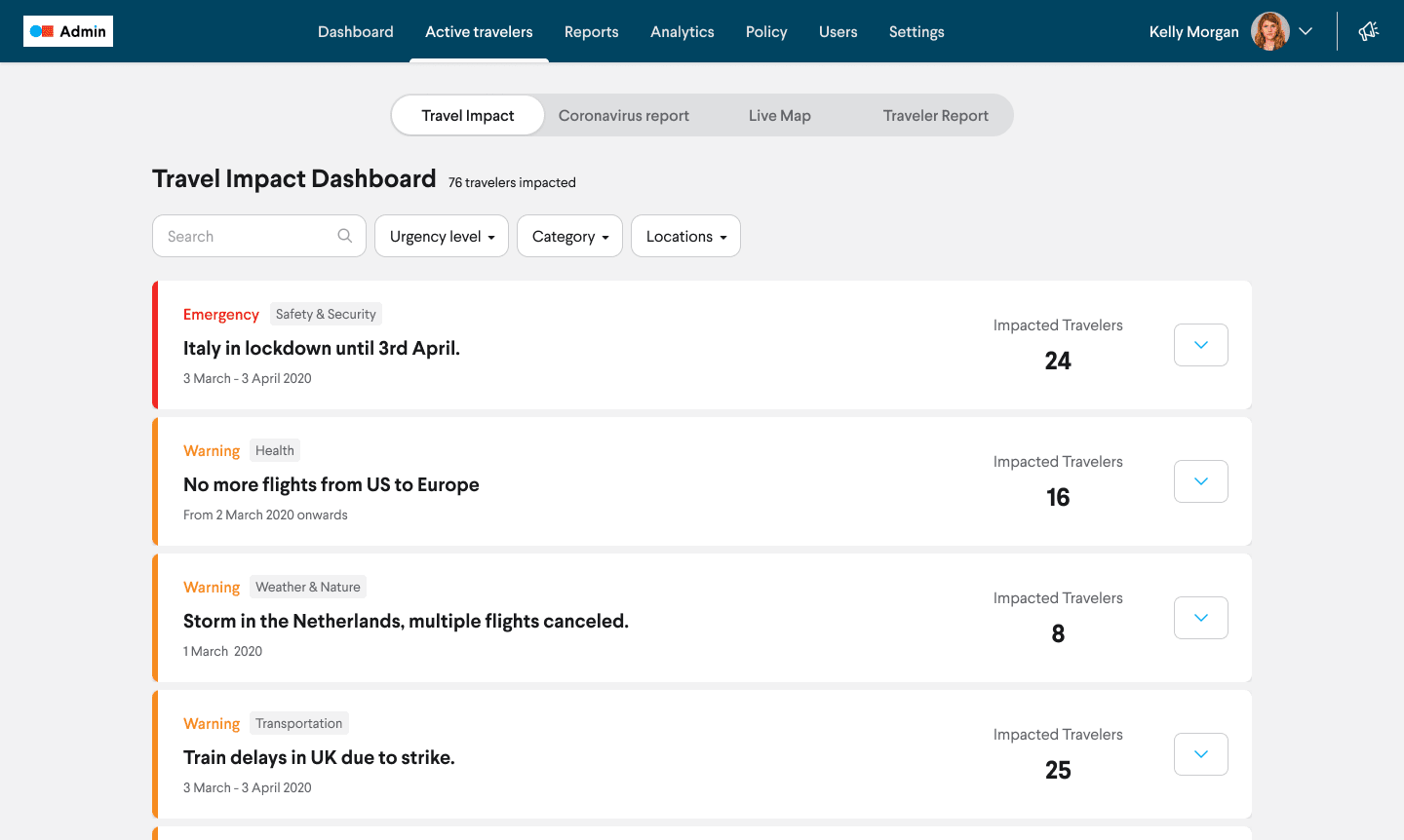 Key Features
✔ Curated global events list: Stay up-to-date on the most relevant global events that could impact your business travelers health, safety or travel plans, including a summary of each event. ✔ Event filters: Filter the full list of events by urgency level, category and location. ✔ Impacted traveler data: Quickly see how many travelers are currently at risk or impacted by the event, how many might be impacted in the future and export the relevant traveler and trip data to be able to take action. ✔ Email impacted travelers: Send an email to travelers at risk or impacted by an event, or pull a consolidated list including their email addresses and trip details. ✔ Chat to change: Initiate a chat between at-risk or impacted travelers and TripActions travel agents to streamline travel operations and expedite the rebooking or cancelation process (travelers with the TripActions mobile app will also be notified via push notification).
The TripActions Travel Impact Dashboard is live today for all customers with our first alert on the U.S. curfews: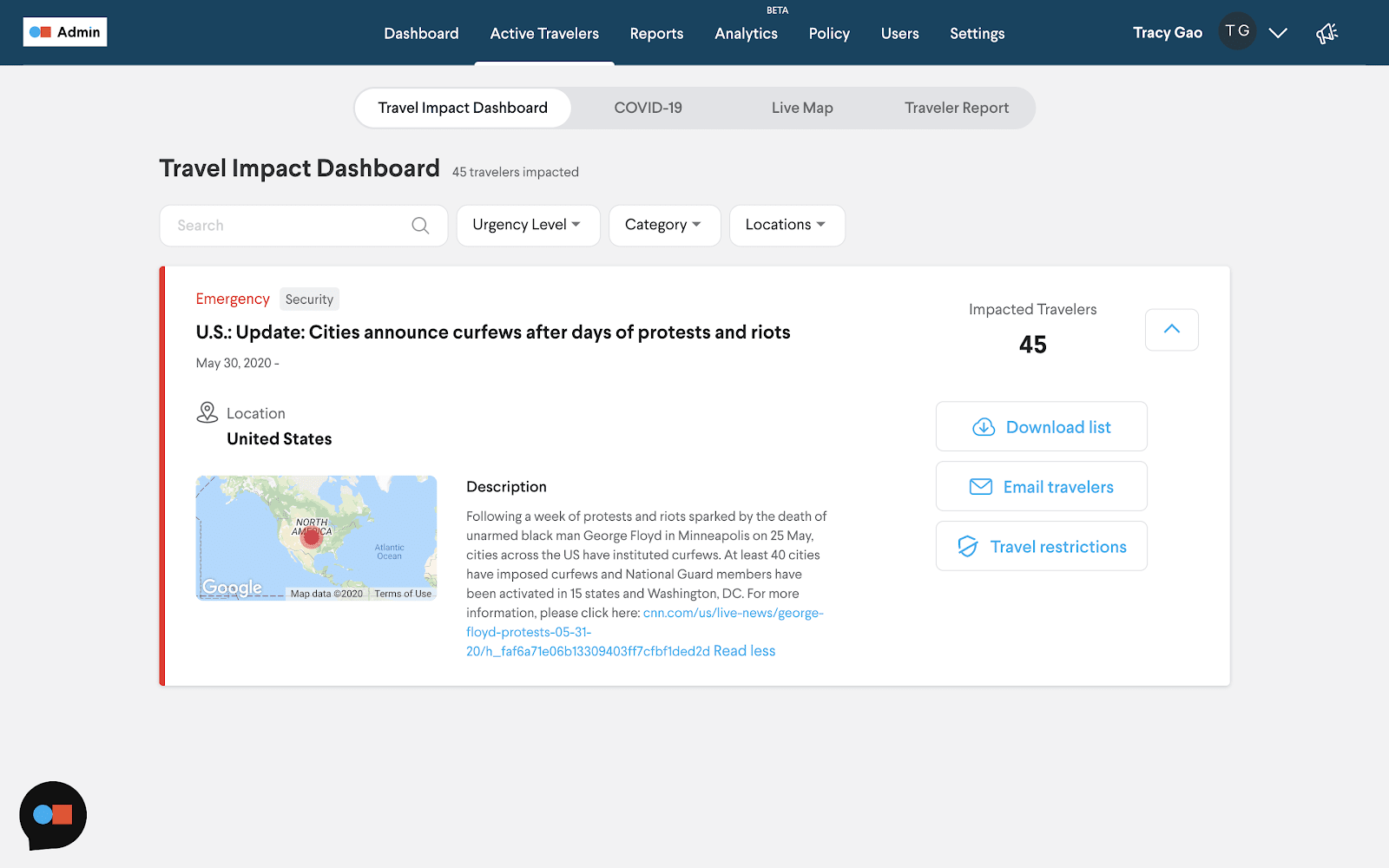 The TripActions Travel Impact Dashboard is now live under the "Active Travelers" tab of the Admin dashboard. This latest launch is just one part of our evolving suite of new products designed to help businesses get back to business and travel safely and cost effectively. Additional products include the new COVID-19 report, policy settings that offer deeper customization and control, unused tickets and waiver automation, and the free, public-facing TripActions Business Travel Recovery™ site.
Get in touch today to learn how TripActions is developing new tools weekly to ensure that travel managers can responsibly care for employees and adapt their business travel policies in a rapidly changing environment.