Scaling corporate growth is a challenge faced at every fast-growing company. While it starts out straightforward, finance departments can be caught off-guard by the sudden onset of challenges once company growth hits a certain size — but they can rein it in by implementing an innovative travel management solution.
We recently sat down with David Wieseneck, VP of Finance at letgo, the largest and fastest growing app to buy and sell locally, to talk corporate travel management. As one of America's most popular apps, the letgo marketplace is filled with everything from electronics, cars and collectibles to housing, clothing and furniture. With innovative features like video listings and letgo Reveal, the free app makes it easy to list what you don't need and find great deals nearby on anything you do.
Growing Pains
One of the significant challenges for letgo was finding a travel solution that could scale as their company grew and their travel needs became more complex. David and his team were historically forced to establish policies and procedures that created a less-than-ideal corporate travel experience for letgo employees.
"We grew to 150 people very fast back then, we knew we were planning to hire a lot more, and travel was going to become a bigger issue," said David Wieseneck, VP of Finance at letgo. "Employees would come to us asking how to book travel, what to do, whether to go off on their own or call our travel agent. Our office managers didn't know where fellow employees were when they traveled or who was traveling."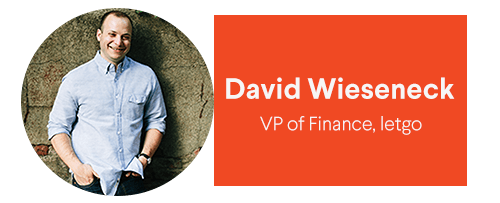 Employees would frequently go to the finance team to ask policy questions and seek approvals, which drew out the booking process and consumed the finance team's valuable time. The company travel policy was not easy to follow or well known, so employees tended to optimize their trips for personal convenience. "What I've often found is that if something is not easy to do, people find workarounds that seem faster," said David. "I don't like to put fences on the path to get from A to B. What I like to do is just illuminate that path, and show them that this is the right way *and* it's also the fastest way to get what they need." And in the case of corporate travel, workarounds usually involve booking outside of the designated tool. In David's eyes, reducing leakage therefore meant bringing aboard processes that supported, not discouraged, his employees. This focus on the end-user allowed him to implement policies that dramatically reduced the company's per-traveler spend by 25%, but also increase the adoption rate of a managed program. "Our employees want to do the right thing and follow the process, they just want to get it done as fast quickly & get back to their work," said David.
Making a Great Impression
"When we looked at a bunch of different solutions. TripActions was not on our list, actually," says David. "Near the end when we weren't happy with ANY solution we were looking at, someone read an article on TechCrunch and said, 'Let's put this on our list.' As it turned out, TripActions had all of our 'must-haves' and a bunch of the 'nice-to-haves.'"
David was immediately impressed with the ease of onboarding TripActions — just a few hours spread over a couple of days. After testing bookings with a few employees, other travelers chimed in and were eager to get access of their own. That strong initial interest eventually led to sky-high adoption across letgo. "We all know about software that just sits on the shelf," said David. "We don't have that problem with TripActions — we have a near 100% adoption rate, which is unheard of for any enterprise tool, let alone travel software."
When asked about the best way letgo's travel program has improved, David responded, "For us it's around recruiting. We fly people in to the office for in person meetings & interviews. Before, it was the office manager just booking a flight and sending the details. Now, we can do it in TripActions, whether it's booking for them or inviting them into the platform to book themselves. [It] makes a really good first impression when we're recruiting a new hire or candidate. I really like that finance can play a part in the recruiting effort."
Looking Forward
Innovation and simplicity are both key components in letgo's business model, and David looks for these features in every piece of software that he evaluates. Taking a page from angel investor Auren Hoffman, David says, "For me, finding software that is continuously releasing new features is a huge indicator of where a company is in their lifecycle. When we're looking for a solution, we make sure that not only do they have the things that we want today, but that they are going to keep innovating in the market and will be a solution that we'll keep working with in the future."
While we continue to deliver a best-in-class travel program to letgo, read what some of our other customers have to say about managing corporate travel with TripActions.