Business travelers are people too, and in today's consumer-friendly world, it's no longer an option to ignore traveler sentiment when evaluating the health of your corporate travel program. Nothing beats the value of meeting in person, but when you are leveraging corporate travel — which is the second largest controllable corporate expenditure — to foster those in-person connections, it's especially important to keep track of travel's impact on your business overall.
But if you're going to track corporate travel program performance, you must first define the right KPIs. TripActions recently sat down with Curtis Atkisson, CFO at Sojern, to discuss why the current state of travel program measurement is no longer up to par and which metrics truly matter when it comes to measuring program success.
As a finance executive, Curtis is tasked with scaling and growing Sojern's business, which includes considering how travel can be leveraged for organizational growth. Curtis brought on TripActions to help develop a travel program that enabled travel to be a strategic investment, but not at the cost of a strong user experience, which increases adoption, improves visibility, and ultimately offers insights into how to optimize.
"I've really been delighted with TripActions from the beginning. I tried to implement a program like this at other companies and brought on other travel tools which ended up being a waste of time," Curtis explained. "I had to spend a lot of time trying to get travelers to use it and spending a lot of time on compliance."
Most traditionally managed travel programs fail to make the connection between a positive user experience and cost savings. But as Curtis points out, compliance is key to managing and tracking travel program metrics. After all, it's nearly impossible to get a complete picture of performance if compliance is down and you're not actually aware of what travelers are booking.


When it comes to reporting, Curtis's favorite admin-facing features include:
Live traveler map: Curtis and his team didn't even know they needed this feature — which allows program managers to track traveler whereabouts all in one, in real-time — but now use it all the time to deliver on duty of care.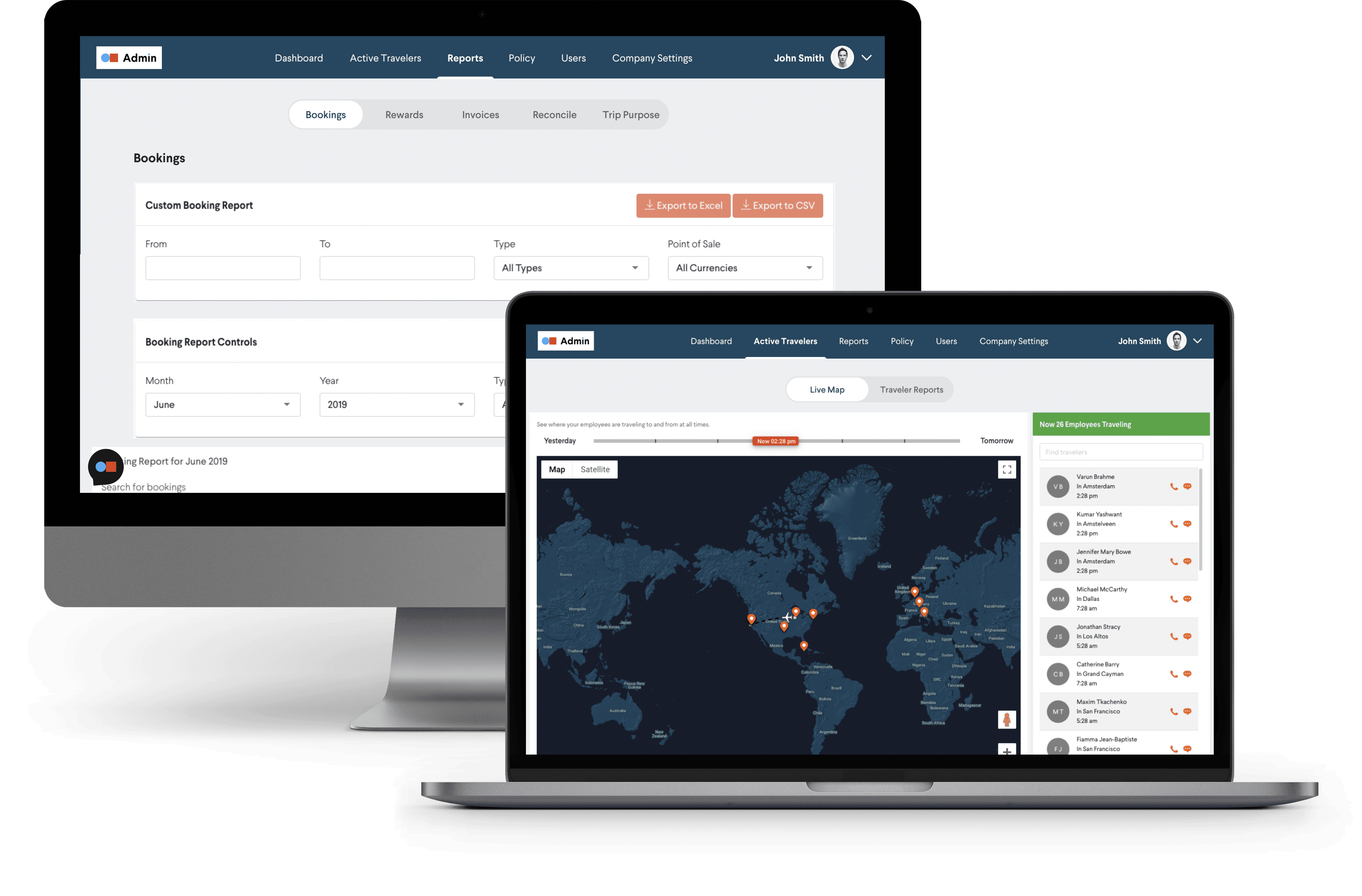 Support response time: Part of the admin dashboard, Curtis can check this metric to understand how quickly Sojern's travelers can get in touch with a travel agent.
Traveler sentiment: The TripActions admin dashboard surfaces metrics including NPS (net promoter score) and CSAT (customer satisfaction) that help leaders like Curtis understand what employees are getting out of the organization's travel program experience.
Top savers: Curtis can aslo track which employees are taking advantage of the traveler incentives program and saving Sojern the most money.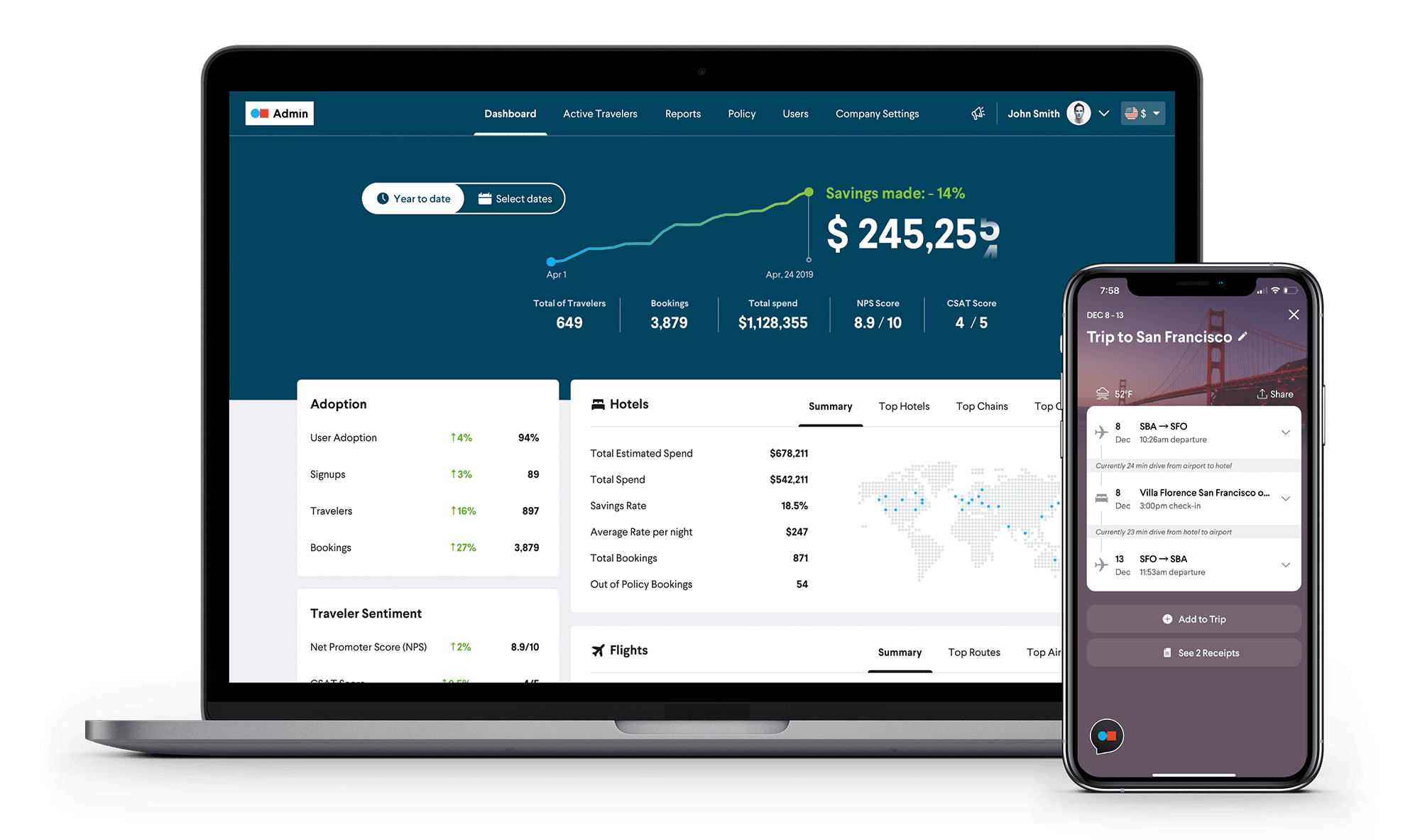 And while Curtis' role puts him on the administrative side of things, he's also a road warrior who enjoys the traveler-focused features on the TripActions platform. Curtis' favorite features are the push notifications that help guide him along his business travel journey. Instead of sifting through emails and various travel apps or web pages, Curtis gets all his essential travel information in real time via the TripActions app.
Check out the webinar Rethinking Success Metrics for Corporate Travel Programs, available on demand, for more on measuring adoption, understanding traveler satisfaction, and building exceptional traveler experience without sacrificing savings.