At TripActions, we're driven to deliver a best-in-class experience, supported by industry-leading technology. Business travelers have different needs and expectations of a fast, personalized, flexible experience tailored to how they travel, and this is what pushes us to innovate. We're excited to share some of the latest updates, including mixed carrier and fare bookings for our travelers, and policy updates for our travel managers.
TripActions released free in-app flight change earlier this year to make business travel simple and flexible. Since launching in June, we've already seen almost 3000 of our travelers make self-serve changes to their flights, both on desktop devices and on our mobile app. Flight change is one of many free features we're proud to serve to travelers every day they're on the road.
"We iterate quickly and tirelessly for our users," said Shawn Wong, Product Manager, TripActions. "We release hundreds of improvements each month, and this is to make sure we're refining our features to meet our customers' expectations."
Business travelers are consumers, even when traveling on the job. Most travel sites and tools for consumers today offer intuitive experiences, limitless options, and mobile-friendly UIs. However, business travelers typically see a stark contrast when they try to book a trip for work. When booking travel for work, travelers expect that same seamless experience. However, their organizations' designated tools are usually outdated and complicated, sometimes taking hours of time to complete a booking.
Making Global Travel Easier than Ever: Mixed Carrier and Fare Bookings
Short-haul domestic flights in America are completely different than comparable flights in Europe. The U.S. has 15 main carriers with limited options, whereas there are over 50 international carriers in Europe, offering nearly limitless combinations of airports, cabin classes, seats, incidentals and more. Travelers in Europe and Asia have come to expect these options, be it a long-haul, multi-leg trip or for a quick hop from Amsterdam to London. The number of low-cost carriers in these countries with affordable fares and same-day round-trip bookings makes traveling in Europe by air a breeze.
By popular demand, we've taken a page from top consumer travel websites and improved our travel experience by offering the ability to mix airlines on a single itinerary. Travelers now have the ability to book a round-trip journey with any major airline and low-cost carrier in one, intuitive booking. Typically, these different categories of inventory and airline carriers are walled off from each other, causing travelers to contact their travel agents or spend time creating separate bookings to get the exact itinerary they want. At TripActions, we understand the importance in providing our travelers speed and freedom of choice, especially when it comes to global travel, so we connected these systems in the backend of our product — all without any noticeable interruptions to the travelers' experience when creating their preferred trip itinerary.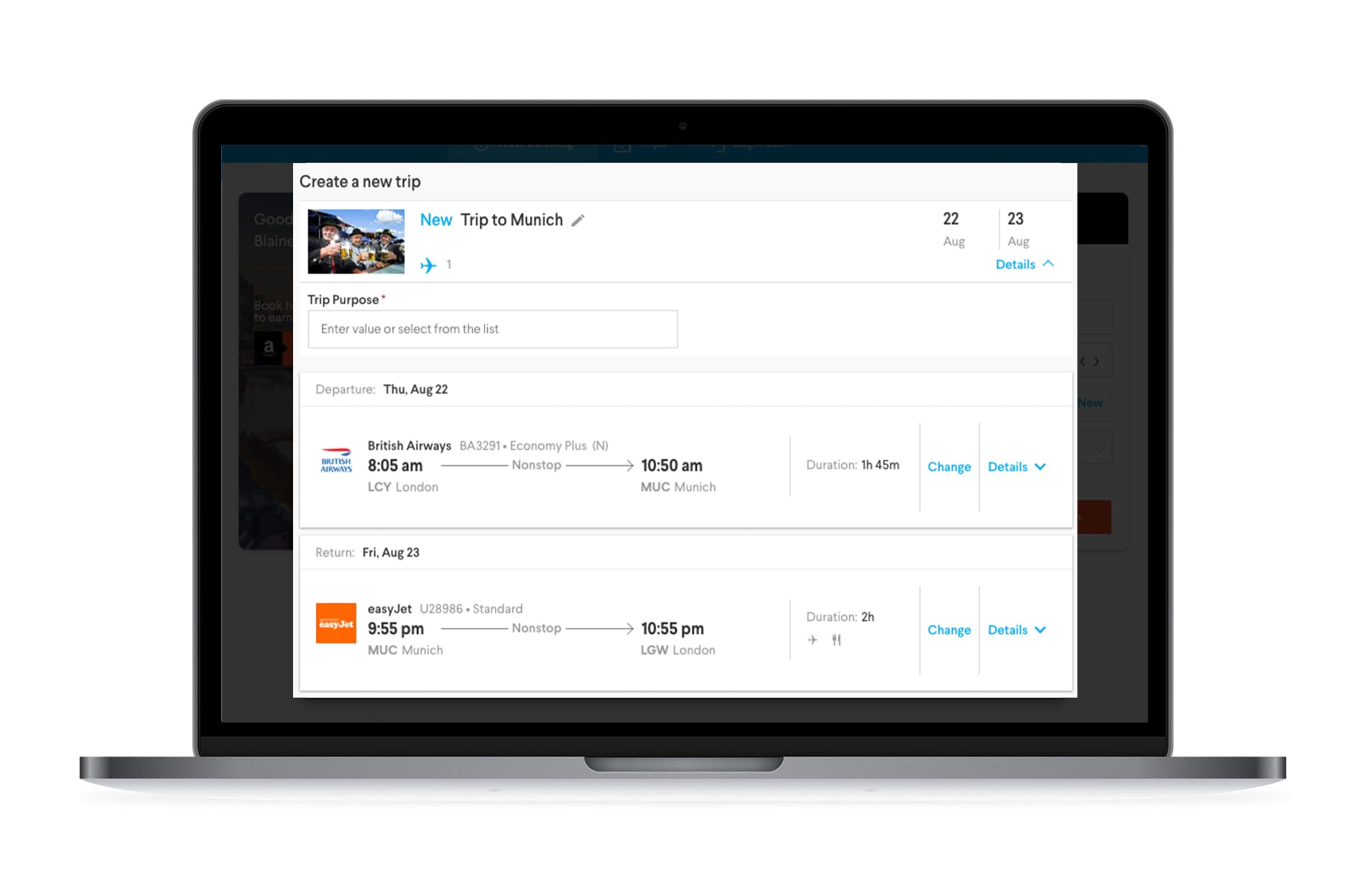 Updates to Flexible Policy Controls for Travel Admins
For a company's travel administrators and finance teams, we understand that ensuring your employees book 'in policy' can be a major pain point. However, we've found that when the right travel policies and tools are put in place — particularly in the context of how and where the employee is traveling to — the whole experience can be a delightful one for the traveler and the organization.
Our policy controls are built with the understanding that individuals have their own wants, inclinations, and perspectives. For example, a fare cap made for the majority of domestic travel wouldn't make sense to a salesperson who makes frequent long-haul trips. The TripActions platform allows for more dynamic policy that in turn gives travelers more flexibility when booking based on fares that would otherwise not fit within a rigid policy. Once administrators set the company's travel policy, travelers have complete visibility into flight, lodging and ground transportation policies throughout the booking experience.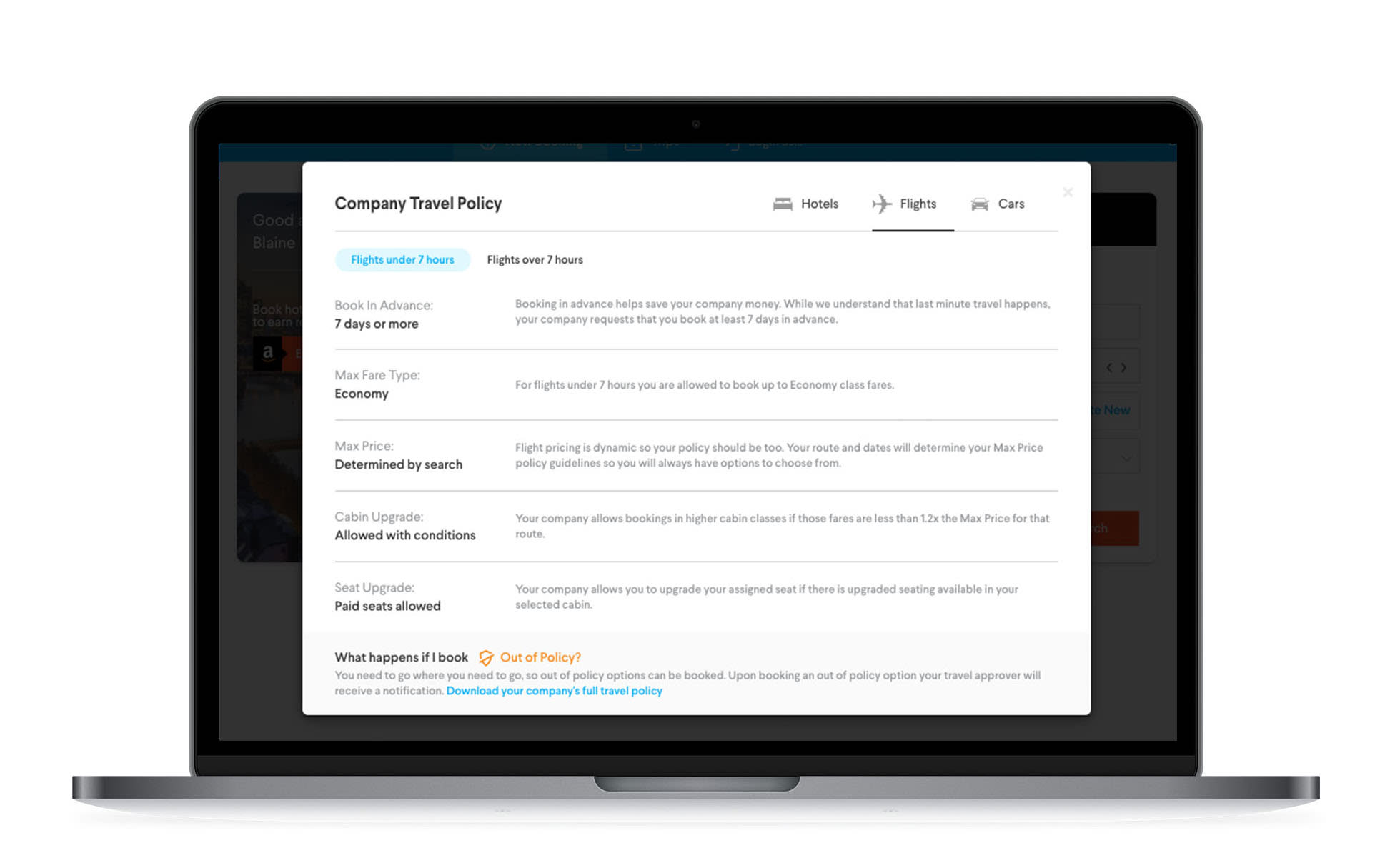 As we continue to build TripActions around all of our users and their experiences, we look forward to collecting and integrating more feedback from our travelers, as well as the managers and administrators that work tirelessly to make sure their travelers get from A to B. If you're a travel manager or administrator, schedule a demo with TripActions today to learn how to get the best experience in business travel.