One-Third of Business Travel Remains Unmanaged
The current landscape of business travel solutions belies what's actually happening inside organizations. Many legacy travel management solutions don't meet business travelers' or travel managers' needs — so much so that unmanaged travel remains prevalent despite its downsides and the variety of business travel solutions available today.
Skift's State of Business Travel 2020 -- exclusively available from Skift and TripActions -- highlights the need for modern business travel solutions that remedy companies' desire to manage and optimize travel spend while delivering a great, consumer-like experience for business travelers.

According to Skift's survey of corporate travel managers and business travelers around the world, nearly a third of corporate travel managers, or 32.4%, said that their companies do not have a corporate travel agency or platform. Those who said they were "not sure" whether their company had a corporate travel solution was the third most popular response, accounting for 24% of respondents.
The responses were similar among business travelers. More than a third of business travelers, or 35.3%, said that their organizations did not have a corporate travel agency or platform.
The relative popularity of "unmanaged" travel policies -- referring to companies that have no formal travel tool for employees -- is indicative of the big decisions facing today's corporate travel managers.
Corporate Travel & The Modern Balancing Act
Finance Leaders and corporate travel managers are responsible for balancing savings and optimization on one hand and traveler experience including productivity and convenience on the other.
The decision to select an unstructured or unmanaged travel policy reinforces the desire for creating a great traveler experience with program features like convenience and ease of use, but misses out on the delight and relief that comes with 24/7 live travel agents there to support travelers at every step of the way. The decision to remain unmanaged could also come from policy makers' disappointment with the industry's legacy corporate booking tool choices.
When corporate travel managers were asked to rate their satisfaction with their companies' solution, the response was mixed. While more than one-quarter of respondents ranked their company's current tool as 10 out 10, another quarter rated their current tool between one and five, suggesting that many of the existing corporate solutions on the market (such as, for instance, having no solution at all) have plenty of room for improvement.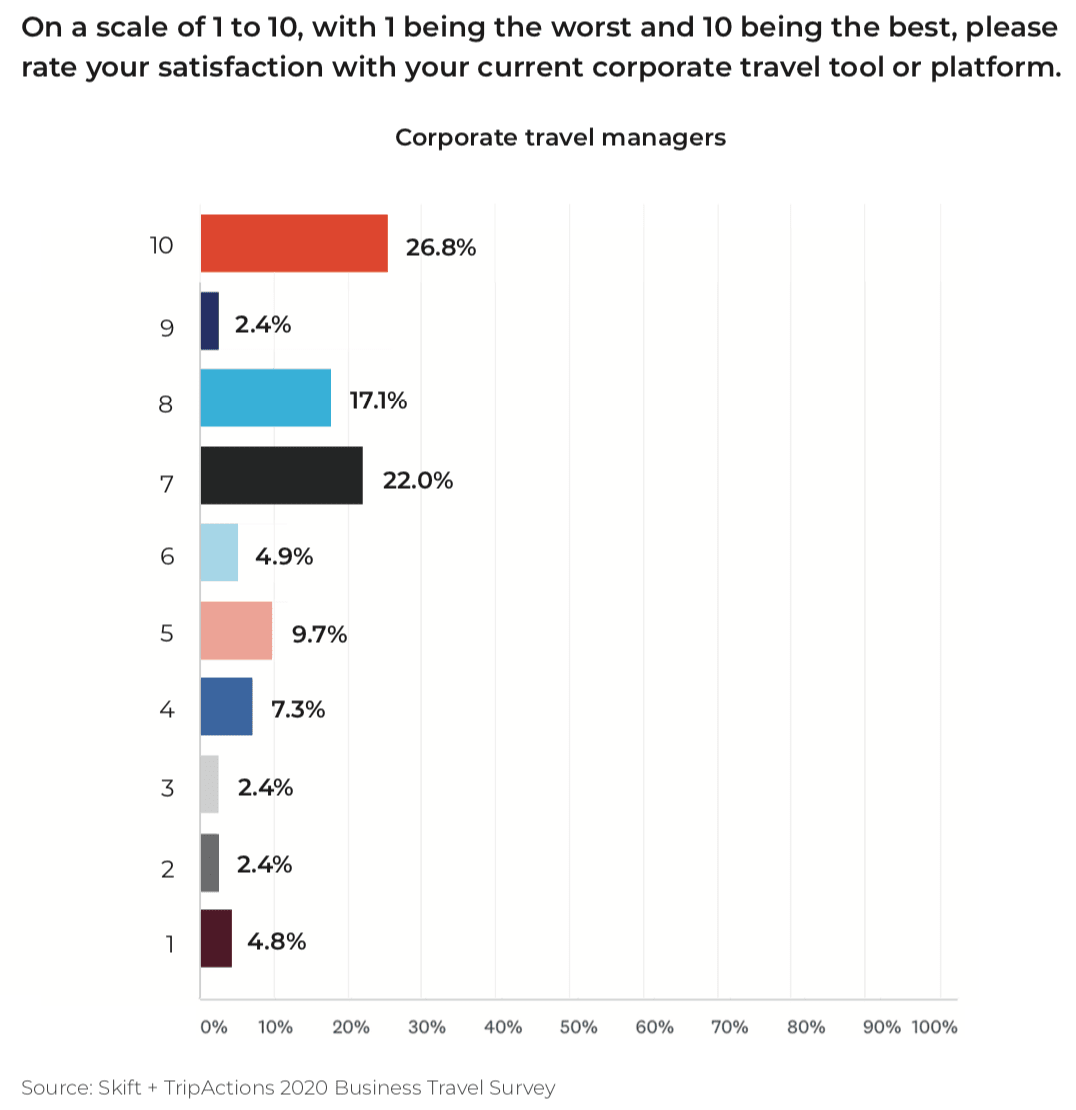 When taking a more detailed look at the survey results, it becomes clear that not all business travel solutions are created equal, particularly in the eyes of business travelers.
On the question of whether or not they felt their "company's business travel solution was easy to use," 73% of business travelers using TripActions either agreed or strongly agreed. This was in comparison to just 49% of business travelers using other business travel solutions, a 24% point gap.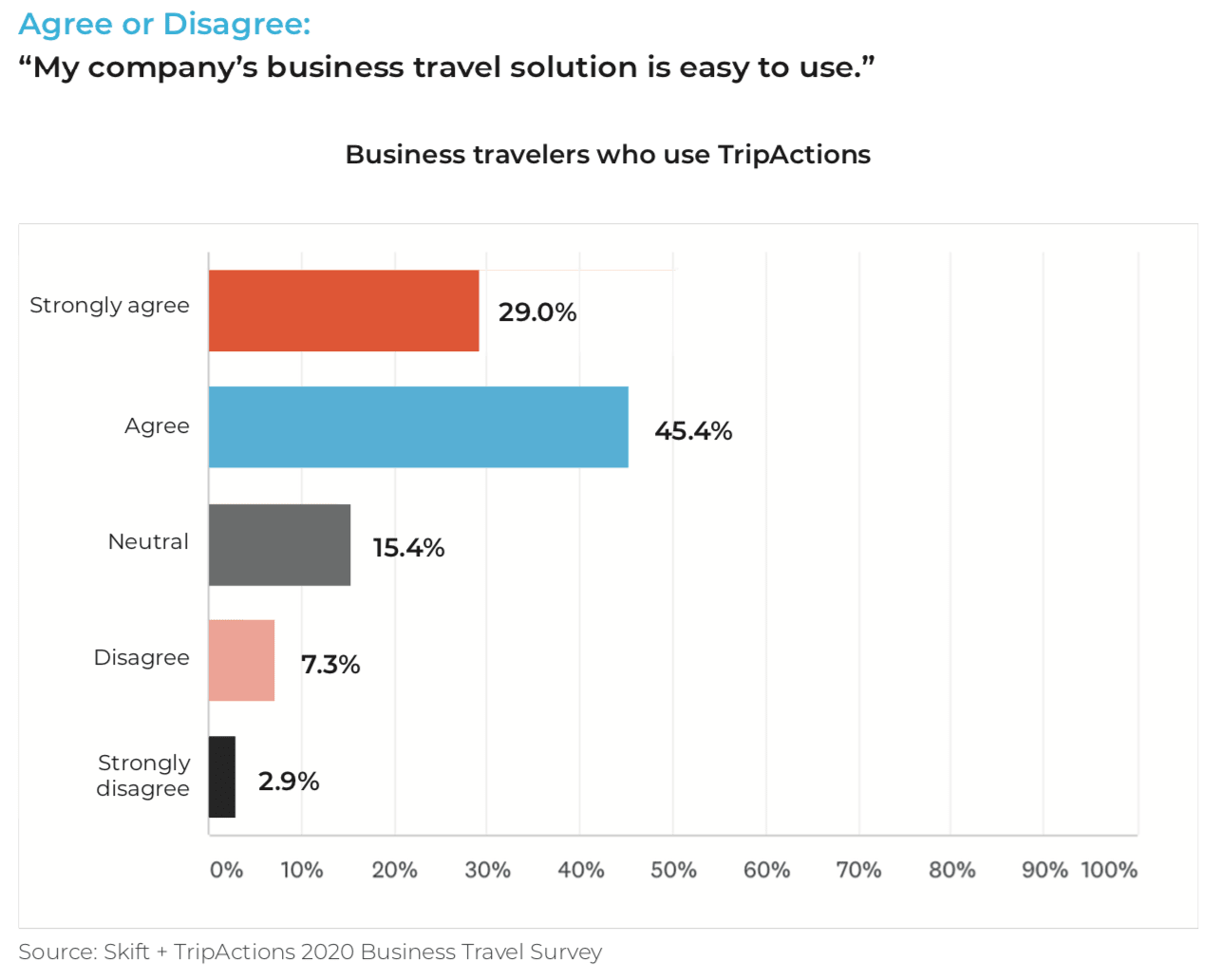 There is a better way forward. Although remaining unmanaged might seem like a shortcut to employee satisfaction, the long-term impact is detrimental to the company and its mission as a whole. What corporate travel managers seek more than anything is choice in their corporate travel program so they no longer have to compromise between spend visibility and control and a great traveler experience.
Download the Skift Report: The State of Business Travel 2020 to learn how the nuances of corporate travel management are shifting to empower travel managers and their business travelers with a solution that empowers organizations to balance the needs of the business with enhancing traveler satisfaction.