Call it revenge travel, call it a vaxication, call it pandemic fatigue: with vaccinations on the rise and confidence building in the economy, the pent-up demand for travel is starting to boil over. Each week, a new wave of travelers returns to the skies; according to the Transportation Security Agency (TSA), which measures regular passenger throughput each day, screening volumes have reached almost 70% of the level seen in 2019—a 3x rise from the same time last year.
Some of this return to travel is led by the natural ebb and flow of leisure travelers. It's deep in spring break season, and as buds start to form on the cherry trees, many are starting to feel the itch.
But there's another subset of travelers simply eager to get back on the road. As early as summer of 2020, nomads, weekenders, and even road warriors started plotting a return to the skies through what The Washington Post calls revenge travel, using stifled wanderlust or meeting invites or ticket credits to book a previously untakeable trip.
Now with vaccines on the rise, many are finding further justification to book. On Bloomberg, the concept of celebratory "vaxications" surfaced as levity against a year cooped up at home. Get a vaccine, book a trip.
The rise in personal travel—whether motivated by meetings, revenge, or Señor Frog's—has been front-of-mind for the product team at TripActions. Among myriad updates specific to traveler safety and program visibility, the team has invested heavily in enhancing the personal travel experience written into the technology, making it easier for corporate platform users to flip a switch and book a leisure journey with many of the same benefits of a corporate trip.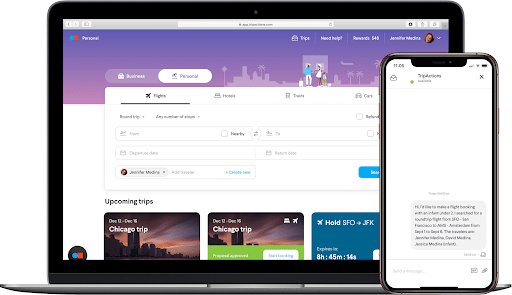 But corporate travel won't languish, either. In January, TripActions co-founder Ilan Twig jumped on the phone with Brian Kelly from The Points Guy to highlight some of the growing trends in corporate travel. At that time, TripActions was seeing 3-–6% growth in business travel bookings week-over-week. Now, as spring picks up steam, that weekly average growth is closer to 15%.
As corporate travel and spend programs open back up for a return to travel, TripActions has strategically invested in the technology to provide optimal policy and safety capability to managers without sacrificing risk and visibility. And as more travel and finance leaders get programs back online and take stock of what truly matters for post-pandemic travel, the unified platform provided by TripActions will be the choice solution for the return to travel. Or revenge travel. Or even a well-deserved vaxication.