Last week, our European team spent two days in Paris attending SaaStr Europa 2019. Saastr brought together 2,500 attendees in the heart of Paris to share best practices around growing your business with less stress and more success. They had speakers from organisations such as Twilio, Wrike, Lucidchart, Algolia, and more.
It was incredible to meet so many new emerging organisations, and we had fun bumping into some of our customers who had travelled to Paris, who of course used TripActions for the few days!
From how to scale your business successfully to emerging trends in global growth, here are my key takeaways from SaaStr Europa 2019:
Eurostar is the Way Forward When Travelling to Paris from London
A few weeks before our trip, I booked the train from London to Paris through TripActions. I normally fly, but taking the rail was a seamless experience and I would highly recommend it! Some perks of traveling by rail included being able to take my coffee through security, not having to separate liquids and electrical items, and the ease of making my way to St Pancras station.
Diversity is a Top Priority Across the Technology Industry
SaaStr held a diversity and inclusion brunch — an invite-only event — on the first day of the conference. Jason Lemkin, Founder of SaaStr, spoke about creating inclusive events for all, and the company's mission to drive a diverse mix of attendees. I had the opportunity to speak at this event about diversity and inclusion at TripActions. I'm lucky to work for a company where diversity starts at the top with our co-founders, who are passionate about ensuring that we have a diverse organisation to fuel more ideas and grow fast. At TripActions, 50% of our employees are female and 57% of our executive team are women. Our CEO Ariel was also recently named #4 for Best CEO for Diversity. This was a huge selling point for me when I was choosing my next role. As a company that has grown from 80 employees to 700+ in just over a year, it's important to maintain our culture and values as we grow.
US Companies are Embracing the European Market
The event kicked off with a panel hosted by SaaStr CEO Jason Lemkin alongside G2 CEO Godard Abel, CircleCI VP of Revenue Jane Kim, and Twilio Sr. Director of EMEA Marketing Tricia Miller. They all shared how they are embracing the European market with strategies for growth. One thing that Tricia from Twilio emphasised was the importance of leveraging customers to share your stories in the market. In the age we live in, recommendations and referrals drive business growth, so if your customers can share how much they love you as a company, you're winning! G2Crowd is already riding this wave by providing real-time and unbiased user reviews to help businesses objectively assess what is best for their business. At the end of the day, if you want to address the European market, you will need to build trust amongst your audience and localise your messaging to ensure that it resonates with your target market.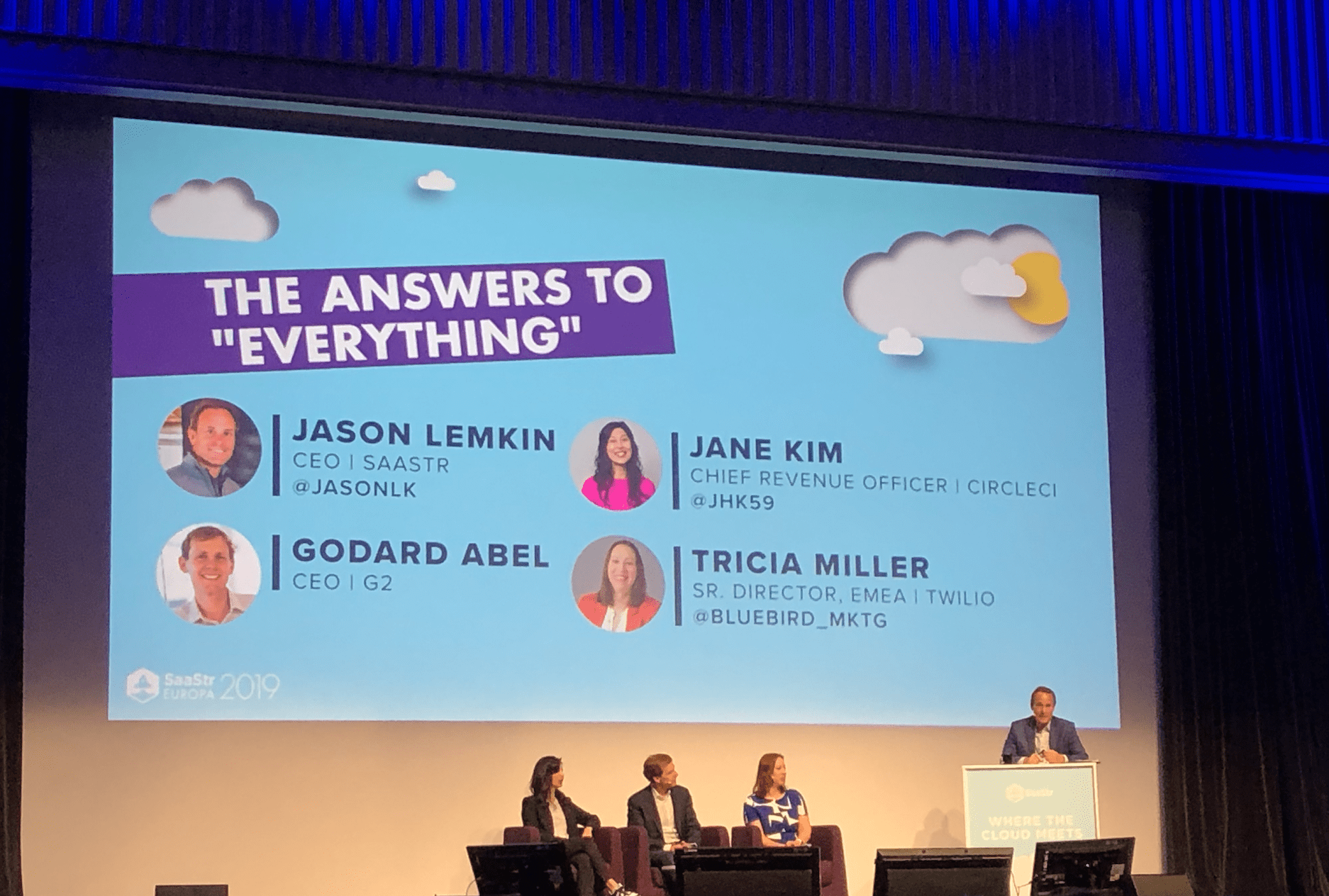 Focus on Your Cultural Values as You Scale
Across the two days, one key subject kept surfacing: build your cultural values from the beginning. Your organization's cultural values define the talent you'll hire, your business strategy, and how your differentiate your offering in the market. Your values communicate what you stand for and how you will partner with your customers. At TripActions, we live and breathe our cultural values every day, incorporating them into our decision making and in how we partner with our customers. Eric Rea, CEO of Podium, shared how he grew the company he launched from his spare bedroom into one of the fastest-growing SaaS companies in the country, and talked about the importance of having a vision and cultural values in place from the get-go so you can scale quickly.
People Love Incentives
As I walked throughout the venue meeting the variety of sponsors, there was one thing I noticed they all had in common - branded socks! For you event lovers, socks are the new swag that everyone is sporting. In fact, I came home with 5 pairs of different branded socks. We also heard about how incentives impact corporate travel when we met a TripActions traveler at the event who is a VP of Engineering. His team loves our incentives on hotels, which encourage employees to choose better hotel prices to save the company money while earning Amazon rewards or upgrades.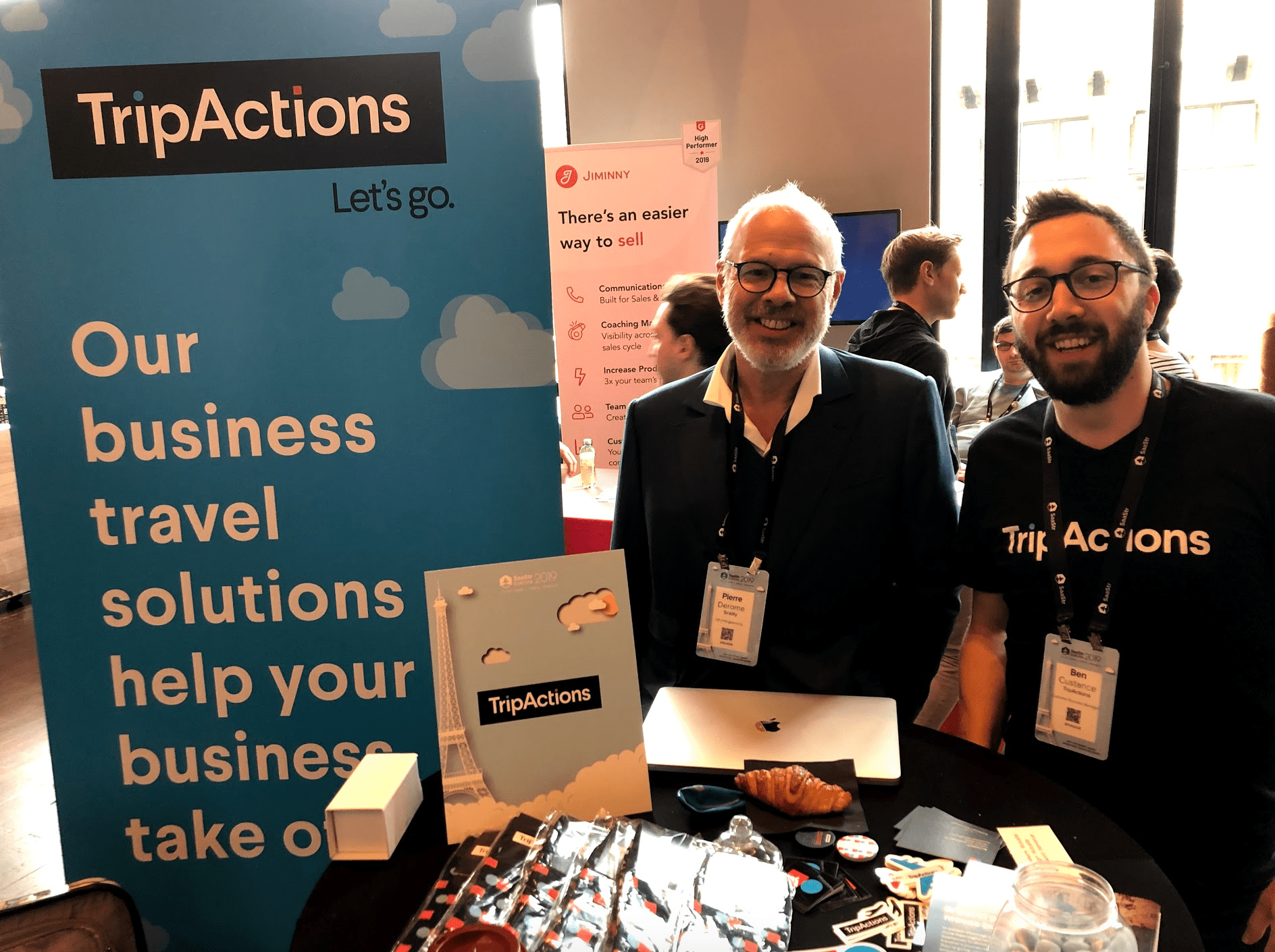 I absolutely loved my time at this year's SaaStr Europa as we met so many interesting people, chatting with several businesses and customers who are excited that TripActions is in Europe. If you'd like to learn more about the new era of business travel and TripActions' presence in Europe, be sure to tune into our 15-minute on-demand webinar.
This post was written by Cliona Moulton, our TripActions Senior Marketing Manager based in London.