We all want a choice whether that's between a grande nonfat one-pump no-whip mocha or a venti iced skinny hazelnut macchiato with sugar-free syrup -- or which airline we prefer for earning frequent flier miles. Travel managers tasked with improving employee satisfaction while encouraging them to align with the organization's larger business travel goals have learned that choice is critical to getting business travelers onboard.
There is a win-win-win available in the business travel space that was not possible only a decade ago. Through smart technology and new strategies, corporate travel managers no longer have to compromise on user experience, spend, and scale -- it is possible to accomplish all three when they complement one another.

TripActions partnered with Skift to understand the role that business travel plays in company decision-making and business growth worldwide. Our teams analyzed [the attitudes and opinions](https://tripactions.com/blog/business-travel-is-a-strategic-lever-for-growth) of corporate travel managers and business travelers from around the world. Nearly half of respondents worked at small- and medium-size enterprise companies while the others worked at larger, enterprise-scale companies with 2,000+ employees.
With the arrival of new technology such as machine learning and NDC, it is possible to provide business travelers with a new level of choice that aligns with their consumer experiences. It also streamlines the processes for encouraging employees to make smarter choices through perks.
In the Skift Report: The State of Business Travel 2020, we look at what corporate travel managers and business travelers think about when it comes to flexibility and choice:
How to Empower Business Travelers: Perks
In the face of growing demands from travelers for more consumer-friendly business travel programs, providing choice is a simple way to reduce the perceived gap between consumer and business travel solutions.
The majority - 80% - of corporate travel managers surveyed by Skift agree that travelers should be able to earn and retain their loyalty points as a perk. Empowering road warriors to earn points from their preferred loyalty programs — and enabling them to take advantage of the benefits of their travel -- makes them more likely to use the designated platform and reduces leakage.
The second-most cited benefit (62%) was providing travelers with their choice of various hotel chains. It pays to ensure you're not only delivering a great experience through your corporate travel platform, but also offering all the right and relevant inventory for your travelers so they don't feel compelled to look elsewhere--even using machine learning to surface the flights and hotels they're most likely to book, which makes for an even better, more personalized process.
The third-most mentioned perk, listed by 43% of decision-makers, was allowing travelers to earn rewards like gift cards for saving the company money on travel. By introducing the right booking incentives into your travel program, employees can earn personal rewards and save the company's money at the same time.
Business travelers' perception of corporate travel perks was perfectly aligned with the travel managers who oversee their programs. The group cited the same three top benefits — earning loyalty points, picking their hotel brand, and gift cards — as the most widely offered travel program benefits.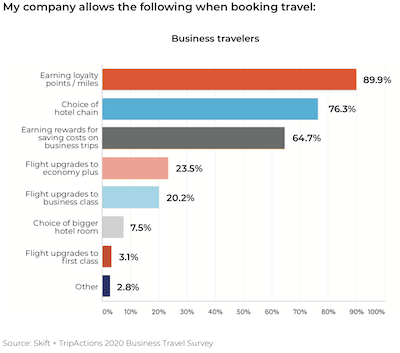 Another most mentioned perk noted by corporate travel managers and business travelers was flight upgrades to first, business, or economy plus.
Business travelers that spoke with Skift described specifically how the ability to earn rewards through hotel choice impacted their decision when it came time to book.
"When you start getting into significant double digits just to stay in a slightly different place and get an Amazon gift card, that adds up. At the end of the year, you get a couple hundred dollars worth of Amazon gift cards and you can go shopping," Mike Ramirez, director of enterprise sales for software firm Looker, told Skift.
These perks reward business travelers and incentivize them to make good decisions and spend company money as if it was their own by letting them share in the savings they deliver to their business.
How to Empower Business Travelers: Trip Add-Ons
While corporate travel managers and business travelers are aligned around the importance of perks, neither felt that their companies had started to offer a flexible policy that allows employees to expense trip add-ons. Travel services like flight upgrades, Wi-Fi access, and checked baggage often fall into a grey area as to what is or is not allowed in policy.
Just over half of corporate travel managers and 63% of business travelers were either neutral, disagreed, or strongly disagreed that their companies "offer a flexible policy that allow employees to expense trip add-ons."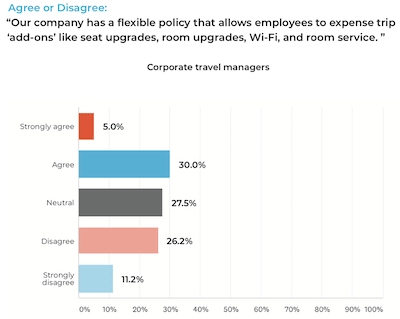 This presents an opportunity. Flexibility should be offered as a positive aspect of any corporate travel policy that gives employees the option to select what they need to make the most of a business trip. Travel managers need to be clear about what is and is not allowed while also enabling better access to these types of services when business travelers are planning trips through their approved company tools.
While companies have historically struggled to reconcile the often contradictory demands of traveling employees with their policy and spend goals, the future of business travel will focus on convenience and choice. By putting the needs of travelers first, travel managers can achieve higher levels of adoption which will deliver the spend visibility, control, data, and insights needed to optimize their travel programs, drive savings, and fulfill their duty of care.
Ultimately, happy travelers make for happy, thriving companies. All of this is done in alignment and partnership with suppliers and airlines. It is the ultimate win-win-win.
Download the Skift Report: The State of Business Travel 2020, available exclusively from Skift and TripActions, to learn more about the win-win-win that's finally available to people who manage travel.