In the first three months of 2019, consumers and businesses spent some $32 billion in airfare — $6.5 billion (5%) of which was left sitting on the Tarmac in the form of unused tickets in a single quarter.
Imagine the total value of unused tickets on the market today, in the wake of a year in which flight cancellations jumped 226% from January to March on TripActions (when the pandemic's effects on flight cancellations reached its peak). Instead of issuing bulk refunds to customers, most airlines offered credits for travel; then, as the pandemic dragged on, the expiration dates of those credits were extended.
Today, cancellations are less common (Jan 2021 recorded a 24% bookings-to-cancellations ratio as compared to the 334% recorded in Mar 2021). For many companies, however, the unused ticket bank remains an outsized problem; any one company can still hold hundreds of thousands of dollars of unused ticket value as it deliberates on the timing of restarting non-essential work travel.
An analysis of TripActions data shows that expiration dates are coming due — and for some, that deadline is soon. Of the unused ticket credits in TripActions' database at the time of publication, 55% expire in 2021. Forty-five percent will expire in 2022.*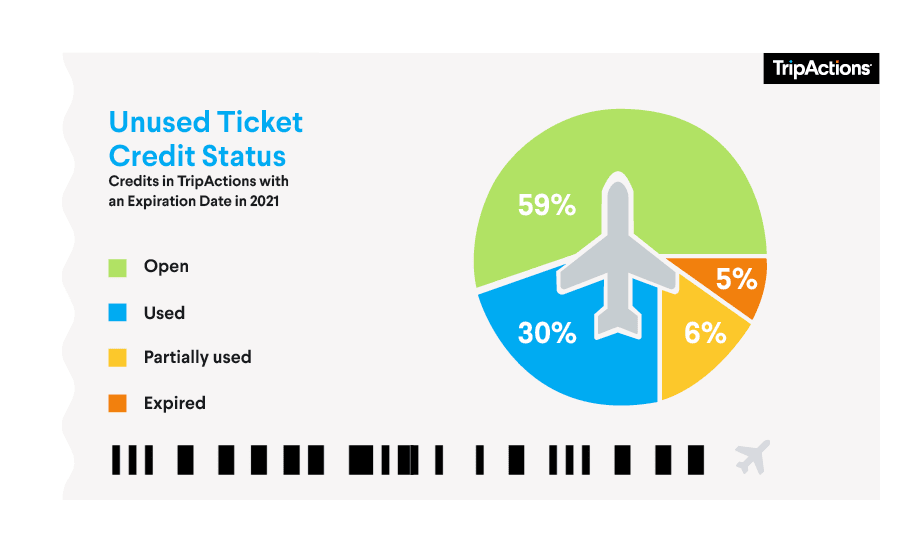 Of those unused ticket credits with an expiration date in 2021, 5% have already expired and 30% have been used, leaving 59% open with another 6% only partially used.
And while the bulk of the credits with a 2021 expiration date won't expire until the end of the year (57%), 28% of unused ticket credits expire in Q1.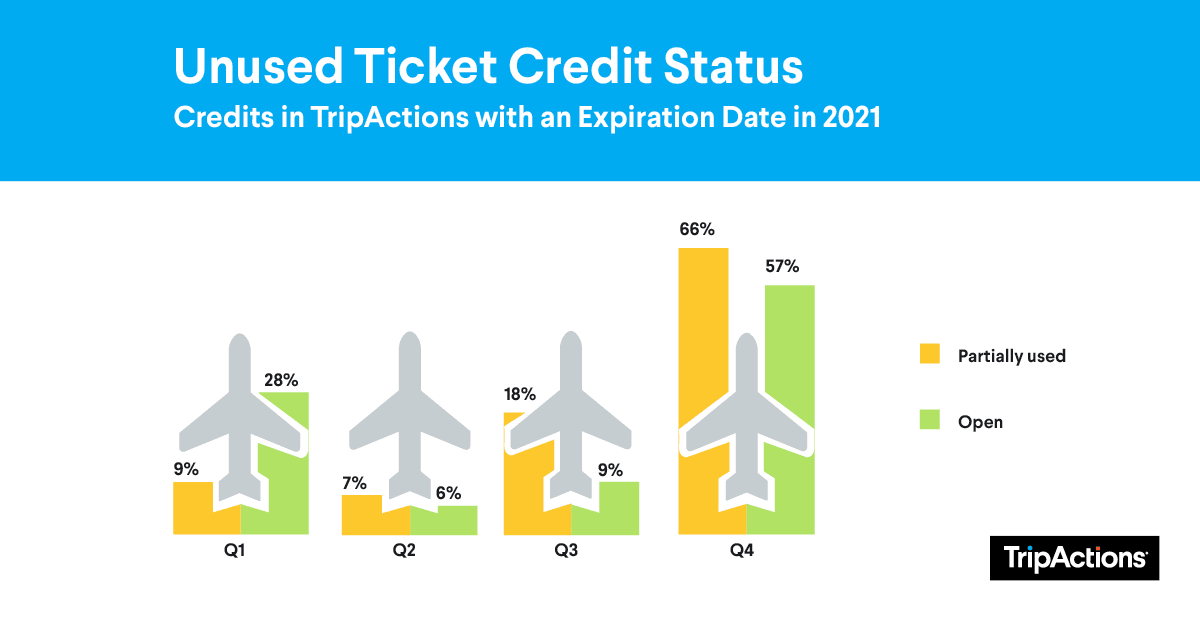 TripActions' data show that the share of bookings made with unused ticket credits, a cohort that typically accounts for 1 – 2% of new bookings, has jumped 167% since April of 2020, when it was at 3%. Now, 8% of all new flight bookings are made with ticket credits — aided by a new automated process in TripActions that identifies and automatically applies the unused value to new flight bookings.
Most travelers and some travel managers aren't very familiar with the process of tracking and applying unused flight credits, a process that historically has been extremely manual, and that involves phone calls and direct management of itineraries.
The average US company using TripActions holds 26 unused or partially used credits. Some hold more than 1000. With an average value of $482 per credit, a company that annually spends $5M in airfare holds more than $400K in untapped ticket value.
Additionally, there's the question of what happens to partial credits. Historically, when a trip is taken but only part of the trip is canceled, this partial unused credit is typically lost. For example, on a $500 roundtrip flight from SEA – JFK, the return flight could cancel. TripActions can automatically track and apply the partial credit from the return leg to future bookings.
Here's how TripActions' automated unused ticket credit application works.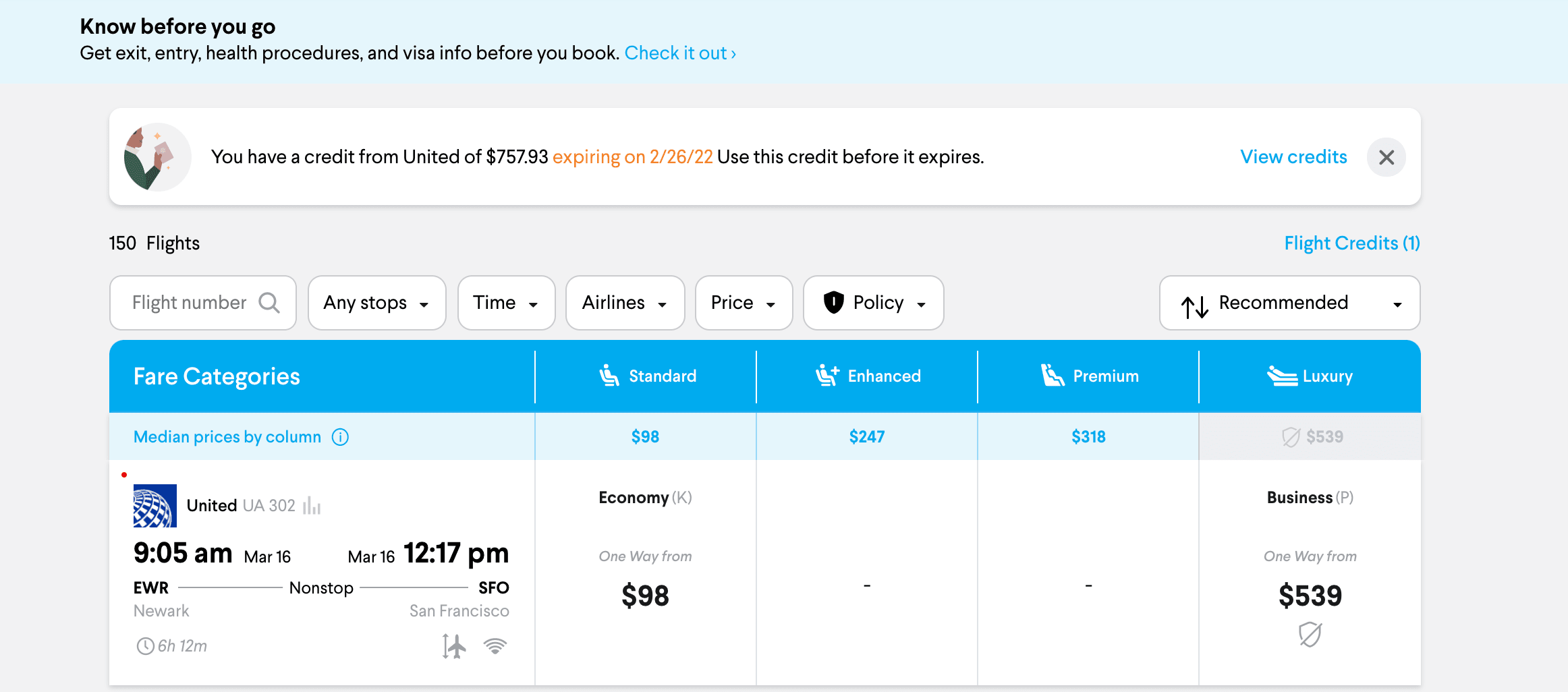 If a flight booked through TripActions is canceled and the ticket is eligible to be converted into an unused credit, TripActions automatically records the credit and makes it available to travelers. The next time a traveler goes to book a flight, a notification that an unused ticket is available will surface in the booking process and automatically apply to the booking. Travel managers can additionally track the company's unused tickets and savings from unused ticket usage.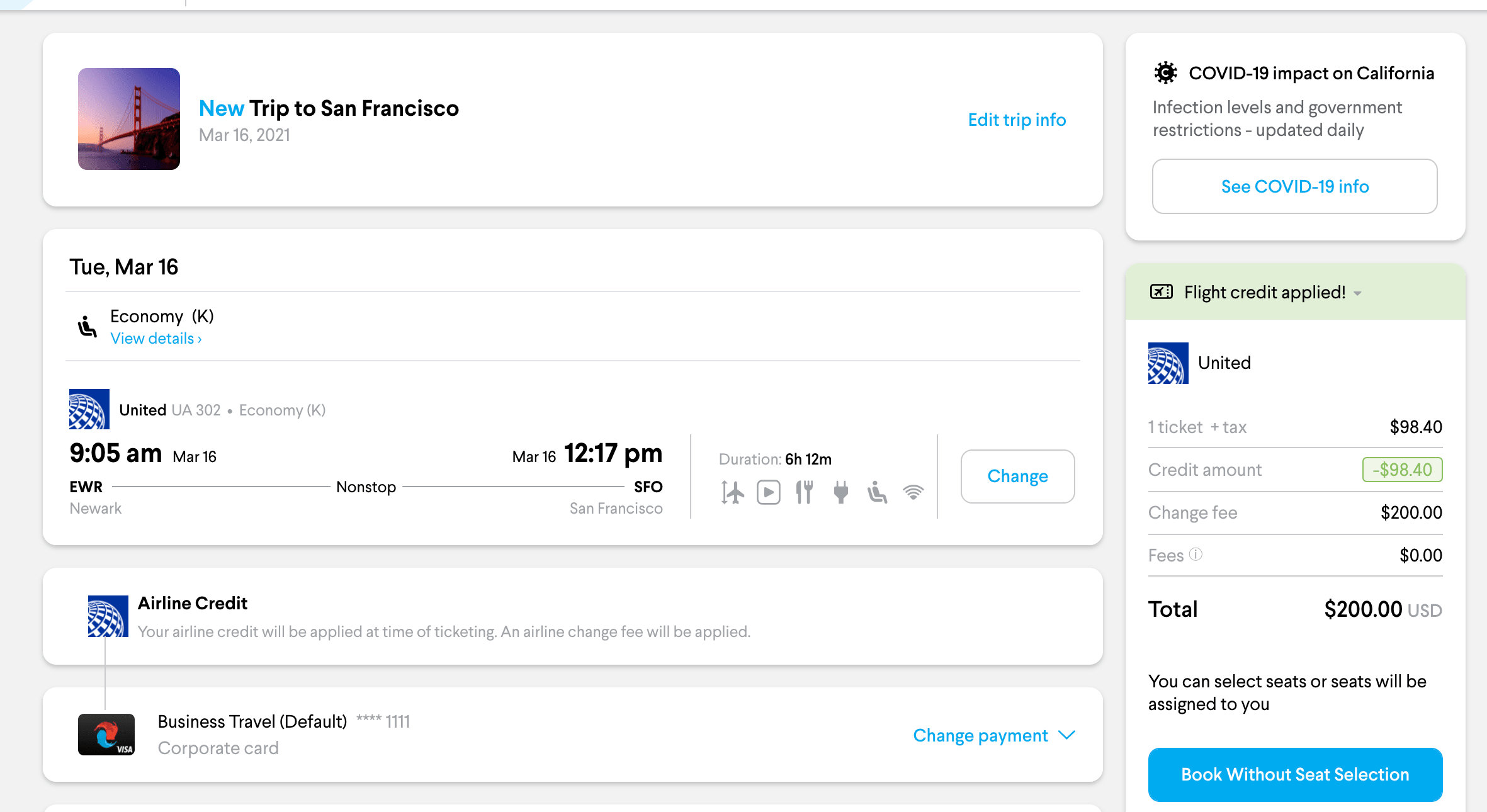 And while the functionality for TripActions' automated unused ticket credit application has previously only been available in the US, it's now available globally.
Want to better understand the value of your company's unused flight credits? TripActions customers get detailed information based on real-time data right in their spend dashboards.
To learn more about how TripActions now automates the application of unused ticket value for new bookings, enter your email address below.
*Expiration dates are subject to change. Based on analysis performed on Jan 29, 2021.