The travel landscape has shifted significantly in 2020, and today, many people are back on the road, in the skies, and on rail. In our new series Today's Traveler, you hear what it's like to travel today. This week, Samantha Shankman, digital nomad and content marketing manager, shares her recent travel experience.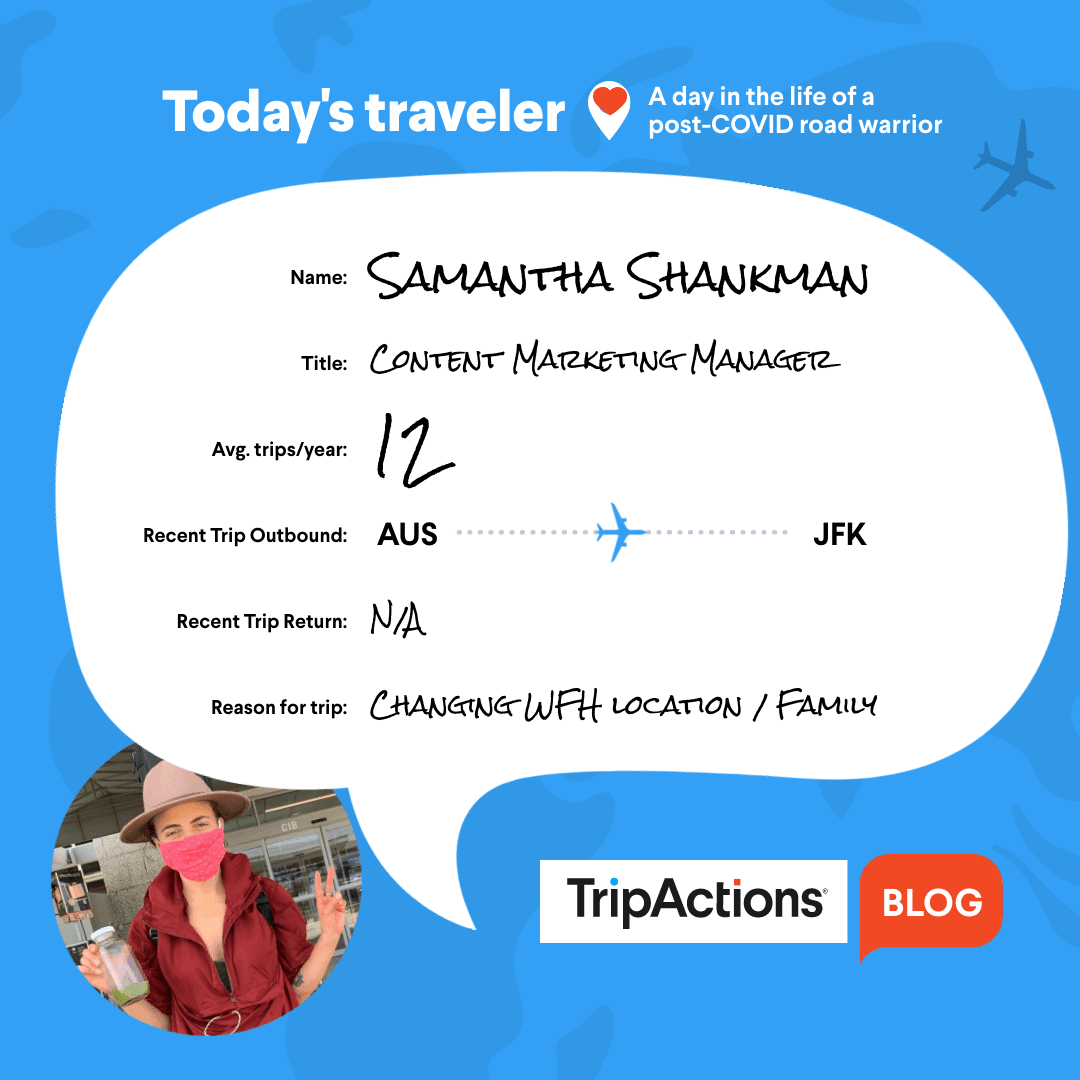 How full were your flights?
15% (I was the only person in my row)
What was food service like? What did you eat?
Nothing. I think they offered small bottled water on the plane. I thought about getting a coffee but didn't want to take off my mask.
How was the sanitation in the airports?
The TSA agent at security had on eye protection but no gloves. I used CLEAR so did not have to touch anything. The CLEAR agent had gloves on when she took my passport. There were sanitizer dispensers at the airport.
How was the sanitation in flight?
The plane smelled very clean.
Do you have other observations to share?
I flew from Austin-Bergstrom Airport to New York JFK Airport on a noon flight on Saturday, July 4. The airport was unsurprisingly empty given the timing on a national holiday. I had never seen such an empty airport on either side. There was zero wait at the JetBlue terminal where I checked luggage or as I made my way towards security. I have CLEAR, which was great since the biometric security system means you don't have to touch anything, and was quickly on my way through the security gate. The TSA agents all had protective eye gear on, but were not wearing gloves which I found surprising.
The flight boarding process was really simple because there were so few passengers. JetBlue is one of the airlines that instituted empty middle seats, but the flight was so empty that it wouldn't have made a difference either way. I slept through the flight although I think the flight attendants did hand out small bottles of water.
On the aircraft, I was handed a health clearance form as I was traveling from a high risk state to New York. There is a mandatory quarantine for people arriving from Texas and a dozen other states at the moment (which I am strictly abiding by). I wanted to fill out the form, but did not have a pen. I was told there would be a very clear area to fill in and drop off the form so was surprised when I found neither as I made my way to the luggage carousel. I did notice one box with hole in it and a sign about COVID-19 so assume that was the place to drop the paper but did not as I didn't fill it out.
The travel experience was one of the smoothest that I've ever had, which is why I suppose that I believe now is quite a good time to travel as long as you follow the necessary precautions.
Are you gearing up to travel, or do you anticipate your organization will increase travel in the near future? Learn more about how TripActions is helping travelers get back to business travel safely.