The travel landscape has shifted since the spring, and today, many people are back on the road, in the skies and traveling via rail. In our new series Today's Traveler, you hear what it's like to travel today. This week, Bill Pursell, a passionate traveler and supplier marketing manager at TripActions, shares his recent travel experience.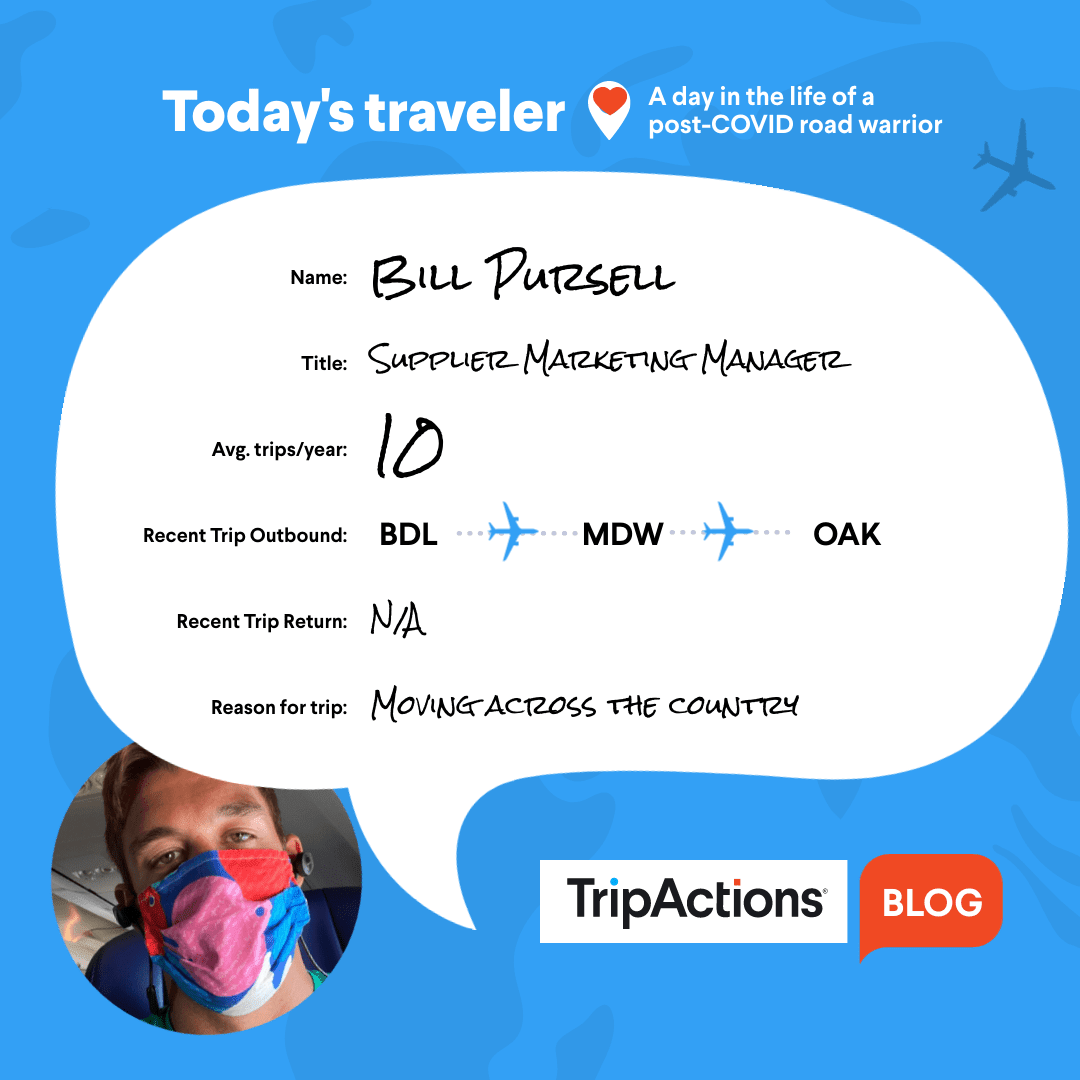 How full were your flights?
Almost exactly 2/3rds full - the flight attendant reported they were about 10 seats under that (which is the total seats allowed to be booked by Southwest due to middle seat blocking)
What was food service like? What did you eat?
They only offered peanuts and cups of pre-poured water, which I didn't take. I brought a water bottle, 2 Kind bars and 3 egg rolls. And I ate the egg rolls first (in the morning), because I practice meal anarchy.
How was the sanitation in the airports?
There were a couple non-contactless situations: I handed my ID to the agent for a luggage check, and she printed out and handed back my receipts like normal. I was also handed a card in the TSA pre-check line to time how long it took to get from the ID checker through the body scanner and back to my cleared bags. All airports had extra hand sanitizer stations along the concourses. Shops and restaurants were open, though non-revenue-driving gathering areas were blocked off. There were more custodians than normal, and I saw large, conspicuous pallets of sanitizing solution carted around the terminal.
How was the sanitation in flight?
Southwest thanked those who brought and used their own wipes but pointed out that they thoroughly wiped everything down between segments. Considering the screens, seatbacks and tray tables were all still visibly wet, and the plane smelled like a hospital, I took their word for it and saved my precious wipes.
Do you have other observations to share?
Everyone wore masks the whole time in the airport and on the plane, including me, for 7.5 hours. Southwest only let 10 people board at a time, which went fast enough, but boarding and deplaning were definitely less socially distanced. I'd recommend someone waiting until the end to get on and off the plane. You aren't going to be crowded with others fighting for overhead luggage.
Are you gearing up to travel, or do you anticipate your organization will increase travel in the near future? Learn more about how TripActions is helping travelers get back to business travel safely.