The travel landscape has shifted since the spring, and today, many people are back on the road, in the skies and on rail. In our new series Today's Traveler, you hear what it's like to travel today. This week, Greg Perotto, consummate road warrior and vice president of corporate marketing and brand at TripActions, shares his recent travel experience.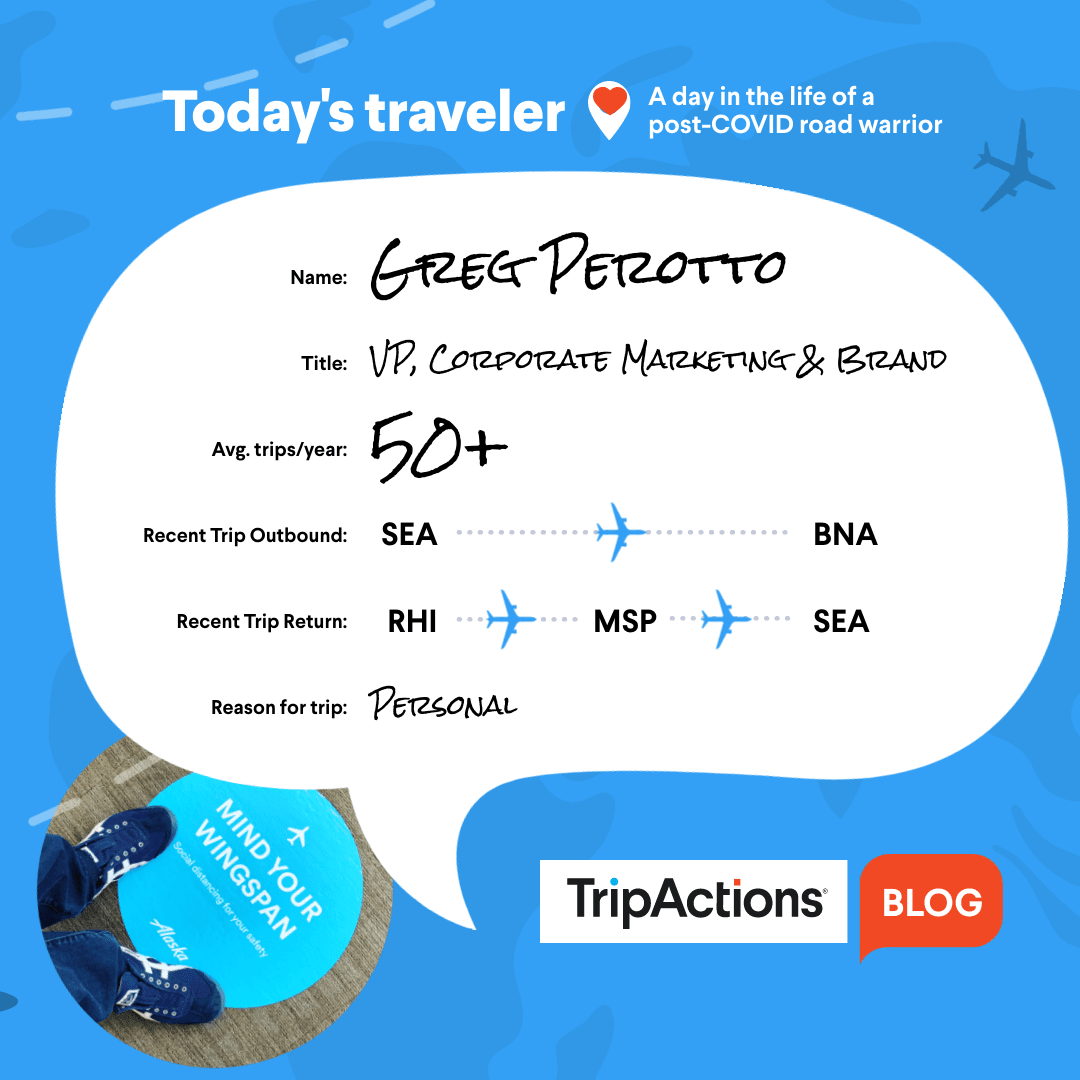 How full were your flights?
Less than 50%
What was food service like? What did you eat?
I brought homemade chocolate chip cookies and purchased honey-seared crispy chicken, white rice, fruit punch Gatorade and Red Bull from Pei Wei inside SeaTac Airport for the outbound flight. On the return flights, I brought my mom's homemade peanut butter cookies (notice a trend?) and ate a burger and fries at Champions' Grill by Ike's during my layover at MSP. Small packaged snacks and bottled water (no ice, no cups) were available on most flights.
How was the sanitation in the airports?
There were sanitizer dispensers at TSA and at the gates.
How was the sanitation in flight?
The flight was sanitized by Alaska Airlines (SEA → BNA) and by Delta Airlines (RHI → MSP → SEA) prior to boarding the plane. I felt totally comfortable in Ubers to the airport, traversing all four airports, on all three flights and making the 13 hour drive from Nashville to Eagle River, Wisconsin.
Do you have other observations to share?
Both airlines required masks for the duration of the flights with the exception of while eating or drinking. Both airlines had complimentary masks available at check-in/gate. Flight attendants wore masks, as well. Both airlines boarded from the back of the plane with intentional spacing between passengers as they scanned tickets at the gate, and both highlighted their cleaning procedures in their safety messages pre takeoff. The airports were relatively empty and flights were approximately 50% full. Middle seats were empty, save where couples were traveling together. The one area where airlines had little control is in human behavior itself. Nearly all travelers have the innate urge to jump up when arriving at the gate, grab their bags from the overhead bin, and exit the plane as quickly as possible. This leads to much of the hard work of social distancing before and during flight becoming a moot point when most passengers are then standing inches apart from each other in the aisle waiting for the door to open to the jet bridge. Regardless, I felt safe and protected the entire time.
As a long-time road warrior with several airline and hotel statuses for life, I'm accustomed to the conveniences of direct flights, multiple-flights-per-day, late arrivals to the airport and short layovers when connecting between flights. With the impact of COVID-19 on flight schedules and the hours of operation for airport stores and restaurants, I found limited options for the flights themselves and for the duration of my layovers to pass the time.
Road warriors who have become accustomed to the same conveniences will want to be mindful of fewer direct flight options, longer layovers and fewer available services in the airport, including stores, restaurants, and lounges. Also, on board, only small packaged snacks and bottled water were available on most flights. For someone who wants to enjoy a Red Bull in flight, but only with a cup full of ice, it required being mindful of getting not just the beverage, but the ice as well, before boarding the plane.
Are you gearing up to travel, or do you anticipate your organization will increase travel in the near future? Learn more about how TripActions is helping travelers get back to business travel safely.