The TripActions team had an incredible two days at the 6th annual BTN Innovate in New York City last week. This is one of the most important events for the business travel community hosted every year, and it was an honor to be a part of it.
We loved connecting in person with the global community of travel buyers and suppliers. TripActions VP of Enterprise Sales Michael Sindicich enjoyed the honor of taking the stage at the Innovation Faceoff. We devoured the information and insights shared in breakouts and on the mainstage.
Here are TripActions' top 5 moments from BTN Innovate 2019:
1. Business Travel Innovation Faceoff
At the Innovation Faceoff, 13 companies competed for the top Business Travel Innovator Award Winner. Leaders took the stage with presentations of cutting-edge products, technologies, and services developed to address industry challenges and support managed business travel and/or business travelers.
In the "face-off" style-pitch, TripActions stood alongside alongside Pana, 30 Seconds to Fly, and BCD. Other peers on stage included Bizly, PredictX, TroopTravel, and US Bank.
2. TripActions Takes the Stage
TripActions VP of Enterprise Sales Michael Sindicich took the stage during the Innovation Faceoff to talk about creating a TMC for the 21st century –– and how we best support travel managers with our latest innovations.
Michael started by asking how many people knew of TripActions -- and hands shot up. He remarked how incredible it was to watch the company grow throughout the past 4 years (from when Ariel and Ilan built their own desks) to become a top 20 travel agency with 600% year-over-year growth.
It all comes back to the TripActions mission: "We believe being there in person is powerful."
TripActions reimagined a travel platform for the 21st century. By crafting premium user experiences, TripActions gives corporate travel managers the opportunity to become the heroes of their organization by giving business travelers what they want and driving adoption. Michael spoke about consumerization and how users today expect convenience and instant gratification. Corporate travel managers no longer have to choose between a best-in-class user experience with superior support or a global enterprise scale that they can trust. TripActions largest customer has 220,000 employees in 47 countries.
Michael also spoke about the evolution of the TripActions product. All investment in product development is focused on enhancing the experience of one of our four users: business travelers, corporate travel managers and finance teams, supply partners, and support agents.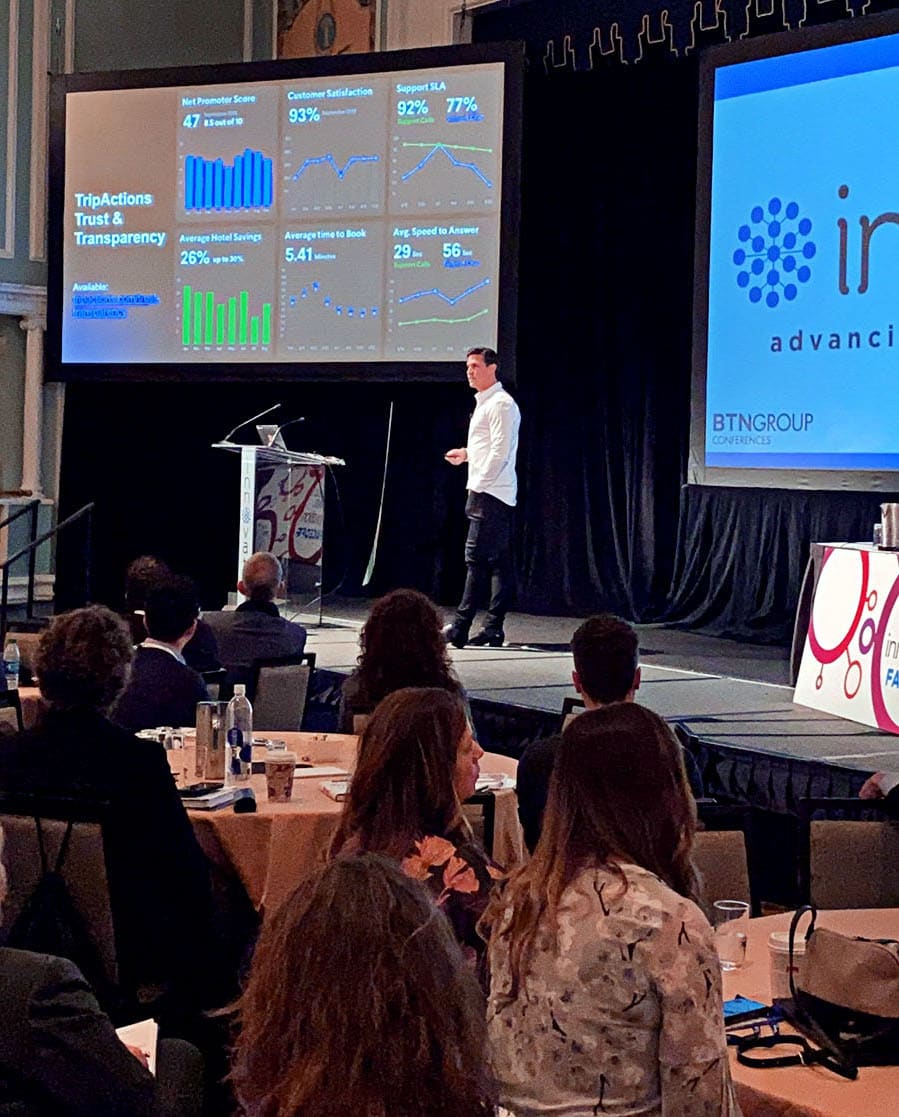 Case in point: TripActions growth led to increasing demand for TripActions 24/7 365 travel agent support. In response, we built TravelXen - a highly efficient tool that allows travel agents to deliver a personalized experience at scale. Another example is the TripActions new trust and transparency program that provides clear and easily accessible insights with real-time reporting, giving corporate travel managers a holistic view of program performance to be able to best optimize for adoption, usage, traveler experience, and program spend and savings.
He concluded with TripActions driving vision: To create the ultimate win-win-win between travelers, companies, and suppliers. TripActions is a next-generation travel management company that combines the latest software and technologies with human services, to bring human touch to scale. Happy travelers means high adoption, which brings full visibility and control for companies. Ultimately, happy travelers are happy companies. All of this is done in alignment and partnership with suppliers and airlines. We are focused on creating the ultimate win-win-win — and that's why we're built to last.
3. A Stimulating Start
The talk that attendees were still talking about after BTN wrapped was keynote speaker Steven Goldbach, Chief Strategy Officer at Deloitte and co-author of Detonate: Why - and How - Corporations Must Blow Up Best Practices (And Bring a Beginner's Mind) to Survive.
His message echoed the primary take-away from his book, "Without meaning to, and often with the best of intentions, most organizations continually waste precious time and money on processes and activities that don't create value and no longer make sense in today's business environment. Until now, the relatively slow speed of marketplace evolution has allowed wasteful habits to continue without consequence. This reality is ending."
4. Banter for the Brain
There were think tanks and breakout sessions hosted throughout the event. The think tank format, in which corporate travel buyers and suppliers came together for a collaborative discussion, offered a particularly engaging way to hear new ideas and information.
A conversation around building better traveler profiles explored how to pave the way for customization, which is incredibly important for business travelers and corporate travel managers to drive adoption. That's why TripActions learns business travelers' preferences and applies machine learning so business travelers can find their preferred options quickly.
As a result, TripActions users select one of the top 10 search results more than 90% of the time, and the top search result 60% of the time. Machine learning enables TripActions to slash the industry average for booking time from 60 minutes to just six while achieving 90% traveler adoption.
There was also a lot of talk around new distribution capabilities and who ultimately should be comparing flight options: corporate travel managers, business travelers, or machines. We believe these three parts will live in harmony, which is why we invested in crafting a next generation storefront early on.
NDC, along with the next generation storefront (NGS), showcase a more detailed offering which becomes personalized through the application of machine learning. In crafting a more relevant booking experience for today's business traveler, corporate travel managers can be confident in their travelers' choices.
5. Connecting over Tapas
On the evening of October 22, TripActions hosted a dinner at Toro where our colleagues, customers, and prospective clients came together in person. Together we took a paella class followed by a family-style dinner of tapas, sangria, and conversation about the most interesting presentations and trends from the day.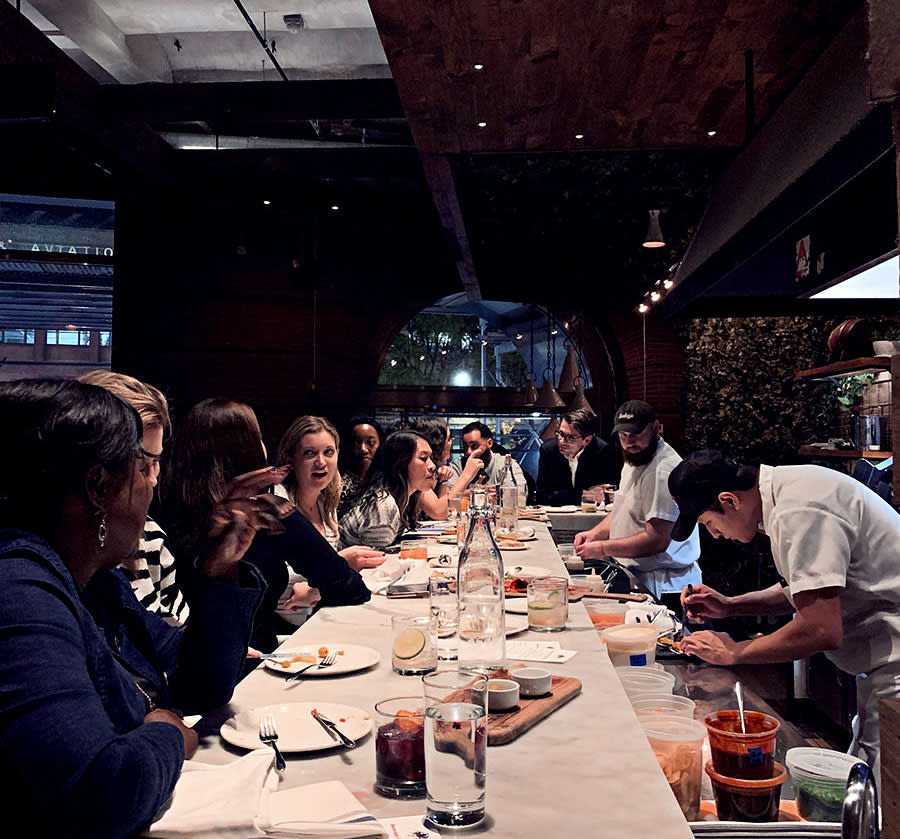 This is far from the last major event of the year! If you missed us at BTN Innovate, we'd love to connect at one of the upcoming events we're attending in the next couple months.