At TripActions, we're all about the user. That includes the business traveller, travel manager, and finance leader. To meet the needs of all three, we look to deliver an industry-leading spectrum of inventory choice — be it air, rail, lodging, or rental cars — to deliver the best experience in business travel. We receive this content in a variety of forms and then curate it to surface the best options available for the traveller within their corporate policy — all through a central, easy-to-use booking platform. An unrivaled breadth and depth of inventory delivers a platform that business travellers love to use, which drives high adoption so that travel managers and finance leaders have complete visibility into travel spend to best optimise their travel programs and savings.
That's why today we are thrilled to announce we're adding the best of inventory from Lufthansa Group airlines to our New Distribution Capability (NDC) enabled marketplace for our 3,000+ enterprise customers and their travellers. Our new direct connection with Lufthansa Group airlines gives travellers the ability to book the best available inventory directly within the TripActions platform. Business travellers may now access inventory from the airlines in the Lufthansa Group including: Austrian Airlines, Lufthansa, SWISS, and Brussels Airlines.
The benefits to business travellers will include the most competitive fares, bundles, and access to exclusive ancillary services. Content will be displayed as enabled by IATA's NDC standard.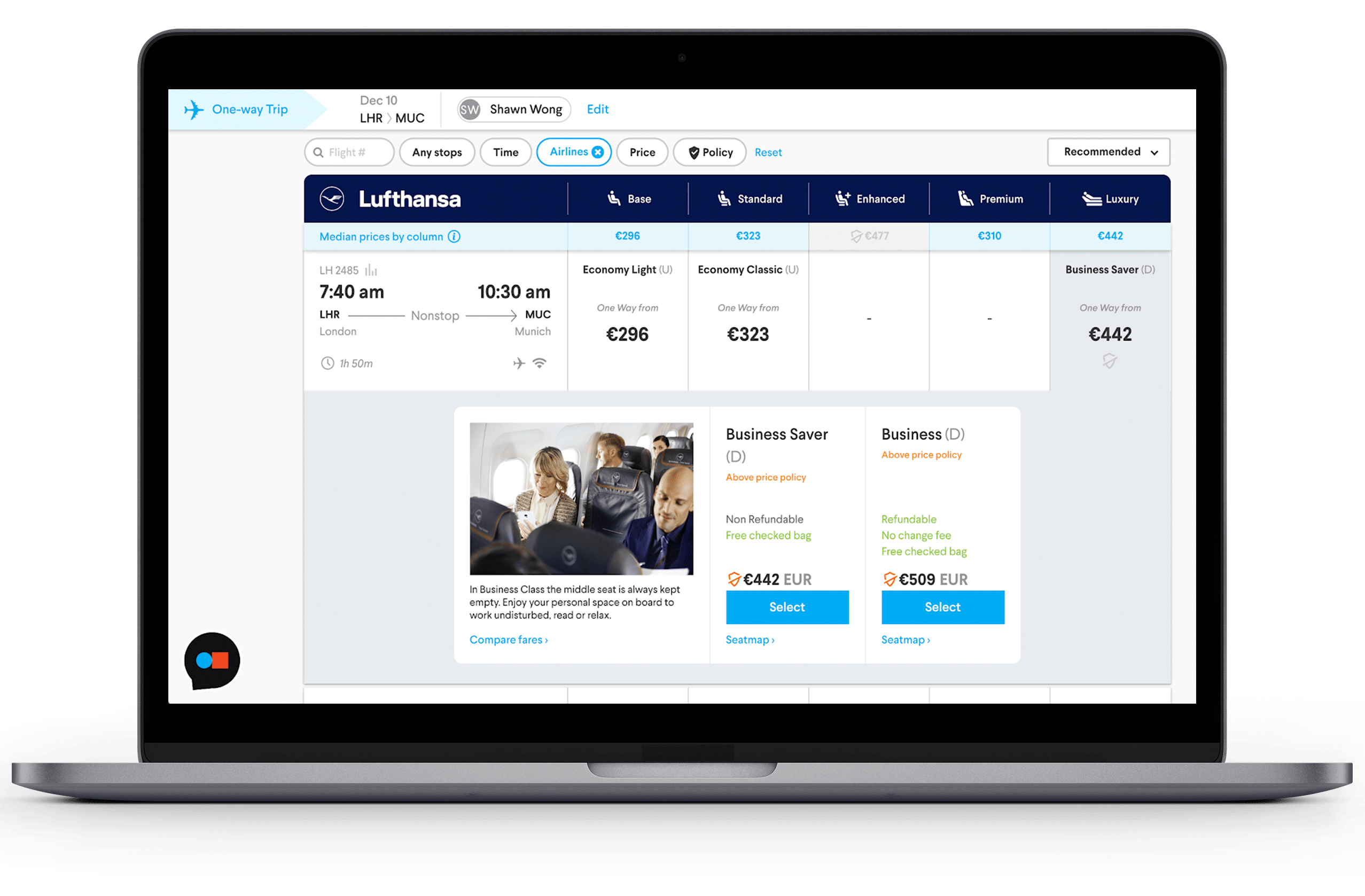 "TripActions joining Lufthansa Group airlines' NDC Partner Program is an important step forward for corporate customers to benefit from modern airline retailing. With our combined technology, the Lufthansa Group airlines' NDC Smart Offer and TripActions' global reach, we strongly believe in the strength of our partnership and ability to enhance the traveler shopping experience across Europe, Asia, and North America," said Heike Birlenbach, Senior Vice President Sales Lufthansa Hub Airlines and Chief Commercial Officer (CCO) Hub Frankfurt.
"As a mission-driven company and culture focused on the user, we're thrilled to expand our global inventory in partnership with Lufthansa Group airlines to continue delivering the best experience in business travel," said Danny Finkel, VP of Booking Experience and Supplier Strategy at TripActions. "Enabling direct relationships with suppliers to bring expanded global inventory choice to travellers has been a top priority for TripActions––including leading NDC-enabled business travel first with United Airlines in June and launching a direct connection with Southwest Airlines in October. Following massive traction and positive traveller and travel manager response, we're thrilled to expand our NDC deployment with the Lufthansa Group airlines.
"In all that we do, we look to drive a win-win-win in the marketplace: A win for business travellers, travel managers, finance leaders and their organisations, and our partners and suppliers," said Danny. "With this expanded inventory, business travellers win with increased choice. Travel managers, finance leaders, and their organisations win with increased cost savings, spend visibility, and the ability to fulfill duty of care. Finally, partners and suppliers win as they bring more of their content into our platform with increased personalisation opportunities."
Lufthansa NDC content is expected to roll out to the TripActions platform over the upcoming weeks. This partnership with Lufthansa Group airlines is critical to our continued innovation and global expansion to deliver the best experience for business travellers no matter where their itineraries take them.
For more information on the TripActions NDC connection with Lufthansa Group airlines, check out our press release.