Delivered every two weeks, Exchange is a newsletter from TripActions specifically focused on B2B Fintech. It provides a unique perspective on the B2B finance landscape‒and rich, actionable insights along the way. Each edition includes a deep dive into a specific topic, news highlights and trends, and insights into the evolving role of CFOs. Sign up for Exchange: A B2B Fintech Newsletter Powered by TripActions here.
This edition of Exchange covers interesting developments in cross-border payments, managing cloud spend for CFOs, and the major B2B fintech news from the past two weeks.
Weekly Stat
From Square's One Year of Payments and the Pandemic: 74% of U.S. Square sellers were accepting contactless payments by the end of February 2021, up from 64% just a year ago.
Deep-Dive: B2B Cross-Border Payments (Part 1)
B2B payments are a $127 trillion industry and cross-border transactions make up ~$10 trillion of that volume. Today, as the world becomes more connected, cross-border payments of all kinds are poised to grow substantially.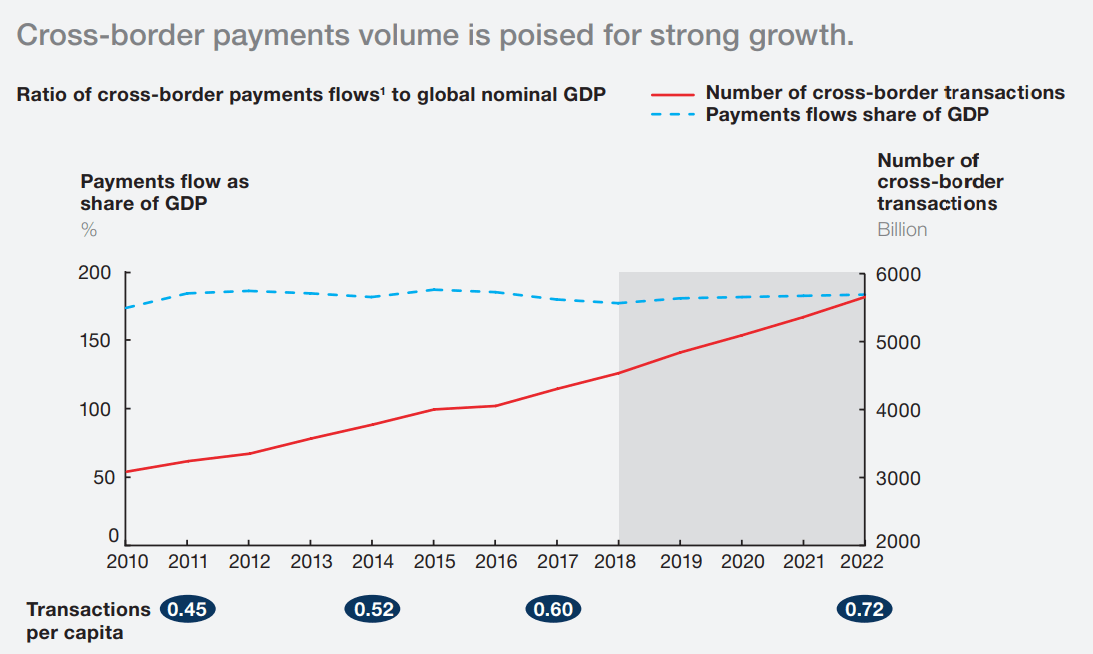 Source: [McKinsey Global Payments Map](https://www.mckinsey.com/~/media/McKinsey/Industries/Financial%20Services/Our%20Insights/A%20vision%20for%20the%20future%20of%20cross%20border%20payments%20final/A-vision-for-the-future-of-cross-border-payments-web-final.ashx)
While many aspects of cross-border payments are worth their own gated Clubhouse session, today it's worth looking at the four most common payment forms:
1. International Money Transfer Through Paper Checks are still a major source of B2B cross-border payments. This method usually comes into play when digital banking information isn't available. This method, however, requires companies to physically mail checks and wait weeks for access to funds, creating inefficiencies around visibility and reconciliation. By sending a check, companies can bypass many of the headaches around payment rules, and usually neither party needs to pay a dime.
2. ACH or Automated Clearing House payments are very common bank-to-bank transaction vehicles that make up almost 70% of the $127 trillion B2B payment market. ACH payments involve sending money between banks through the Automated Clearing House, a non-profit network of banks which processes and clears payments in batches. In general, ACH payments are cost effective and easy to handle, but can also take longer to settle than wire transfers. ACH payments also require companies to know respective banking information, which can slow down a transaction, while limited metadata from each payment makes reconciliation less direct.
3. Push-To-Card allows businesses to transact immediately through prepaid debit cards. The debit card provider typically charges an annual fee to the payee for this service; Visa Direct is one example of these products, and it illustrates the vehicle well:

Source: Visa
Push-to-card is seen as a very simple way to handle cross-border payments as the service leverages the worldwide networks already in place through Visa and Mastercard. It does have some drawbacks, however, including manual reconciliation due to lack of transaction context and limits for high transactions amounts.
4. Wire transfers are a great way to make cross-border payments‒particularly for high-value transactions. In fact, 69% of businesses use this method. International wire transfers involve money moving electronically from one bank to another, usually through the SWIFT network, using information like routing and account numbers. And since the payment method is so widespread, it benefits from security and convenience factors. The major downside, however, is that wire transfers have fixed upfront fees and can take up to 5 business days.
Given the myriad vehicles for cross-border payments, there are still challenges when companies need to move money. Global payment rules and regulations differ by geography, for example, Kenya's M-Pesa has nuanced differences from Venmo in the United States. Companies also need to manage currency, tax and reconciliation challenges.
New technologies like Visa B2B Connect and others are working to automate and speed up cross border payments among businesses. There is also growing interest for card-based cross-border B2B payments. The next edition of Exchange will focus on these new technologies and the market implications.
B2B Fintech News
Stripe, the behemoth online payments processor, raised $600 million at a $95 billion valuation, This represents an almost 3x valuation increase in less than a year. Here's a great recent interview with the co-founder of Stripe, Patrick Collison.
Plaid plans to raise $600 million at a $10-$15 billion valuation in a round led by Altimeter.
B2B payments processor AvidXChange is in talks to go public at a valuation between $5B and $10B.
Codat, an API for business accounting, POS, and commerce data, partnered with Plaid to streamline loan underwriting for SMEs.
Higo.io, which is building the "Venmo for B2B payments in Latin America," raised a $3.3 million seed round.
Insightful Reads
Office of the CFO
The last edition of Exchange went through the issues CFOs are facing when it comes to managing the burgeoning costs of cloud services. There are myriad ways to manually address these problems, including regular communications and training, but modern financial technology can also address many of these pain points automatically. Here are two major examples:
Real-time Visibility
Real-time, accurate visibility is the holy grail for finance teams. Most legacy systems suffer from bureaucracy that separates the payment vehicle from expense reporting and reconciliation, creating a data network spread haphazardly through multiple, incompatible systems.
Modern platforms pair intelligent corporate cards with spend management software, giving CFOs the ability to decentralize spend responsibility and let built-in policy tools handle approvals. The infrastructure allows for cards to capture context around software (and other) payments, which leads to real-time visibility and less duplicative or unapproved cloud spend.
Virtual Cards and Automated Policy Enforcement
Virtual cards are the perfect example of how modern fintech infrastructure helps companies automate and control cloud spend. Instead of employees using a shared corporate card number or using their own personal cards, companies can issue intelligent virtual cards which can carefully constrain policy by spend, purpose, date, merchant, frequency, and more. In effect, virtual corporate cards essentially automate policy.
When it comes to cloud spend in particular, spending limits, overpayments, and duplicate purchase can be hard to track when contracts are changing annually and multiple team members are subscribing to the same technology. Virtual cards fix many of these three problems.
Controlling cloud spend is top of mind for many CFOs in this decentralized world. Best practices for managing the evolution are taking shape, of course, but modern fintech can do a lot of the leg work. It is vital that CFOs modernize their tech stack to take advantage.
For rich commentary on the trending stories and research in B2B fintech, sign up for Exchange: A B2B Fintech Newsletter Powered by TripActions.