Delivered every two weeks, Exchange is a newsletter from TripActions specifically focused on B2B Fintech. It provides a unique perspective on the B2B finance landscape‒and rich, actionable insights along the way. Each edition includes a deep dive into a specific topic, news highlights and trends, and insights into the evolving role of CFOs. Sign up for Exchange: A B2B Fintech Newsletter Powered by TripActions here.
The third edition of Exchange continues coverage of B2B cross-border payments, runs through the past two week's' major B2B fintech news, and dives into the changing role of the CFO.
First up: TripActions GM of Liquid Michael Sindicich was on the Tearsheet Podcast last week. Sindicich discussed embedded fintech, financial infrastructure, the TripActions Liquid story, and more.
Weekly Stat
Over 80% of in-store Visa payments are now contactless.
Deep-Dive: B2B Cross-Border Payments (Part 2)
The last edition of Exchange went through an overview of the B2B cross-border payments market and the major vehicles for driving that business.
New payment methods, however, are working to improve B2B cross border transactions. For example, there's growing interest for card-based, cross-border B2B vehicles. Additionally, new technologies like Visa B2B Connect are working to improve cross-border payments among businesses using distributed ledger-based technology (DLT). This section gives a brief overview of both.
COVID-19 sped up the adoption of virtual card usage all over the world for both domestic and cross-border payments. In many parts of the world, though, vendors don't have the setups needed to process the virtual transactions. To address this, companies like Meshand Airwallex have partnered with card networks to increase supplier acceptance of prepaid virtual cards around the globe.
There are other products that are hoping to take the friction out of cross-border B2B payments via distributed ledger technology. Visa B2B Connect, mentioned above, is one of the leading horses in this race.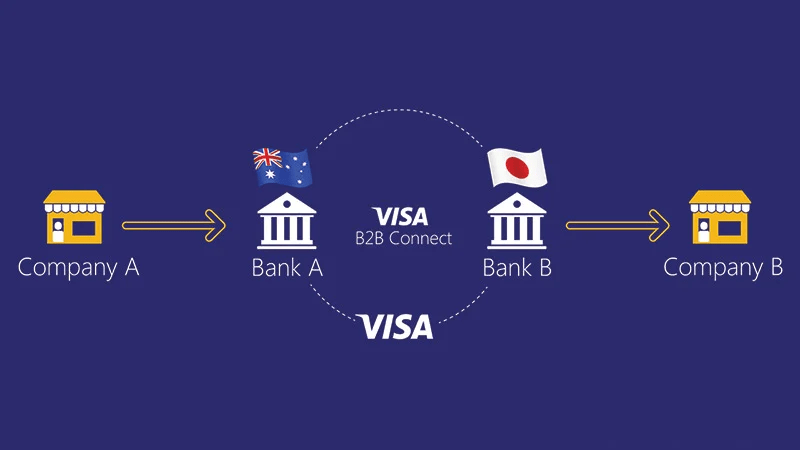 Source: Visa
In a typical cross-border transaction, payments occur through a complex bilateral system, called correspondent banking, where each transaction goes through various financial institutions before reaching the beneficiary. B2B Connect and other distributed ledger technologies work to alleviate that friction. These tools create a network made up of known participants and create a unique digital identity for a company's banking details and account numbers. This allows companies to send money directly over the card network from bank to bank.
Many companies are trying to innovate around different payment methods to capture this complex space as businesses expand globally. And as that rate of globalization increases, there's much more innovation (and investment) coming down the pipeline.
B2B Fintech News
HighRadius, an AI-powered treasury management and accounts receivable platform, raised $300M at a $3.1B valuation. Tiger Global and D1 led the round.
Payments behemoth Fiserv announced its acquisition of Pineapple Payments, a business payments processing and acceptance platform.
Visa, through its partnership with Anchorage, announced that it now offers settlement using USD Coin (USDC), a stablecoin which follows the value of USD. This means Visa's partners can now directly send USDC to Visa for any amount that needs to be settled across the Visa network.
SaltPay acquired Paymentology, a cloud-native issuer processor and Tutuka, a payments processor focused on international markets.
Cross-border payments provider Airwallex raised $100 million at a $2.6B valuation
Insightful Reads
Office of the CFO
B2B fintech is turning into a surprising catalyst for change in the CFO's office. PYNMTS.com recently bore down on this topic, highlighting a new term foreign to many in the space: CFOTech. As coined by Wouter Born of Born Capital, CFOTech is a subcategory of B2B fintech that is focused specifically on CFOs.
How exactly is the role of the CFO changing, though, and what are the ways in which CFOTech can help?
The typical job of a CFO is illustrated by Andreessen Horowitz well in The CFO in Crisis Mode: Modern Times Call for New Tools.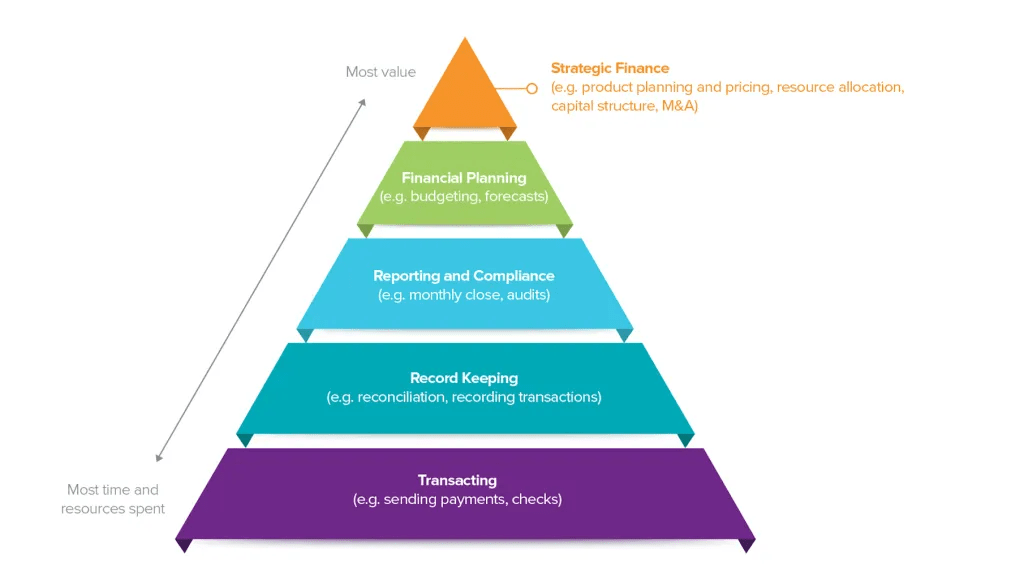 Source: The CFO in Crisis Mode: Modern Times Call for New Tools
In that piece, the authors write that: "Traditionally, the finance team has spent the bulk of its time on tasks at the bottom of the pyramid. As a result, most of the CFO tools built in recent years have focused on transacting and record-keeping."
As automation and innovation expand to the finance suite, CFOs are increasingly able to focus on the strategic side of the business. Here are a few areas of focus that TripActions is watching carefully:
Real-time Visibility
API-driven solutions are able to drive real-time data visibility for finance teams. When CFOs have access to data in real-time, they can help the CEO make strategic business decisions in real time.
Spend Management and Reconciliation
Modern financial tools automate the highly manual, tedious task of reconciliation. The tools also eliminate the vast majority of expense reports and allow finance teams to focus only on flagged transactions.
Month-end Close
A 2016 Mckinsey report predicted that 86 percent of the work done by bookkeepers, accountants, and auditing clerks had the technical potential for automation. Through both real-time visibility and automation of spend management and reconciliation, the month-end close process for finance teams has been massively reduced.
Modern fintech is making its way into the finance suite. CFOs have found that these tools can automate all sorts of activities, and therefore free up resources and time for strategic, higher value functions and decisions.
For rich commentary on the trending stories and research in B2B fintech, sign up for Exchange: A B2B Fintech Newsletter Powered by TripActions.