Delivered every two weeks, Exchange is a newsletter from TripActions specifically focused on B2B Fintech. It provides a unique perspective on the B2B finance landscape‒and rich, actionable insights along the way. Each edition includes a deep dive into a specific topic, news highlights and trends, and insights into the evolving role of CFOs. Sign up for Exchange: A B2B Fintech Newsletter Powered by TripActions here.
To kick things off, TripActions VP of Payments, Robin Gandhi, was on Glenbrook's Payments on Fire Podcast last week with George Peabody. Robin and George spoke about how modern fintech infrastructure players like Stripe, Plaid, and more enable modern fintechs like TripActions Liquid™. They also talk corporate cards and how spend management is evolving.
Let's dive in! In this edition of Exchange, there are updates on virtual cards, managing cloud spend, and a distillation of some of the best fintech news from the past couple of weeks.
Weekly Stat
From FT Partners' 2020 Fintech Almanac: Global fintech financing dollar volume was $45B in 2020 — the third highest ever.
Deep-Dive: Virtual Cards
Virtual cards are gaining traction as a way to automate and control B2B payments. COVID has accelerated this trend. Suppliers are demanding faster access to funds. Businesses are shifting toward the cloud and a more distributed spending environment. Employees are buying everything from home office equipment to digital ads to Zoom and Slack licenses.
According to Accenture's Frank Martien, virtual card usage is growing at 20% per year. At this rate, the technology is set to account for almost half of US commercial card spend by 2022.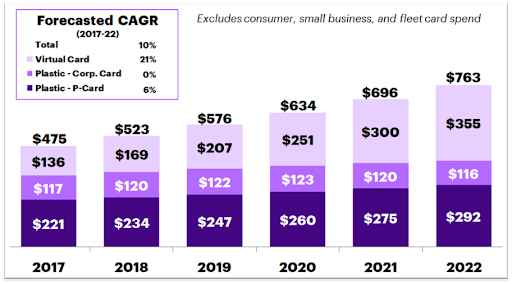 Accenture: A slice of $700+B in US commercial card spend up for grabs.
Still, there's a lot of room for growth in the virtual card segment, as check and ACH payment vehicles continue to dominate B2B payments.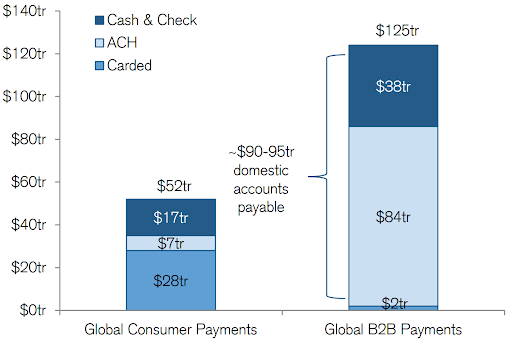 Credit Suisse: Payments, Processors, & FinTech
Why is virtual card use growing so quickly and how does it apply to B2B payments? There are a few key highlights:
Built-in spend control
Virtual cards can be limited by spend amounts, purposes, dates, merchants, frequency, and more. Companies are issuing subscription (for recurrent) or burner (for single-use) cards for specific vendors and dollar amounts. These nuanced controls mean companies are able to automate more spend while still wielding tight control.
Savings and rebates
Beyond cost savings from tighter controls, virtual cards can lead to greater savings through rebates. If a company is paying by check or ACH where it could be paying by virtual card, it is potentially missing out on healthy rebates. A 1% kickback on $1M of spend, for example, injects $10,000 right back into the business.
Tighter security
A vast majority of B2B payment volume happens through ACH and check, two payment vehicles that are ripe for fraud. Virtual cards are more secure in three major ways:
The ability to cancel or freeze generated card numbers. Since the card is virtual, there is no need to re-order a physical card and wait for it to arrive.
Companies can issue single-use virtual cards for a specific vendor or dollar amounts. This prevents overcharges and ensures that hackers can't use the card for anything outside of its limits.
Virtual cards protect user information. Traditionally, vendors store user information when the user swipes a physical card. Virtual cards do not store any of this data.
Context and visibility
Virtual cards provide enhanced transaction data, which gives companies automatic categorization and receipt-matching. It means reconciliation is essentially automated, and finance teams can get visibility into company spend in real time.
Virtual cards have several key advantages over traditional payment methods in B2B payments. One of the biggest challenges facing virtual cards, though, has to do with suppliers' openness to accepting them for payment. Interchange fees on virtual cards can cost suppliers up to 2.5% per transaction. On the surface, the base cost for accepting a card is higher than a bank transfer.
However, the total value offsets the cost by enabling faster access to funds, more transaction details, and savings from reduced back-office operations. Virtual cards have been used in the hospitality industry for over two decades, and lowering the barrier to entry for this payment method may be as simple as educating suppliers on the full value that virtual cards can bring.
As digital payments continue to grow and suppliers start to realize the value of accepting virtual cards, the future is bright for virtual cards in B2B fintech. For more, read this blog post from TripActions on the benefits of virtual cards.
Office of the CFO
Bob Violino at CFO.com recently wrote a great report on the CFO's challenging task of managing the costs of burgeoning cloud services.
COVID-19 has accelerated the adoption of cloud services. Q1 of 2020 saw a 37% year-over-year increase in cloud spending. Alongside this growth, companies became more decentralized. Employees have been buying cloud applications, but those purchases haven't always been precisely tracked. Many companies went into the pandemic without organized processes for cloud application purchasing.
Tracy Woo at Forrester summed this up well: "We've seen this [struggle] accelerate since the pandemic. The pandemic compressed timelines for cloud adoption and forced enterprises to provide on-demand data-access and applications to remote employees in days or weeks, not months. For some organizations, that meant spending money on the cloud without going through an exhaustive review of other vendor options and the all-in costs of operating in the cloud."
This has led to a host of interrelated issues for CFOs: overspending, duplicative spend, and lack of visibility. According to a Pepperdata survey, enterprise IT professionals expected 2020 cloud spend to be over-budget by up to 40%.
There are myriad ways to solve these problems, including regular communications, training, sourcing teams, and more. But modern financial technology, applied correctly, can solve this in an automated way.
We'll dive into that in the next newsletter on March 24th.
B2B Fintech News
Payments operations platform Modern Treasury added ACH reversals to its platform. This allows customers to reverse an ACH payment they initiated through a click or an API call.
Unit, a fintech infrastructure company focused on compliance and banking relationships, partnered with Plaid to help customers move funds between end-customer accounts on the Unit platform and external bank accounts.
Indonesian payments infrastructure startup Xendit raised a $65M Series B led by Accel.
Codat, which has a smart fintech API, announced strategic investments from both PayPal Ventures and American Express Ventures.
Marqeta partnered with Treasury Prime for combined banking-as-a-service and card issuing.
Receivables financing company Greensill Capital filed for bankruptcy this week after failing an audit from German regulators.
Insightful Reads
For rich commentary on the trending stories and research in B2B fintech, sign up for Exchange: A B2B Fintech Newsletter Powered by TripActions.