July marks a special milestone in the journey at TripActions. Sixteen months into the pandemic, the company is seeing a marked improvement in traveler booking volume, and the logjam that was slowing down the business travel machine is finally starting to break.
As systems return to normal, the executive team at TripActions thought long and hard about how the company could do the same. On June 15th, headquarters in Palo Alto officially reopened against the backdrop of the soft launch of TripActions Lemonade, the personal booking tool we built early this year.
Of course, work can't just return to the way it was before the pandemic. So much has changed since March of 2020: video fatigue; remote work; shifting priorities; even our new found bread-making skills. Heading straight back into the office is an opportunity missed to learn from the last year and tailor our company to the future of work.
The first step in this journey for TripActions is simply about acknowledgement. As a father of rambunctious children, I know firsthand the weight of carrying a full-time job and managing life at home. Many of us have done phenomenal work in balancing priorities over the last 16 months, and the entire leadership team recognizes and appreciates what that requires.
That's why we're giving the entire company a vacation during the week after July 4th. Customer-facing roles will cycle in through shifts, but each employee at the company deserves a well-needed break to recharge, stretch, and bring that precious balance back to life. And after a successful company-wide break over the December holidays, this mid-year reset will help us approach the rest of 2021 with vigor.
As we look at ramping to full capacity, many teams have now adopted a hybrid model for work through the rest of the year. Those close to one of the company's 50 offices can now come in 2–3 days a week to meet in person, build relationships, and bring some serendipity back to the droll 40 hours of screen time. Among careful office management, health and safety practices, and educated teams, this hybrid model has struck an amazing chord of efficiency at the company—and any concerns that I once had with this approach have evaporated.
One product development supporting this new model is the new Team Travel tool, released just last month. Built for hybrid, remote, or multi-office teams, Team Travel allows for simple, online group bookings for companies dispersed across multiple locations. This robust feature will greatly ease the process of managing events like offsites or group conferences.
My colleague Meagen and her marketing team are doing just this for their department later this month. Using the team tool, a single administrator is able to harness travelers from a diverse range of departure points into one group booking and seamlessly manage everything from flights to hotels to cars—all without help from the meetings & events team or dedicated agents.
We're also now using Team Travel exclusively for employee onboarding, which is gathering momentum as the company continues to scale (yes, we're hiring!).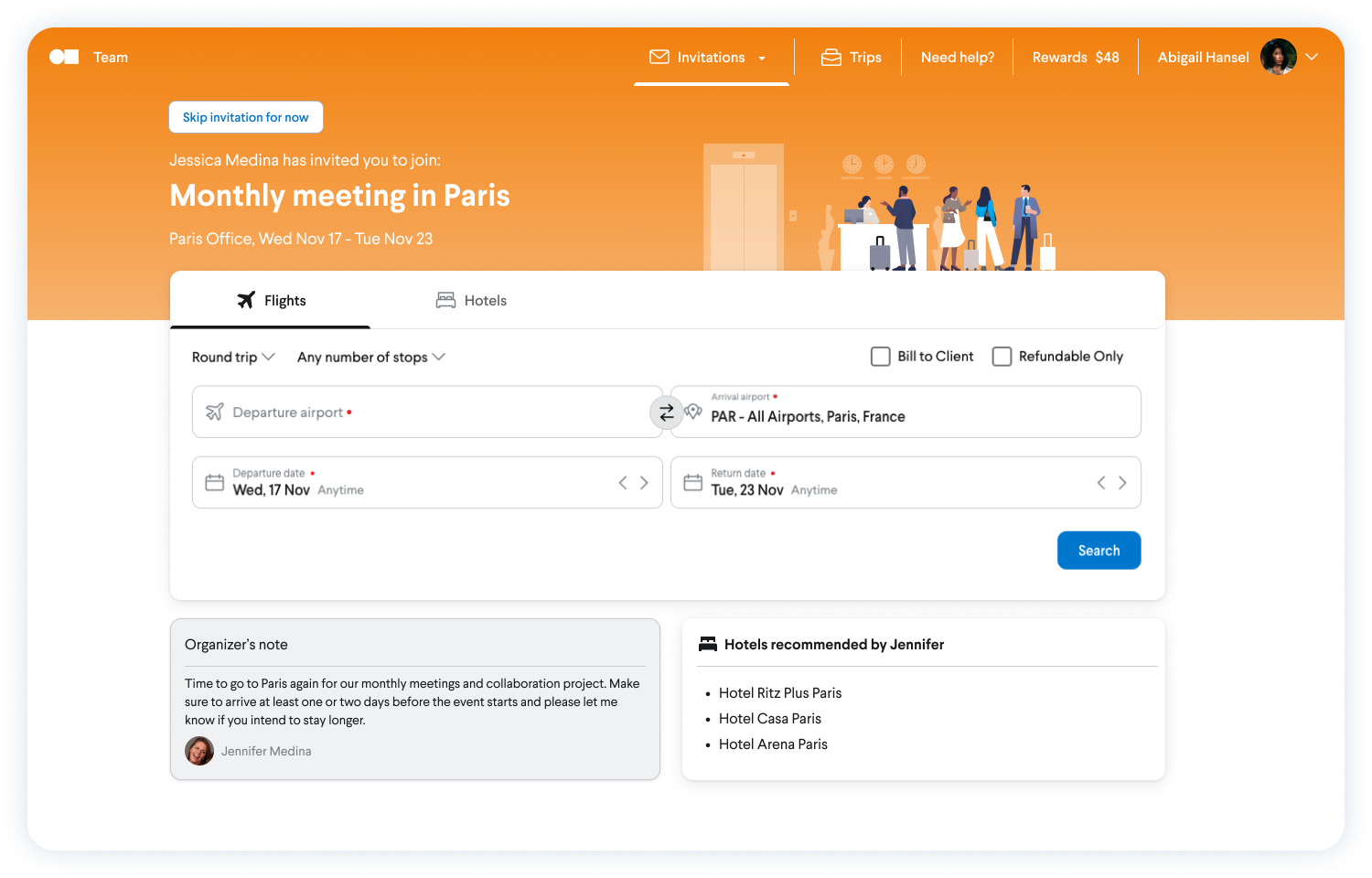 And then there's TRAVERSE, the travel and expense festival coming together on September 29th. An in-person event that's also welcoming digital attendees, TRAVERSE is return-to-work personified. As I look at Mobile World Congress running in Barcelona this week, and the hunger of sales teams roaming the terminals at San Francisco International, I know that we're all ready to get back on the road. TRAVERSE is a celebration of that journey.
As all of these plans come together, I remain enthusiastic about the prospects of our waking economy and the return to business travel. For the team at TripActions, I hope for a restful break and a strong close to the year. For everyone else, I invite you to join us either as a partner or a customer—and blaze this trail with us together.