When we say we're here to move the world of corporate travel forward alongside our partners and customers, we mean it. On the heels of the revolutionary new flight shopping experience we unveiled in February of this year, we have now implemented a ground-breaking standard that will allow us to establish a deeper system-level connection with carriers – all in service of giving our travelers the absolute best experience.
Today, we're thrilled to let you know that we have adopted the International Air Transport Association's (IATA) New Distribution Capability (NDC) and implemented an end-to-end solution on the industry organizations' standard for data exchange. NDC enables us to expand our marketplace by establishing a deeper system level connection to airlines directly, giving our customers unrivaled choice, better prices, access to ancillaries and more in the shopping experience. We're proud to be launching first with United Airlines and plan to include more carriers in the upcoming months to offer our customers the most comprehensive, transparent shopping experience in the industry.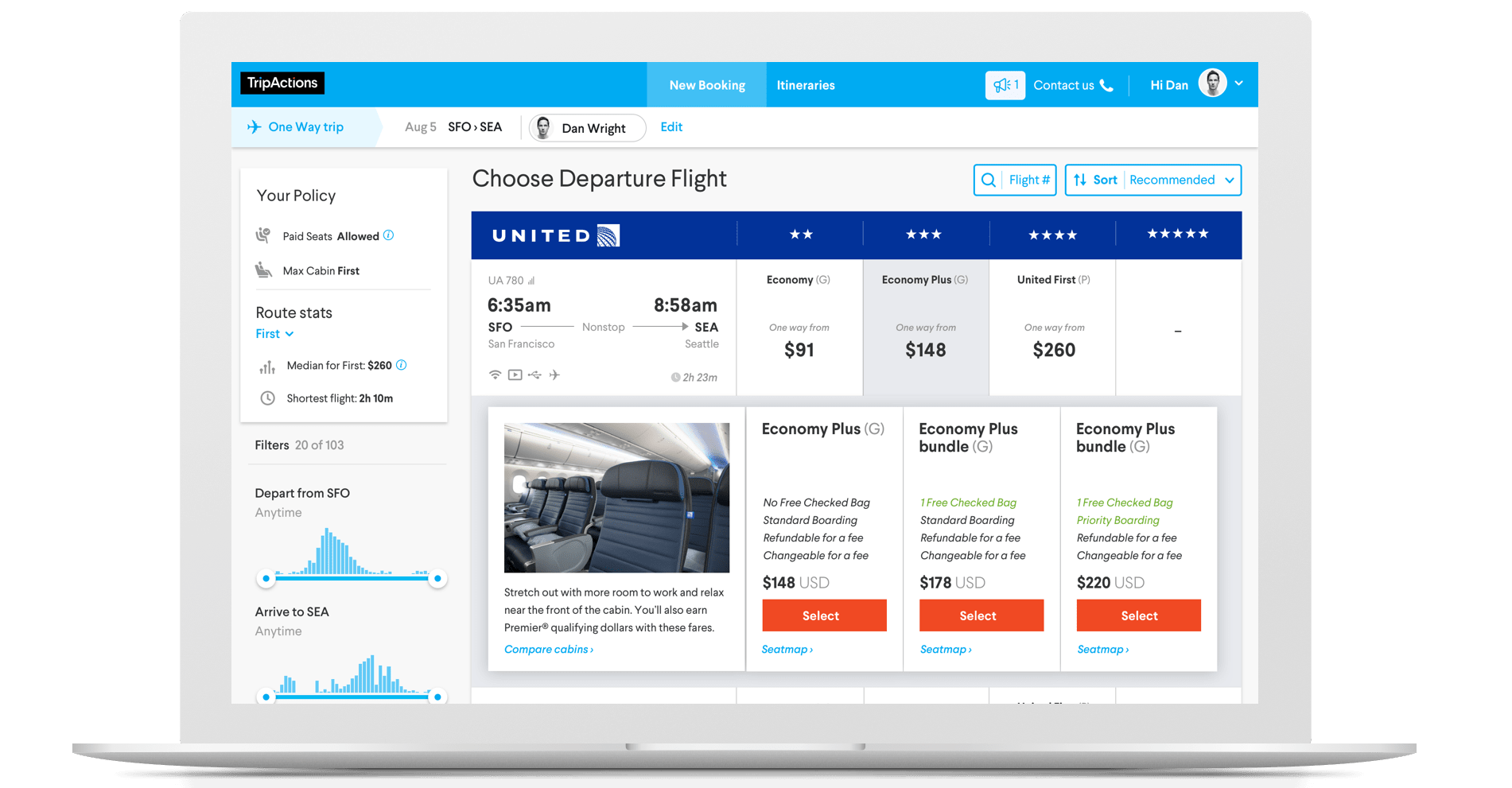 NDC facilitates a more transparent relationship between airline and traveler, which means that business travelers will enjoy the best rates, even more personalization and unprecedented levels of visibility into United's cabin fares, bundles and ancillary product offerings. For example, travelers will be able to upgrade to Economy Plus without a separate purchase, and easily add standalone ancillaries such as checked baggage, all in one place.
Corporate travel managers will be able to customize offerings for their employees based on their organizations' unique needs, leveraging United's new Dynamic Bundled Fares to combine a base fare with a curated selection of ancillary products and services in a single offer. The frictionless experience powered by NDC will drive traveler satisfaction and adoption for even greater visibility into overall program performance, empowering organizations of all shapes and sizes to seize travel as a strategic lever for growth.
"TripActions is dedicated to maximizing choice to provide the best experience in business travel," said Daniel Finkel, vice president of booking experience and supplier strategy at TripActions. "Our announcement with United Airlines delivers on our mission to power the in-person connections that move people, ideas, and businesses forward while demonstrating our commitment to collaborate with our airline partners to reflect the ongoing, massive investments they've made in their offerings, from new seat products to branded fares to entirely new cabin classes, such as premium economy."
"Our goal at United is to provide the easiest and best experience for customers from the moment they book a flight to the moment they arrive at their final destination," said Glenn Hollister, vice president of sales strategy and effectiveness at United. "We're committed to making the booking and shopping experience the best it can be on a variety of channels, and in working with TripActions to offer NDC, we're able to provide a more seamless experience for our customers."
"Through the NDC standard, IATA collaborates with the entire value chain to advance the journey towards true airline retailing including product differentiation, rapid time-to-market, and full rich air content," said Yanik Hoyles, industry distribution director, IATA. "Organizations such as TripActions...are facilitating that journey by using the NDC standard to support transparency and a comprehensive shopping experience alongside increased travel program satisfaction, adoption, and spend control for organizations."
Built to revolutionize the way that travel is bought and sold, NDC will serve as a critical element to future innovations of the flight shopping experience on TripActions. This end-to-end implementation will drive even more price transparency for our customers, improve the quality of inventory we distribute from our supplier partners – doing justice to the tremendous investments they've made in their products – and, last but not least, allow us to champion all of our users with the best experience in business travel.