In celebration of Women's History Month and International Women's Day, TripActions hosted a panel at our headquarters in Palo Alto to hear from a few particularly inspiring women (and men) who are strong advocates for women at work. The panel talked career advice, what it's like to be a woman in the workplace, and their personal views of diversity and inclusion at TripActions. Stacy Chako, a Talent Acquisition Partner at TripActions, moderated the panel.
The panel kicked off with introductions from each speaker, sharing more about their role with the company and why they chose to join TripActions. A common theme among panelists was an appreciation for the emphasis TripActions places on diversity and inclusion. Moderator Stacy shared: "Tech feels very male dominated and in such a male dominated space, I wanted to see women in leadership. When I saw the leadership team at TripActions, it felt like I was looking into the future. There are so many inspiring female role models to look up to here."
In tech, finance, engineering, and other historically male-dominated industries, it can be difficult to find comfort and footing as a woman among mostly men. Sales Development Manager Pier Iberti began her career in finance and gained perspective on gender imbalance in the workplace through those experiences.
"When I started my career, my biggest challenge was being an 'only.' The only woman on a sales team for a financial services company," Pier said on the panel. "I had to question if I had a seat at the table. I had a tough time seeing myself in the future because I struggled to see other women I could look up to or see myself in. As an 'only,' you sometimes get attention you don't always want. I was getting called in to close deals that had female decision makers. Back then, I didn't have the voice to say 'I want to be put on this deal because of my abilities, not because of my gender.'"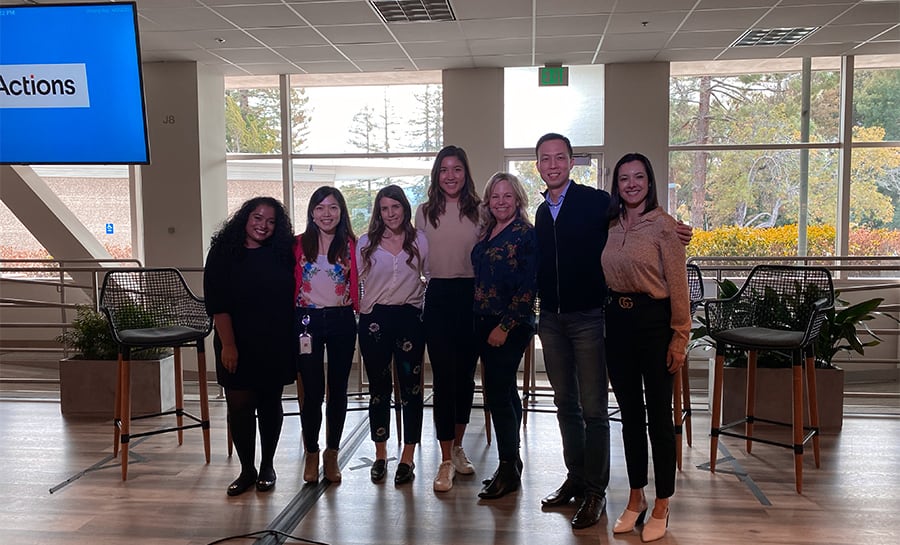 Another common theme throughout the fireside chat was finding a support network to lean on. Lu Chen, Product Manager at TripActions, shared her perspective on how men can be advocates and allies to working women.
"Focusing on how you can help during the day-to-day is what's most impactful to the women around you," Lu explained. "For me personally, that's my husband. We're a team when we make decisions together. It's not that his career is more or less important than mine. It's that these decisions affect both of us. He's always there to push me and help me be better and be more ambitious and work for what I deserve."
Conversations around International Women's Day and Women's History Month often center around working moms and balancing motherhood and a career. Stef Layne, Head of TripActions Luxe, our VIP travel agency service for executive road warriors, had this to say: "When you hear 'working mom,' many of the women in this room can resonate with that, even if you're not a mom in the traditional sense. You might have an older parent, a pet — so many of us are caregivers in different ways."
Megan Klasila, Head of Field Marketing at TripAction, added to this sentiment, explaining, "Taking care of anyone — your family, kids, dog — can be a full-time job. Time is a huge challenge and there's never enough of it. I think our culture puts women and moms on a pedestal and they're expected to be perfect at work, be the perfect mom, the perfect partner, and look perfect while doing it. We feel the need to be perfect, and sometimes you have to break that notion. There's a lot to be said about having a community at work and at home to lean on when things aren't perfect."
Representing the male perspective on the panel, EVP of Sales Rich Liu also spoke to the parenting experience and how his allyship towards women has impacted his parenting style. "One of the things my wife and I always talked about was doing things 50/50. I caught myself in situations saying, 'Can you just do it?' and perpetuating that expectation that my wife would pick up the family-related slack. We had to reset the conversation. I encourage men to revisit the balance in your family. I saw friction at previous jobs if there weren't open conversations around parenting and having responsibilities outside working hours."
The sentiment across the panel was that the company culture at TripActions breaks down expectations of working parents and instead fosters flexibility and support — something we should expect of employers across the board.
"We should all be breaking down walls and barriers to create a culture of understanding when parents have to leave early to pick up a kid, or work from home when the kid is too sick to go to daycare," Megan said. "Being a working mom is just something we do, not a heroic feat, and what you all can do to help is be supportive and understanding when moms and dads have priorities out of the office. It's a shift in the way we think about and support people in all aspects of their life, at home and at work."
The TripActions team continues to celebrate women in travel, tech, and all over the world through the month of March for Women's History Month and year round. Check back on the blog and our social channels for more.
Let's go!