IDC MarketScape recommends TripActions to enterprises looking to save money without sacrificing traveler experience
We're honored to share the news that TripActions was named a leader in the IDC MarketScape: Worldwide SaaS and Cloud-Enabled Corporate Travel Booking Applications 2019 Vendor Assessment (doc #US45655219e, December 2019). TripActions was positioned as a leader for its strength in user experience and personalization, both of which create an experience that users love. That translates into high adoption which delivers the spend visibility, control, data and insights enterprise finance, operations, and travel program leaders need to optimize their travel programs, drive cost savings, and fulfill their duty of care.
"TripActions is innovating at a pace that requires it to be agile and iterate on existing processes as it goes," the report states. "While this is a challenge, TripActions has taken this challenge and used it to help reshape its operations over the past 12 months, building a highly scalable global infrastructure."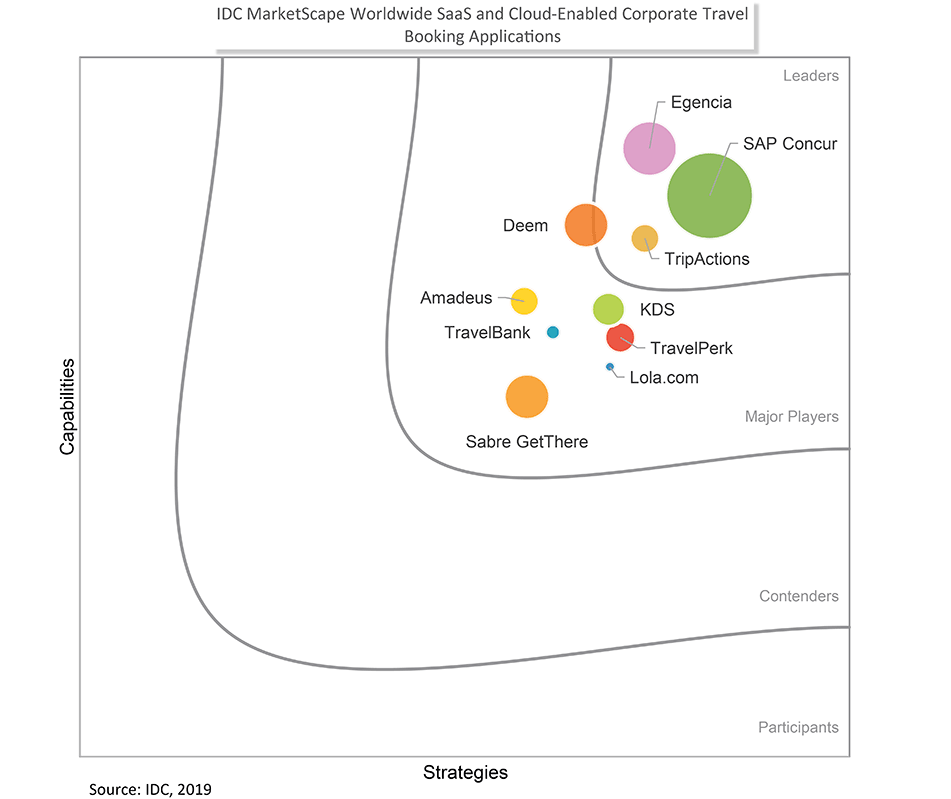 The IDC MarketScape Report emphasizes that a successfully managed corporate travel program requires a strong grasp of data management to scale otherwise manual processes. Artificial intelligence, big data, and APIs are changing the business travel landscape for the better, offering superior visibility and efficiency that is otherwise unattainable.
The use of modern, proprietary technology is at the heart of the TripActions platform, empowering users to book trips on average in six minutes or less as compared to 60 minutes or more with many other platforms. This leads to customers achieving an unprecedented 90%+ adoption, 93% traveler satisfaction, and savings of up to 34% on lodging alone.
Corporate travel management solutions carry a heavy load for an organization; from enforcing corporate travel policy to offering the best possible inventory at the best possible prices, it's clear why technology is so central to scaling and automating processes at the admin and traveler levels.
The IDC MarketScape advises travel technology buyers to keep agility, scalability, and efficiency in mind when it comes to choosing a travel booking tool. The report says to consider TripActions when you are looking to save money without sacrificing traveler experience. The IDC MarketScape recognized TripActions for our strong user experience, focus on travelers and traveler support, and the personalization travelers get when booking with TripActions.
"We're thrilled to be recognized for our unwavering focus on our users — all of them, all the time," noted Meagen Eisenberg, CMO at TripActions. "Our passion for our users is one of our core values and central to our mission-driven culture of delivering the best experience in business travel."
As a leading provider of market intelligence, advisory services, and events for technology markets, the IDC MarketScape evaluates vendors to provide an overview of players in the space, and this was the first IDC MarketScape on the corporate travel market. Download the report excerpt for the IDC MarketScape's full assessment of TripActions as a corporate travel management leader.
To learn more about how TripActions can deliver an unparalleled traveler experience while empowering your organization to optimize spend and save money, schedule a demo with us.
About IDC MarketScape: IDC MarketScape vendor analysis model is designed to provide an overview of the competitive fitness of ICT suppliers in a given market. The research methodology utilizes a rigorous scoring methodology based on both qualitative and quantitative criteria that results in a single graphical illustration of each vendor's position within a given market. The Capabilities score measures vendor product, go-to-market and business execution in the short-term. The Strategy score measures alignment of vendor strategies with customer requirements in a 3-5-year timeframe. Vendor market share is represented by the size of the icons.