TripActions Liquid™ is revolutionizing the way businesses pay for travel, giving confidence back to both road warriors and their finance teams. With TripActions Liquid corporate cards, finance teams can rest assured that business travelers are spending within their company's specific travel policy guidelines — a certainty traditional corporate cards do not carry. And at the moment that something looks off, finance is notified so the proper actions can be taken.
TripActions Liquid would not be possible without our partners that provide both technology and expertise to help us deliver a robust travel booking and payments experience at all steps of the business trip.
One of our TripActions Liquid partners is AppZen, the world's leading AI solution for modern finance teams. We leverage AppZen to power AI-driven spend approvals in real-time to eliminate traveler angst and guesswork as well as out-of-policy spend and the logistical headaches that would otherwise ensue.
TripActions customers using the TripActions Liquid corporate card automatically benefit from AppZen's AI spend auditing technology right in the current workflow. AppZen audits every TripActions Liquid corporate card transaction and flags the high-risk transactions for review.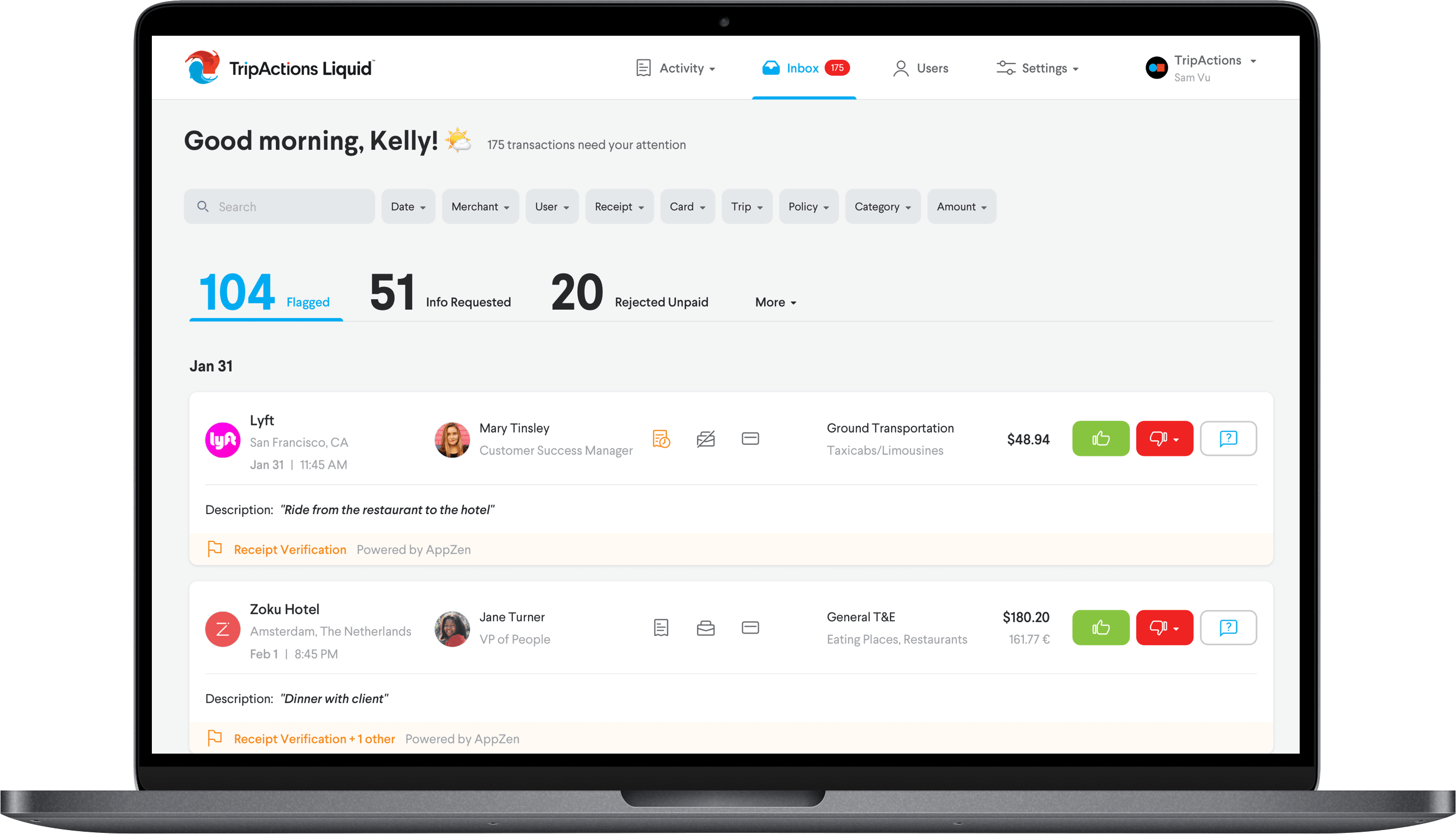 TripActions Liquid leverages four of AppZen's AI-driven flags to help finance teams manage spend when it comes to corporate cards:
Unauthorized Expenses: every submitted receipt for out-of-policy is analyzed and unauthorized purchases are flagged for travel managers and finance teams

Itemization Verification: when an itemized receipt is submitted, it is analyzed to ensure the correct receipt has been attached

Receipt Verification: submitted receipts are analyzed for discrepancies to confirm that the total amount on the receipt matches the total amount of the submitted transaction

Non-conforming Receipt: receipts are compared against transactions, checked for an attached receipt, and flagged for further review if anything looks unusual
With TripActions Liquid leveraging AppZen's AI, finance teams are rid of the anxiety typically associated with handing out corporate cards. Finance leaders can rest assured TripActions Liquid cards have an extra layer of protection to reel in rogue payments.
For more on AppZen, check out their blog on our partnership. To learn more about how TripActions Liquid makes life easier for finance teams and road warriors, check out our latest ebook.