Let's face it, there isn't a single person who likes expenses.
Employees hate doing expenses. Managers hate having to approve reports almost as much as talking to employees about out-of-policy spend. And Finance hates having to chase down missing info, time-consuming reconciliation and getting blindsided by expenses submitted 6 months late, ultimately causing a lack of visibility and control over their business spend.
And while expense processes have improved since the days of taping receipts to an 8 ½" by 11" sheet of paper and expense management by spreadsheet, they haven't improved by much, nor enough.
Welcome to a new era that ends the compromises of antiquated, legacy expense management processes and tools. An era of empowering employees without compromising control, of real-time spend visibility, of smart spend management, of being able to adjust policy on the fly to adapt to changing market conditions, and of automated reconciliation and reporting. Welcome to the era of 'No Expenses'.
Introducing TripActions Liquid™ for payments, light procurement and expenses—the modern solution that revolutionizes expense management so employees and finance teams no longer have to deal with the hassles and frustrations of expense reports, ever again.
TripActions Liquid is a modern corporate payments and expense management solution that provides employees with a refreshingly easy way to pay for what they need while giving companies one place to better control, manage and track spend. With physical and virtual cards, smart approval workflows, automated expense reports and centralized billing, TripActions Liquid streamlines the entire process for business spend.
TripActions Liquid delivers a better way for employees and finance teams to cover on-the-go, one time, recurring, and the rare out-of-pocket spend for everything a business and its employees need to spend money on—like business travel, software subscriptions, association dues, training courses, digital advertising and more. Spend that—when delayed by outdated expense management tools and processes—brings your employees and business to a screeching halt.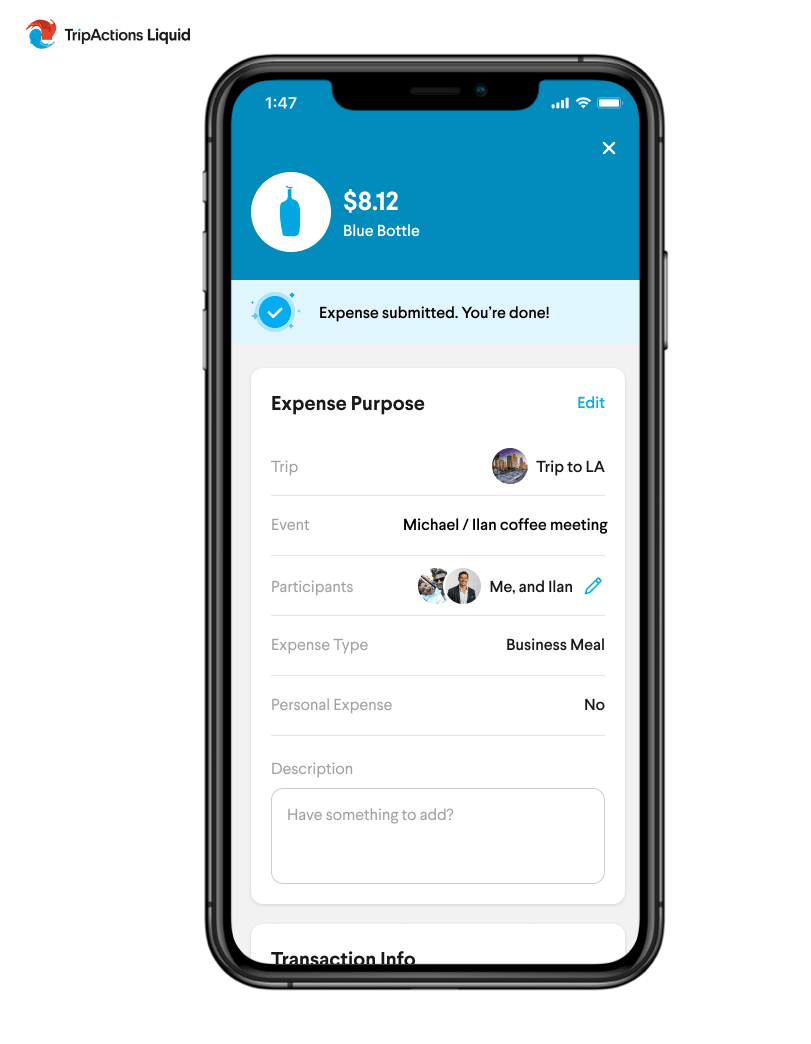 Employees simply swipe their card and expense details are automatically populated with contextualized information - eliminating the hassles of completing expense reports.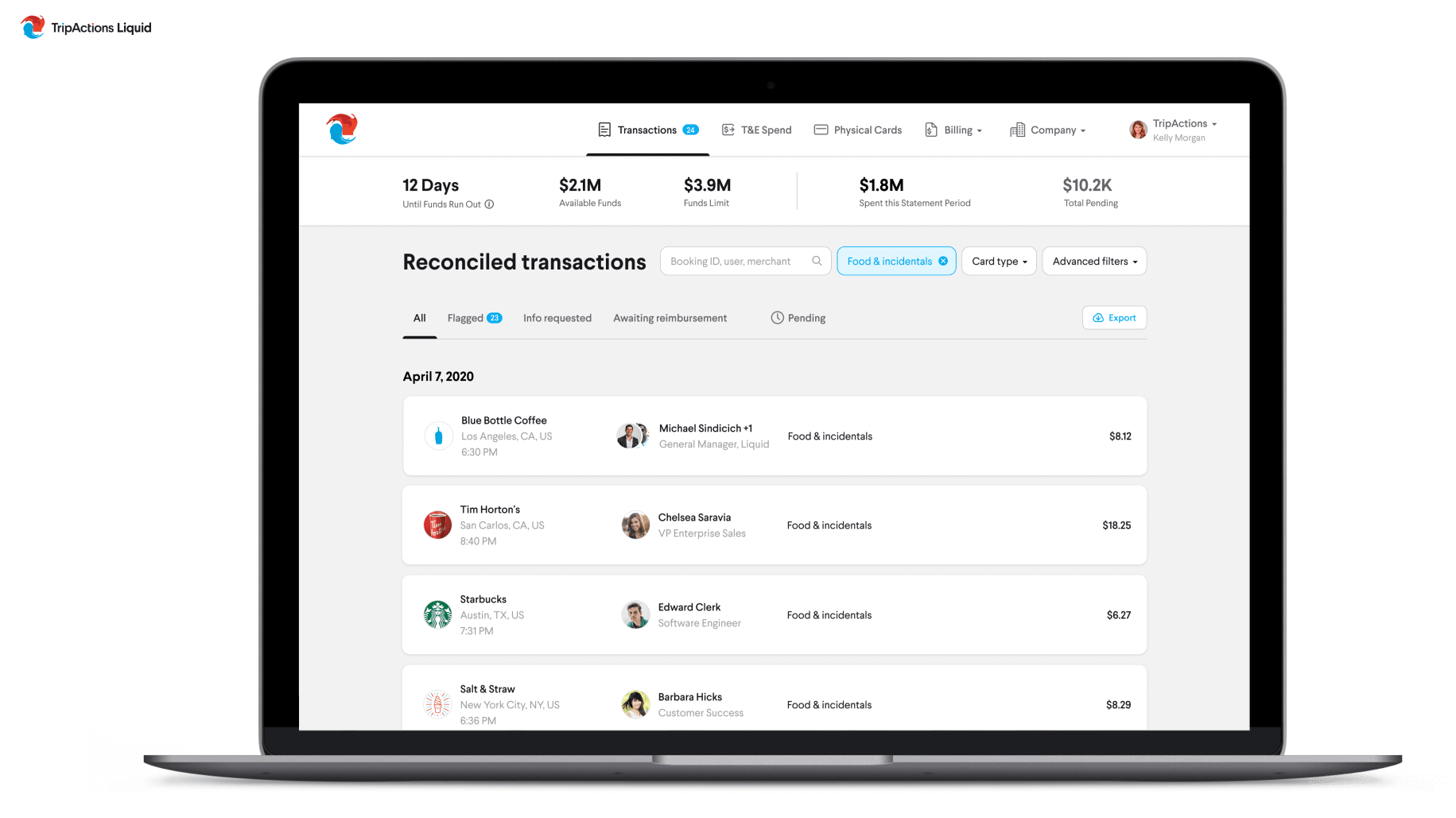 Accelerate month-end close with receipts and payment details captured automatically, streamlining reconciliation and reporting.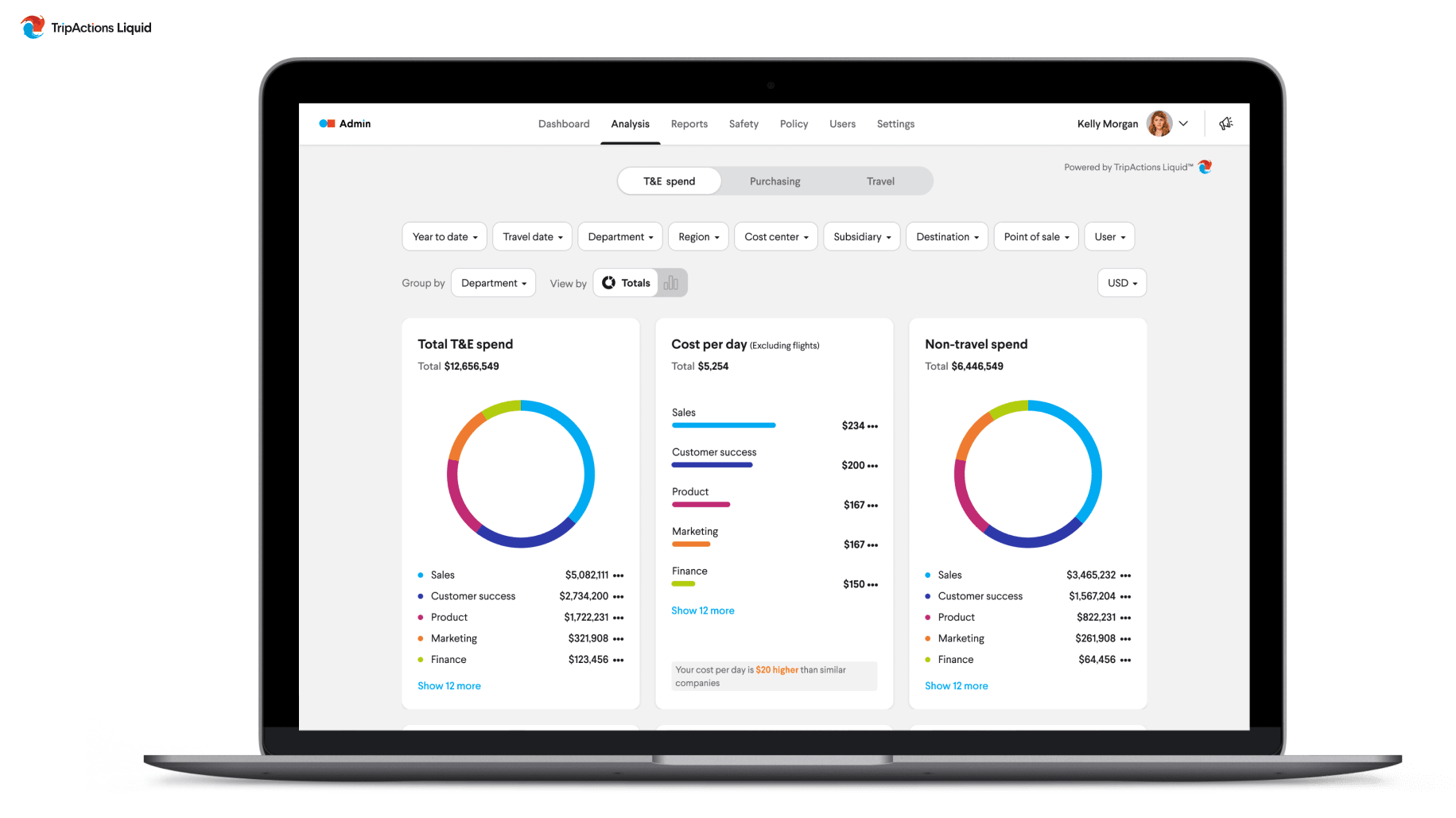 Get real-time visibility across all business spend in one single dashboard for accurate forecasting and budgeting.
TripActions is the only end-to-end corporate travel, payments and expense solution for businesses to easily and efficiently manage the entire T&E ecosystem—from booking travel to expenses to reconciliation:
Employees are empowered to pay for the things they need and are approved to buy using virtual or physical cards; TripActions Liquid takes care of those rare out-of-pocket expenses and even reimburses employees within a day.
Managers only need to focus any approvals on flagged transactions thanks to smart auto-approval technology.
Accounting teams can accelerate month-end close to just minutes with receipts and payment details captured automatically, streamlining reconciliation to minutes.
Finance teams can finally gain real-time visibility and control into all spend for accurate forecasting and budgeting.
Join the world's most innovative companies, including Zoom, Lyft, Databricks, SoundCloud, Toast, Spin, Foursquare, letgo, Gusto, Spin, Celonis, Amplitude, Wayfair and many others, by switching to modern travel & expense management with TripActions Liquid so your employees can focus on their best work, not paperwork.
To learn more about modern T&E management from TripActions, view this video on TripActions Liquid or visit www.tripactions.com/liquid.