When will business travel recover—if ever? As states and countries reopen post-pandemic, economic cogs from hotels to restaurants to convention centers are preparing for the new world of business travel; but as vaccination rates rise and rules evolve every day, what does that recovery actually look like? How many aircraft should rise from the desert and how many hotel rooms should be restored?
As a modern corporate travel and expense company responsible for managing travel and spend for more than 5,000 customers, TripActions has unique insight into the rate of recovery—and recently took a deep dive to understand how, where and which types of business travel are recovering the fastest. The resulting report foreshadows the future of business travel and shines a ray of hope on the recovery that's very much still in progress. Let's go.
Rate of Recovery
Based on TripActions data, business travel bookings are recovering 10% week-over-week, 31% month-over-month, and 303% in total since the first full week of 2021. Over the past two weeks alone (week of May 30 – week of Jun 13, 2021), booking volume has grown 28% as vaccine rates increase, offices reopen and more destinations open to travelers. (Hello, Europe—TripActions' customers booked 48% more flights WoW to Europe following the announcement that EU destinations would soon open to vaccinated Americans.)
Compared to January 2020 booking levels (last year's peak), business travel bookings managed by TripActions have recovered by 60%. That rate tracks above the industry average thanks in part to a series of product improvements designed to give companies and their employees the confidence to return to travel in a post-COVID world. Travel bookings managed by TripActions should return to pre-pandemic levels by early fall at the current rate of recovery. That rate, however, may accelerate if international routes like the U.S.–U.K. corridor open sooner.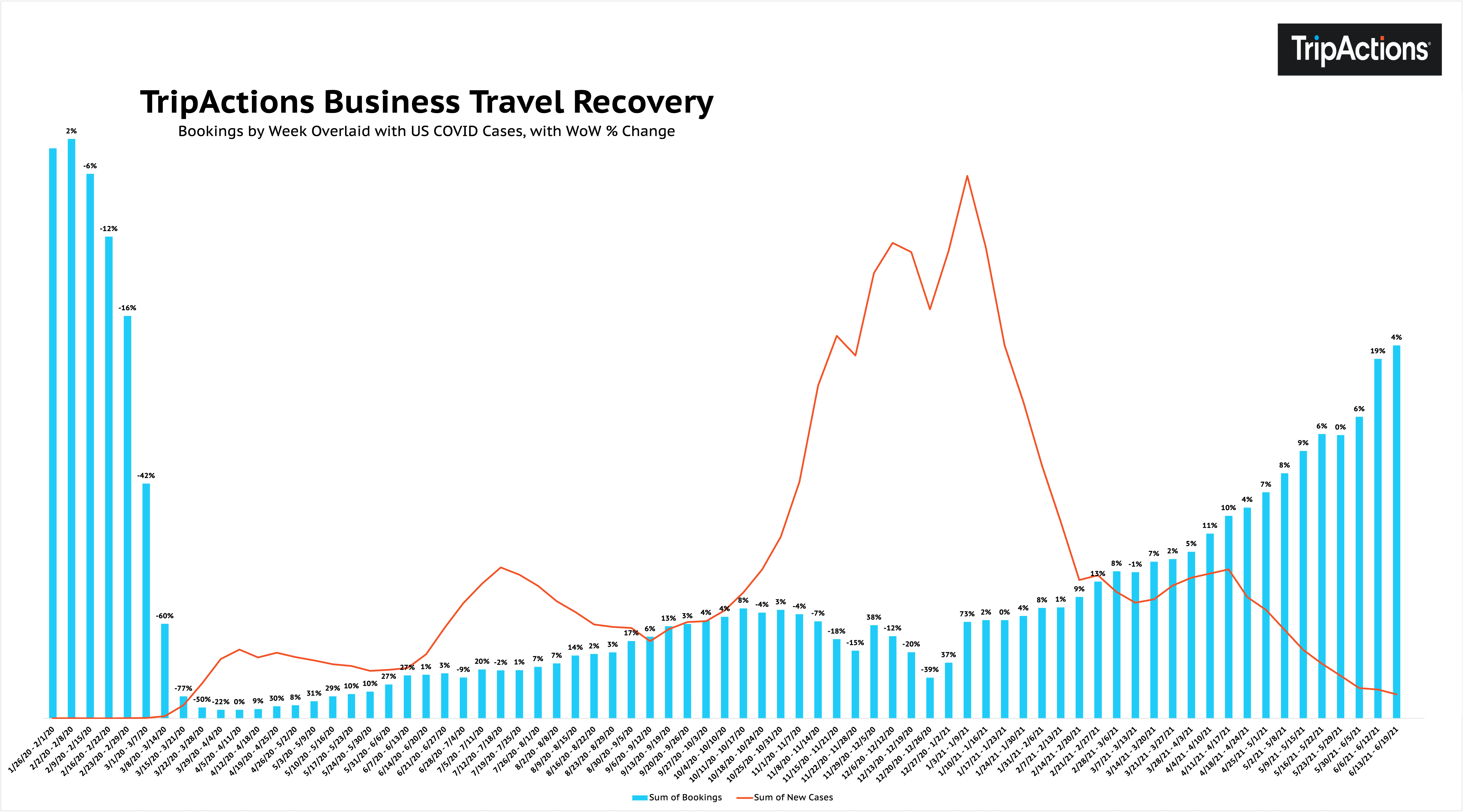 Shifts in Types of Travel
At the height of the pandemic, business travel bookings—which are typically anchored by flights—shifted to car reservations. Hotel reservations surged in relative popularity and overtook flights as the leading type of booking.
Now, more than a year after the pandemic lows, car rental bookings are returning to typical relative volumes. Even so, the overall percentage of car bookings in the system this summer (13%) still represents more than twice the the volume prior to the pandemic (6%). Rail has also trended back up after reaching a pandemic low of about 1% share. Flights, after dropping 22% in share from Jan 2020, have rebounded 13% and now represent a 43% share of all TripActions travel bookings.
Most-Booked Summer Business Trip Length
A trend toward intentional travel, or trips with longer durations, continues to grow as more companies return to business. In the summer of 2019, at the peak of the disruption, the plurality of business trips booked through TripActions were for itineraries of just one day. And while summer 2021 data still shows that one-day trips are still popular (32% of overall itineraries), trips that last 4–7 days have now overtaken that category and are now most frequently booked (35%).
Booking Lead Time
Business travelers tend to book itineraries closer to departure than leisure bookers thanks to the nature of the industry. And the pandemic exacerbated that trend. Legacy TripActions data show that 60% of travel is booked within the month of departure. At the height of the pandemic, however, the average lead time—or how far in advance travelers book—shrank from an average of 12 days to just one day. That trend indicated a lack of confidence in planning trips amidst pandemic unknowns. Today, that lead time is eight days—still short of the average 12 day window but far longer than the pandemic low.
Weekly Bookings per Company by Segment
Breaking the booking data down even further, certain segments (or company sizes) are returning to business travel faster than others. Here's a look at how business travel is recovering based on segment size, indexed to Jan 2020 volume.

Weekly Travelers per Company by Segment
It's not just the weekly booking per company that is increasing, it's also the number of weekly travelers per company. Here's how that breaks down by segment, again indexed to Jan 2020 recovery levels.

Bookings and Travel by Department
So who is booking and traveling for work right now, and how has that changed over time? Sales teams, which historically comprise the plurality of travel bookings (pre-pandemic peak of 56%), dropped down to 20% of bookings in April of 2020. Today that has recovered to 41% of bookings. Marketing and Product teams are similarly increasing in share.
Conversely, departments like Operations, Finance and Administration, and HR increased their respective share of travel during the pandemic, but have since trended down toward pre-pandemic percentages as companies get back to regular business.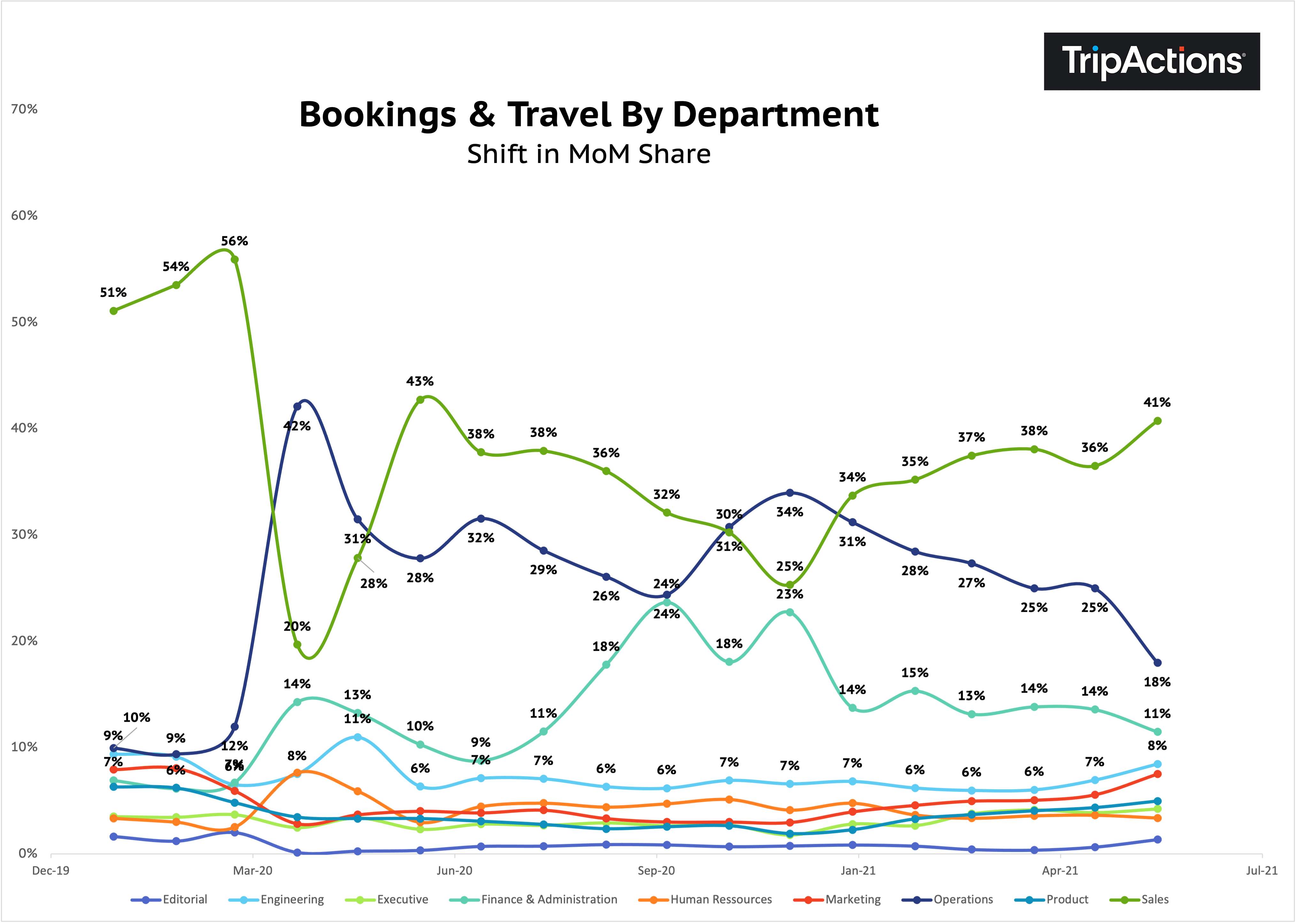 Top Booked Destinations for Summer Flights
During the pandemic, TripActions saw booking points of destination move away from large urban metros as travelers avoided major population centers; in the midst of a recovery, traditionally popular cities like San Francisco, Las Vegas, San Francisco, New York City are back in vogue. (The vast majority of U.S.-origin summer bookings continue to be for domestic itineraries.) Here are the top destinations this summer (Jun 1 – Aug 31) for U.S.-origin flights based on rank, and how that compares to summer 2020. No surprise: volume is up across the board. Vegas? Up a whopping 519% from last summer, with NY close behind at +471%.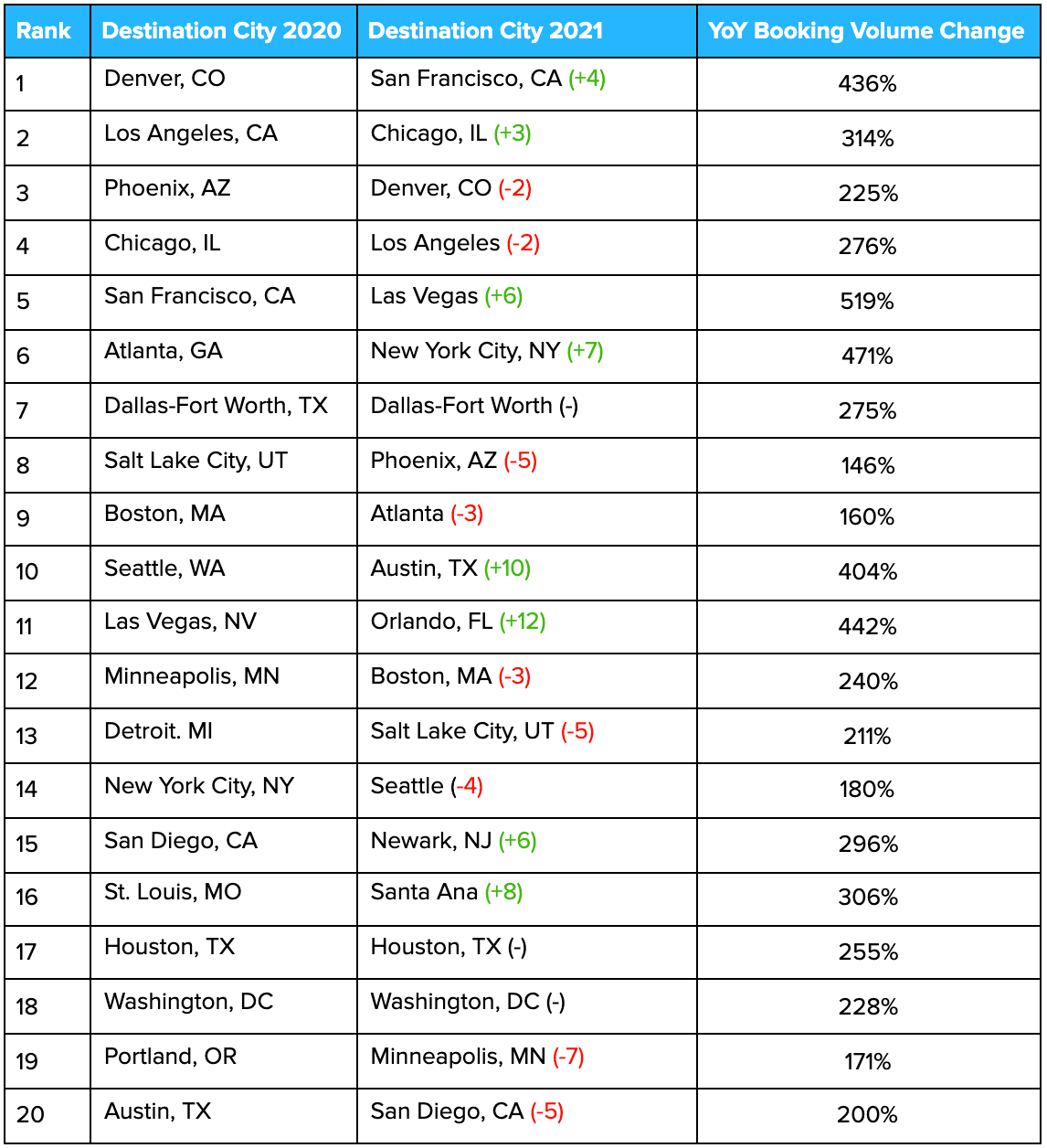 Looking at trending destinations for fall business travel, resort and conference destinations make prominent appearances, suggesting long-term confidence in the return of conferences and offsites in the autumn months. As previously noted, in pre-pandemic times, 60% of business travel flights are booked during the month of departure.

Pricing Trends
Flights
The days of rock-bottom flight prices are generally over. Travel demand is high, while routes and seats are still limited. As a result, TripActions data suggest a 19% YoY increase in booking prices from May 2020 to May 2021. While flight deals remain, median booking prices have risen dramatically in line with demand. The past two months of booking data indicate an 8% increase of average flight booking price while year-over-year, prices have surged by an average of 16%.

Travel with a departure date in June, July, or August is also seeing higher prices relative to 2020.
Accommodations
Like flights, the booking price for accommodations is also up significantly year-over-year.
Car Rentals
The U.S. is still in the midst of a major car rental car shortage driven by the pandemic which caused booking prices to surge. This summer, continued vaccine distribution and the mass return to air travel have led to a perfect storm of excess demand and lack of supply, which has caused prices to soar.

As the world gets back to business, travelers and their companies are looking for the tools and information they need in order to feel safe and travel confidently. TripActions has developed a suite of innovative features to equip travelers and their managers with real-time data and support.
TripActions Digital Health Passport
Travelers can now easily upload, manage, and share required health documents for domestic and international travel at check-in, immigration and other checkpoints. To aid data security, all COVID-19 test results are automatically deleted post-trip and health data is kept private to travelers.
COVID-19 Travel Restriction Notifications
Manage the changing travel landscape with mobile and web notifications designed to help travelers:
Monitor health documentation requirements
Understand entry restrictions and quarantine policies
Stay up-to-date with COVID-19 testing requirements
Manage traveler health insurance and visa requirements
Be aware of transit and local travel restrictions
Unused Ticket Application
TripActions now helps companies of all sizes account for every dollar spent with the automatic application of new or partially used flight credits for all future bookings.
TripActions Team Travel
TripActions Team Travel empowers meeting and event organizers to create in-person group meetings with just a few clicks. The suite of features offers users a seamless self-serve experience and provides companies with enhanced visibility. With TripActions, organizations can now strengthen internal collaboration and bolster company culture by bringing teams together safely and easily.
Streamlined Event Creation
Meeting and event organizers can now create and customize events for up to 20 participants with just a few clicks. Rich content integrations provide the insights and real-time data that event organizers need to make the most informed decisions and safely bring teams together based on COVID-19 destination data, carbon emissions, country restrictions and health guidelines.
Seamless Guided Self-Serve Experience
Meeting and event organizers can configure events and invite participants directly from the event creation page. This allows participants to be notified and guided through the entire travel booking process. Travelers know what to book and when, according to company policy and event preferences. Country restrictions, visa requirements and health procedures information can also be found in the booking process.
Learn more about how TripActions can help your business return to travel and empower your distributed teams to meet in-person, here.