Are you a road warrior who finds herself booking travel through Seattle? Whether you're just passing through or heading into downtown Seattle or over to the Eastside (what locals call the Bellevue, Kirkland, Redmond, Issaquah, and Sammamish area), this blog is for you. Here you'll find advice compiled from road warriors who frequent Seattle Tacoma International Airport, aka "SeaTac."
What to Drink
Even without setting foot outside of the airport, you can still claim a taste of the city. For starters, yes, rest assured there are multiple Starbucks in the airport. Even if you've only got a short layover, you will be able to tell your friends and family that you drank Starbucks coffee in its hometown. (And if you have time to head into town, you can visit the very first Starbucks store that opened in 1971 at Pike Place Market.)
Looking for Seattle artisanal coffee? You'll find that at the airport's Caffe Vita, in the C gates, integrated into the Beecher's store (see below). Vita is a local chain with a loyal following and intense coffees.
What to Eat
As for food… Seattle is indeed a foodie town. If you visit Pike Place Market, you can't miss the line out the door of Beecher's Handmade Cheese shop on the corner. If you don't have time to run into the city, however, you can get the same great delectable cheese curds at the Beecher's Cheese outpost in the airport in Concourse C, across from gates C1 - C8. (This is also where you'll find Caffe Vita.) You'll have to choose between their famous mac and cheese… or the gooey grilled cheese sandwich. Either way, you can't go wrong.
In the N gates satellite, your hunger may be satiated at Skillet Street Food. Skillet originated their traveling feast as part of Seattle's food truck revolution. Now they have multiple restaurant locations around town, and their counter at SeaTac offers food for travelers on the go (there's a new Skillet coming to the C Concourse soon, too.) TripActions' resident foodie road warrior recommends ordering the cheeseburger with bacon chutney.
And for a sweet treat, don't miss Seattle Chocolates at the entrance to the C Gates. Their chocolates are unique, but delicious including their Jcoco bars with flavors like Agave Quinoa Sesame, Cayenne Veracruz Orange, Basil Sea Salt Toffee, Edamame Sea Salt — all among our TripActions' resident foodie road warrior's favorites. Plus Dilettante Chocolates in the main concourse food court is another can't miss Seattle institution.
What to See
SeaTac was the first airport in the country to have a public art program, and hosts an art collection that reflects the Pacific Northwest, including Native American art as well as glass (Tacoma is the home of Dale Chihuly). There are simply too many works of art in the airport to list, but you will not be bored as you roam the concourses. A few faves: the salmon-embedded floor of Concourse B, the Rainmaker's Luggage at Baggage Claim Carousel 8, and the Cow on Its Side (a stained glass installation that looks beautiful when backlit by the sun) as you take the escalators from Concourse D down to the North Satellite Train Station.
For fans of Indie and Grunge music, the airport has you covered. Among the ample shops in the main terminal, you'll find a storefront for legendary Sub Pop records, the record label that helped launch Nirvana, Soundgarden, and Mudhoney. Stop and listen — musicians often play live in front of the shop.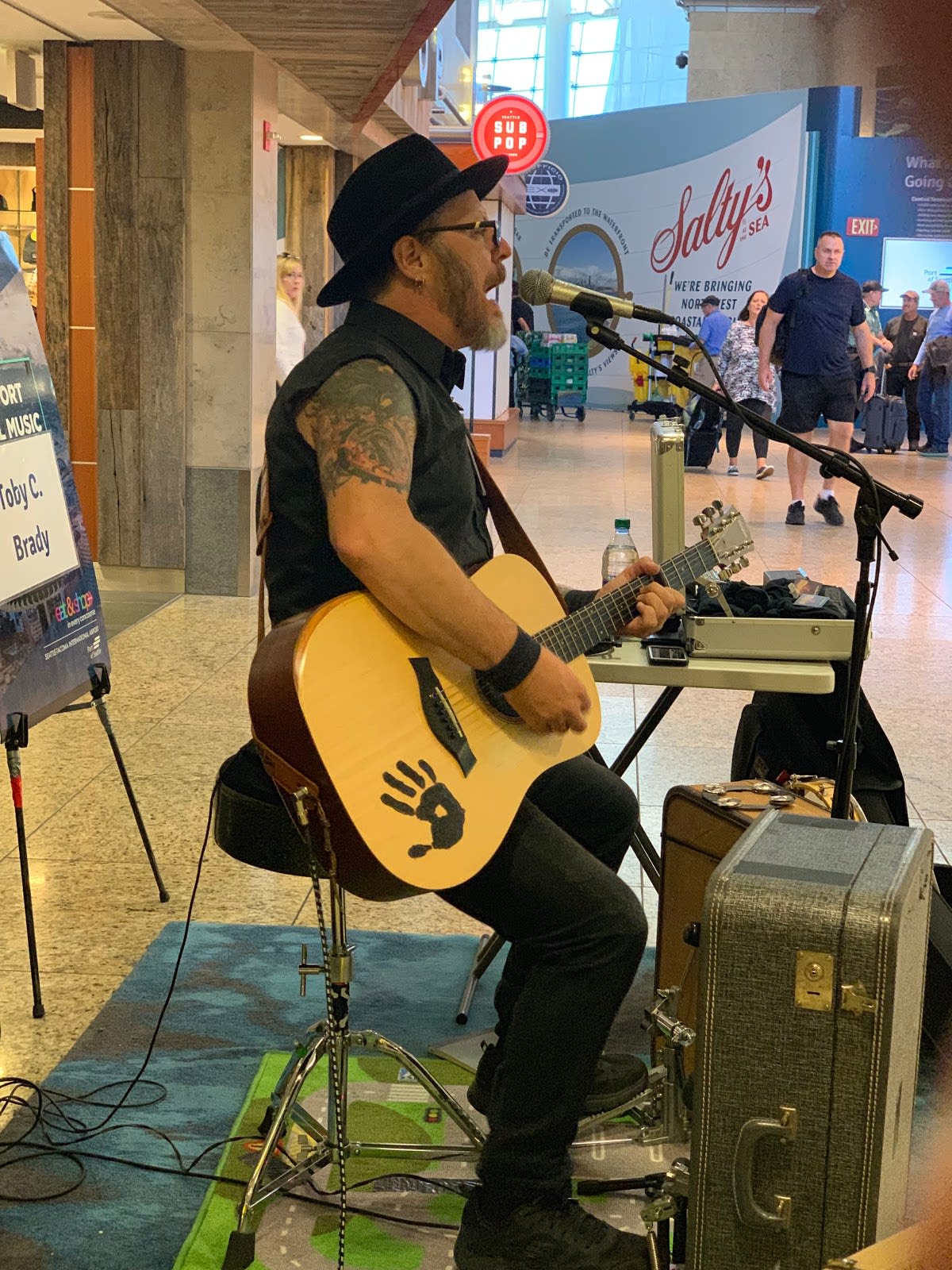 Helpful Travel Tips
If you've got a meeting in town and need a Lyft, you'll find the shared rides pickup location on the third floor of the parking garage. Just cross over the skybridge from the main terminal and take an escalator or elevator down one floor, then walk towards the center of the parking garage for the ride shares. You can expect a solo ride share in the least expensive option to run you approximately $30-$35 to downtown Seattle.
Another option: Seattle's Link Light Rail is an easy and clean way to get north — and can be faster if you're traveling during morning or evening rush hour. The current route runs from the airport through Pioneer Square, downtown and Capitol Hill. As of August 2019, you can get as far north as University of Washington, and expansion northward and eastward is in progress. SeaTac to downtown costs $3.00 one way and takes 30-40 minutes.
Saying good-bye to the Emerald City
According to our road warrior sources, Seattle's airport may not have the speediest security lines in the United States, so be sure to arrive at the airport well in advance of your departure time. However, the airport is modernizing: a new, automated security conveyor belt for bins is now in place in one of the security checkpoints, and it appears that this is helping speed the process. (If you're a West Coast road warrior, you are well familiar with these types of automated bin belts in SFO, among other airports around the country.) You may also want to invest in a Clear membership. While security lines can run long at SeaTac, TripActions' resident road warrior notes it's never taken him more than 10 minutes to pass through security at SeaTac with Clear, and often it's less than 5 minutes.
From SEA to ORD to DEN and beyond, TripActions helps business travelers traverse airports without hassle — or unexpectedly long layovers.
One last tip. If you are flying on United Airlines or Alaska Airlines, consider flying into the Seattle area's newest airport, Paine Field (PAE) in Everett, Washington — about 20 minutes north of the city, depending on traffic. There are only three gates, but security lines are fast, parking is close by and inexpensive, and there's a Beecher's so you can still get that Seattle-favorite mac and cheese or grilled cheese.
Get in touch with our business travel experts to learn more about how to you and your team can avoid getting stuck in any airport for too long.