Table of Contents
Can I pay for a seat while booking a flight?
TripActions allows you to purchase seats when booking a flight. We support most of the major carriers, although there are a few airlines that do not make their full seating plans available to us at this time.
If you need additional help with a seating choice then you can reach out via chat, email us at [email protected] or call +1-888-505-8747 at anytime.
How do I add my loyalty cards to my profile?
Adding and changing loyalty cards to your account is easy! Simply go to your settings page: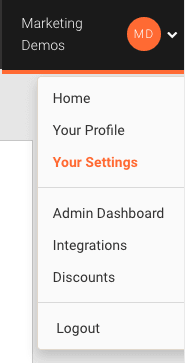 Then select the 'Loyalty Cards' tab:

Here, search for the program name such as "MileagePlus" or "United" and the search will automatically pre-fill with all the programs we support. Once you select a program, enter your membership number and click 'Save'.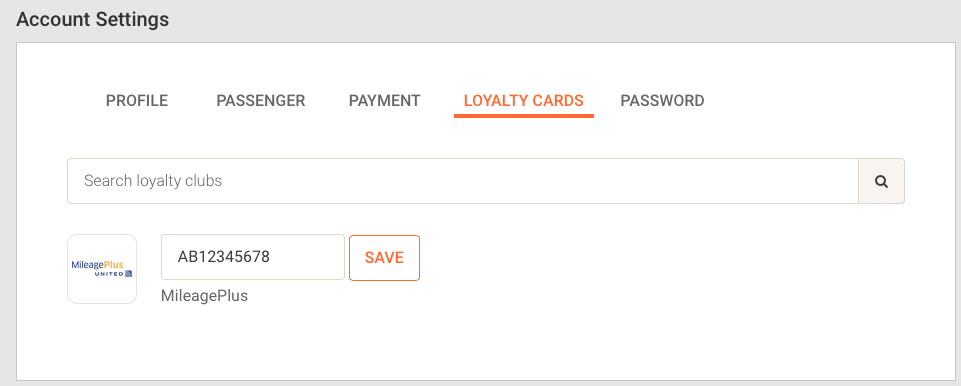 That's it! Now you can rack up those points. We currently support over 130 airline, 15 hotel, and 20 car loyalty programs, but if you are a member of a program that you don't see just let us know!
How can I see my company's savings?
Users with administrator access can view this information. To get to your company's 'Admin Dashboard', sign-in to your account as seen below via the website.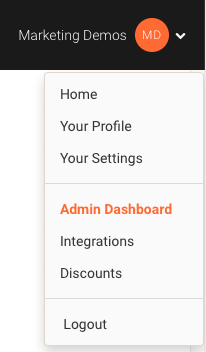 You will see summarized information of key data including savings, spending, and which employees are saving or spending the most. You can find more detailed reports on trends in the 'Reports' tab. These can be viewed within your account or exported as a CSV file.
Will I need to provide a credit card when I check into my hotel?
Yes, this is a universal practice and is used to cover incidental expenses acquired during your stay at the hotel such as room service, mini bar, parking damage, etc.
Why are most car rentals not charged up front?
This is simply a limitation of the car rental world. With car rental agencies, you are required to place a card on file (while they pre-authorize a certain amount), and are normally charged upon returning the car. Reserving a car using TripActions will reserve the rate, but you will need to pay for the car and submit for reimbursement. There are too many a la carte options, such as paying additional for GPS, pre-paying gas, adding insurance coverage, or you could return the car days late and incur late fees! Most frequent travelers prefer ride-sharing apps like Uber or Lyft.
Why did I need to pay for the hotel upon checking in? Didn't I already pay for it?
We have two different rate options available for our customers: Pay now and Pay later rates. Pay now are prepaid and charged on a credit card. Pay later rates will be paid direct at the hotel. These rates secure the reservation with the card on file, but require the traveler to pay for the room upon check-in. If a traveler was listed as a no-show, or attempted to cancel the reservation after the acceptable period, the card on file would be charged.
I booked a non-refundable room and need to cancel my reservation, what should I do?
Non refundable rates are highly discounted rates up to 50% off and are non refundable once booked. They are a special inventory not available anywhere else, and therefore can not be refunded.
Why do other sites show a room available for a hotel, and TripActions is showing it as sold out?
Discount resellers may have a certain number of rooms allocated for them to sell at a cheap rate. If another site shows a room available and TripActions does not, it may be the last/one of the last rates at the property. TripActions also filters out most motels, B&B's, and unrated properties to ensure an enjoyable business travel experience.
How do I earn my loyalty points/status with my hotel chain?
TripActions will always try to present the most cost effective hotel rooms available. However, for some travelers, points and status with the major hotel programs is important. Upon filling out the loyalty clubs you belong to in your TripActions profile (SPG, Marriott, Hilton, IHG, etc.), you may select a hotel that belongs to your preferred chain. Upon selecting room type, filter by "Earn Loyalty Points" (if available for that hotel). These rates will allow you to earn your hotel loyalty points and have your loyalty status recognized.
Why can't I pick my seat on a flight?
TripActions recently added the ability to pick your seat from all platforms (being a mobile first company, you used to have to use our mobile apps). Some airlines need the flight confirmation code verified before you can select a seat. Confirmation numbers are granted and verified after ticketing is complete. This means that once ticketing is complete you will need to return to the 'My Trips' section within TripActions to select your seat. We are continuously working with our partners as well as expanding our features and functionality to improve your experience.
Why do search results show differently from my co-workers exact same search?
TripActions will always optimize for your loyalty programs (Hilton, Delta, United, etc.). If person A has filled out a Delta frequent flier number, and Person B has not, upon running the same search they will see the same number of flights but perhaps in a different order. If Delta is a cost effective option, it will stay near the top of the page for Person A, if not, it will be placed lower in the search results. This is to allow our travelers to continue using their loyalty programs with flights and hotels when booking responsibly and saving money.
My colleague at XYZ company has a hotel/flight corporate rate, why can't I continue using that?
While using someone else's corporate rate may have saved you on bookings, it is not permissible by the carriers or scalable company-wide. We appreciate you saving the company money for your bookings, but to standardize travel company-wide means to abandon methods of sharing corporate rates with other companies. Approved corporate rates for our company will be shown in your search results and we'll be working hard to negotiate better rates whenever we can.
Why wouldn't I book directly with the airline?
TripActions has a great support team to help you through your travel journey. They will always try to present the most cost-effective solution to save your company money.
I'm not seeing the flight results I want.
Check your airport codes
Be more specific in your search
Add loyalty programs to your profile!
We always suggest you double check the airport codes first because TripActions receives thousands of results from multiple inventories. We prioritize search results based on the best deals for your company, within your specified search parameters.
If you specify a time of day for departure, you will likely notice more and different flights in the results. TripActions is designed this way to avoid inundating you with options that are not the best for your company, but if you need to be somewhere at a specific time just try your search with that window selected. You can further customize your flight results by adding preferred loyalty clubs to your profile settings. Once added, we will prioritize flights from these airlines in your personalized search results too.
I found a flight cheaper elsewhere.
TripActions is receiving flight availability and pricing from the airlines. If you are able to find a better price elsewhere, feel free to contact [email protected] or call +1-(888)-505-TRIP (8747) for help. Please note, TripActions cannot match flight pricing found on "discount websites" or "flash sales" that are sometimes advertised as part of an airline sale. They are bound to the prices set by the airlines.