Health Passport
What is it?
Travelers can quickly upload and manage any health documents to the TripActions Health Passport. This information is securely stored and available only to the traveler.
Benefits
Easily manage any health documents within the TripActions app
Upload vaccine and negative COVID-19 test results
How do you enable this feature?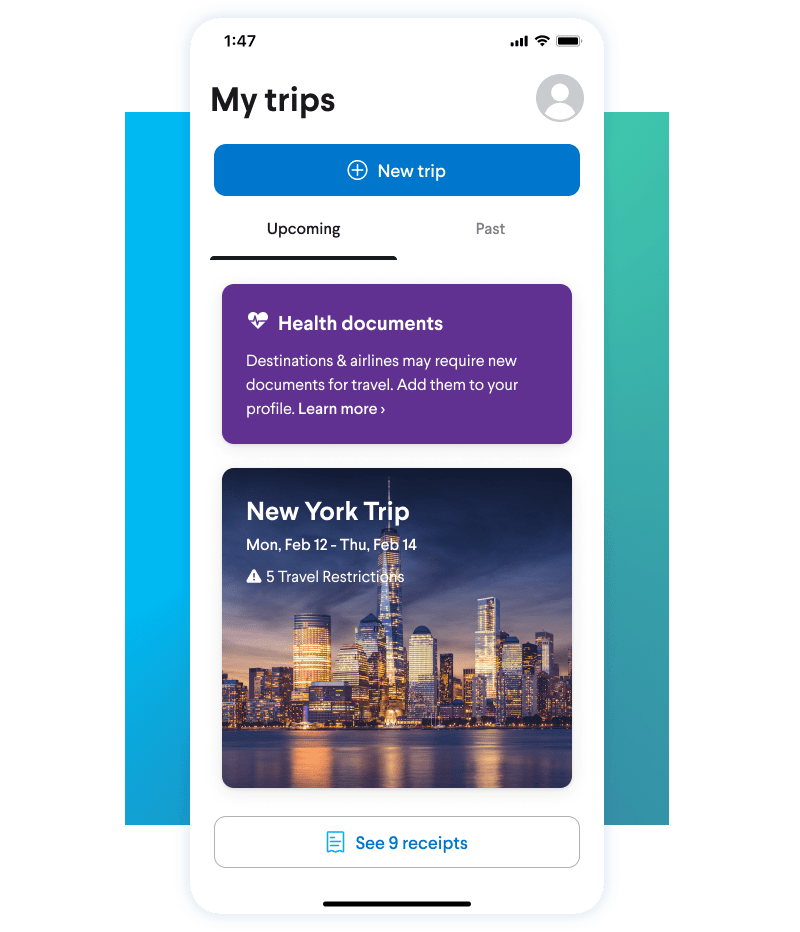 Automated COVID-19 change notifications
What is it?
Travelers now have access to automated notifications, designed to alert travelers when destination-specific restrictions change between booking date and the end of the user's trip.
Benefits
Stay up to date with the latest destination specific travel information
Passively monitor any changing travel restrictions
Read and review entry requirements that may have changed between booking and departure
How do you enable this feature?
Travelers can opt in for notifications at checkout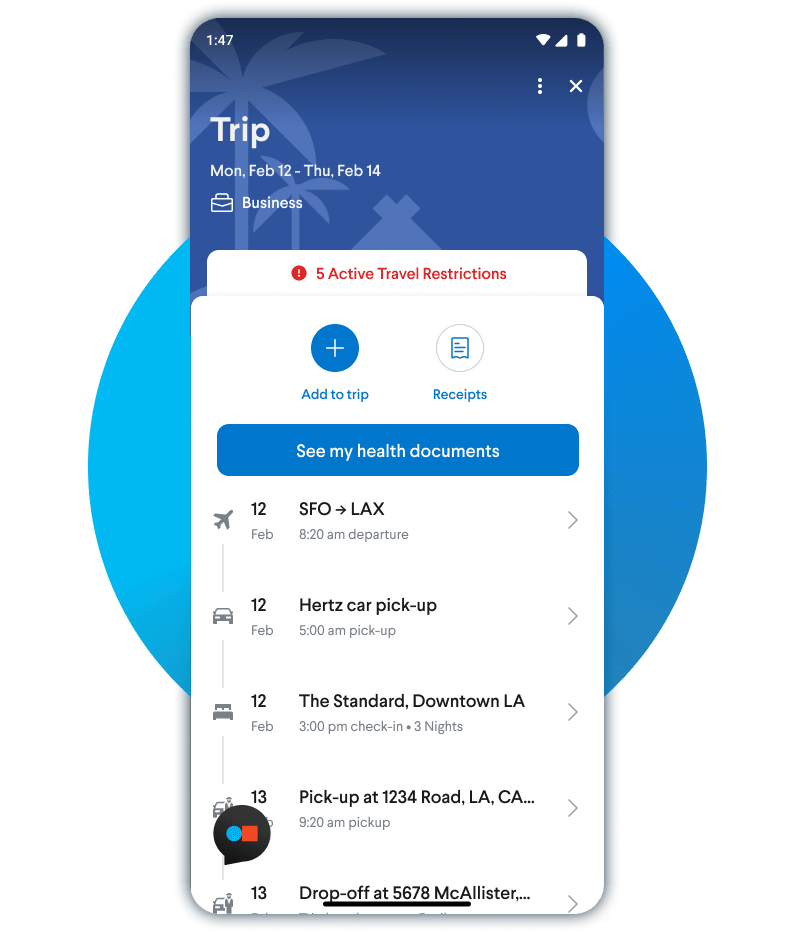 Soft Dollar Automation
What is it?
We automated the process of applying soft dollars to change fees and paid seats with United Airlines, Delta Air Lines and American Airlines.
Benefits
No more manual soft dollar management
Reduce air spend with less soft dollar waste
How do you enable this feature?
Ensure you have soft dollar funds available
Give TripActions access
Reach out to your CSM about getting enabled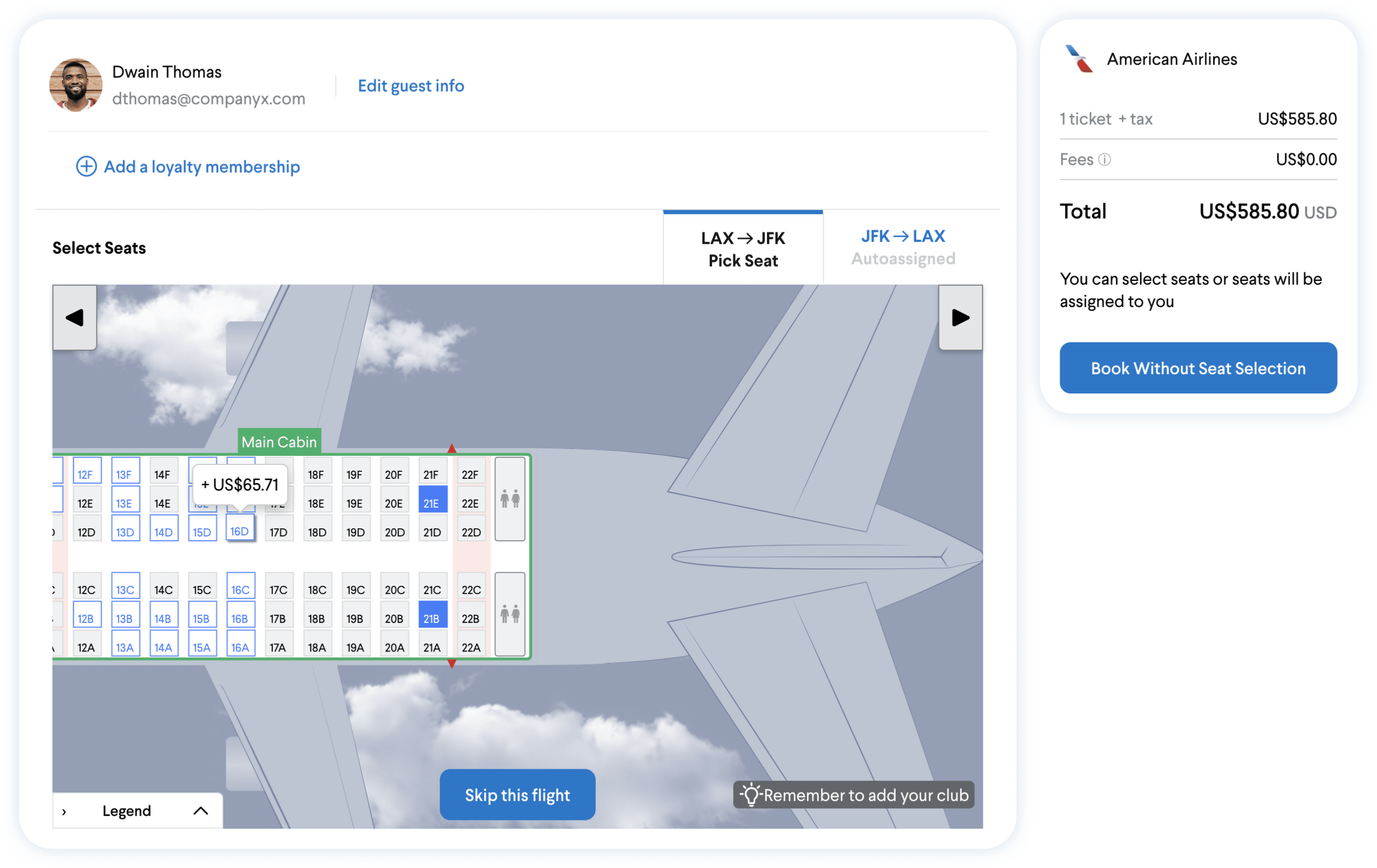 Unused Ticket Name Change
What is it?
The ability to move unused tickets from an ex-employee or guest to any current traveler. We'll automatically apply this credit to any new booking when possible.
Benefits
Avoid the complexity of moving unused tickets between employees
Be confident that all your credit will get used
Save time managing unused credits
How do you enable this feature?
Ask your CSM about what airlines are participating and if you need a corporate discount or loyalty agreement with that airline.
Then submit unused ticket details and we'll take care of the rest.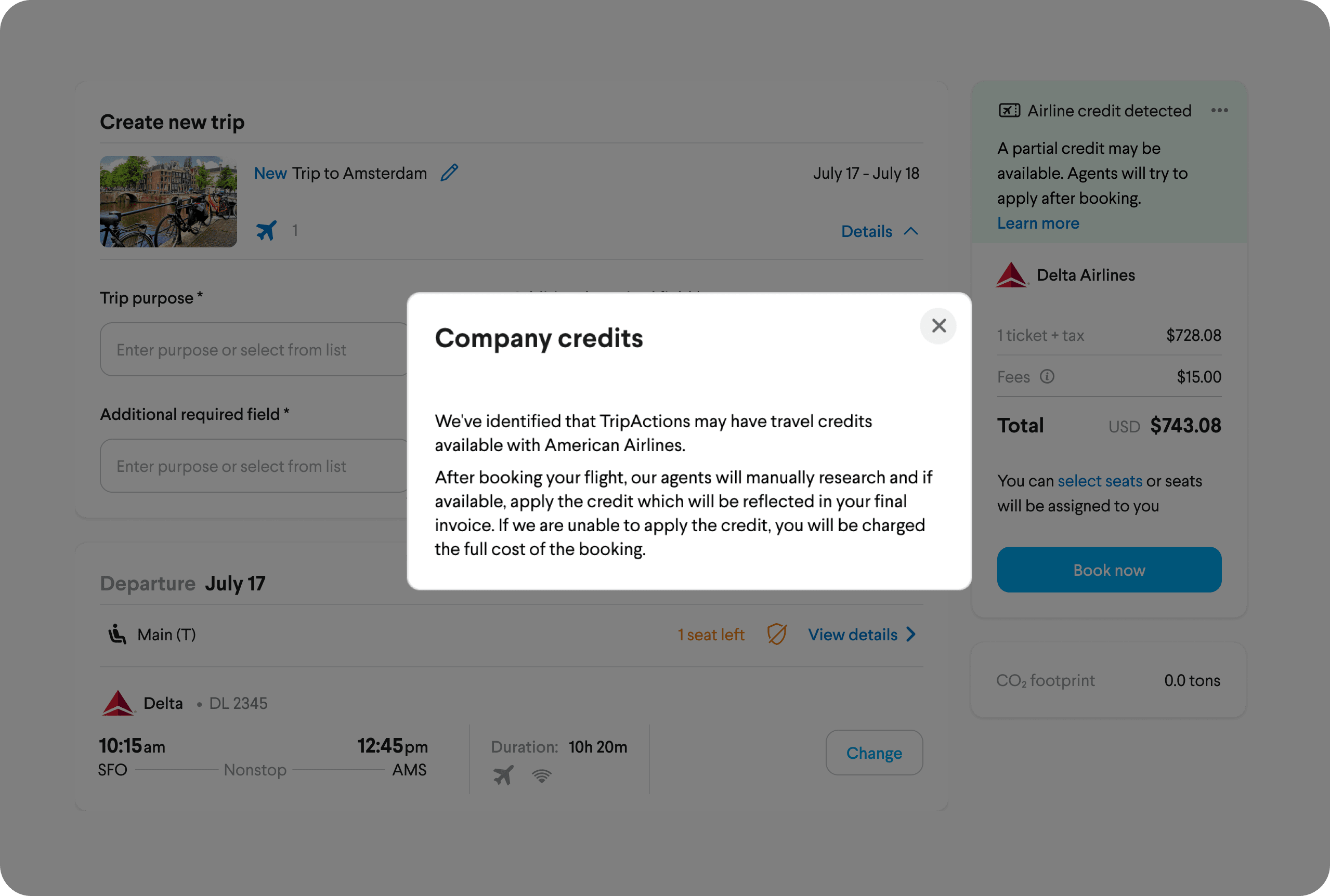 Team Travel Solution
What is it?
TripActions Team Travel empowers meeting and event organizers to create in-person group meetings in just a few clicks. The feature offers users a seamless self-serve experience and provides enhanced financial and duty-of-care visibility for managers. It's now easier to strengthen internal collaboration by bringing teams together safely and easily.
Benefits
Create and customize meetings and events for up to 20 people in just a few clicks
Estimate meeting and event budgets
Invite and guide travelers through the entire booking process
How do you enable this feature?
Team Travel is visible to all but only admins and managers can create events
Regular travelers can be granted permission to create events
Team Travel can be found on the home page as a dedicated tab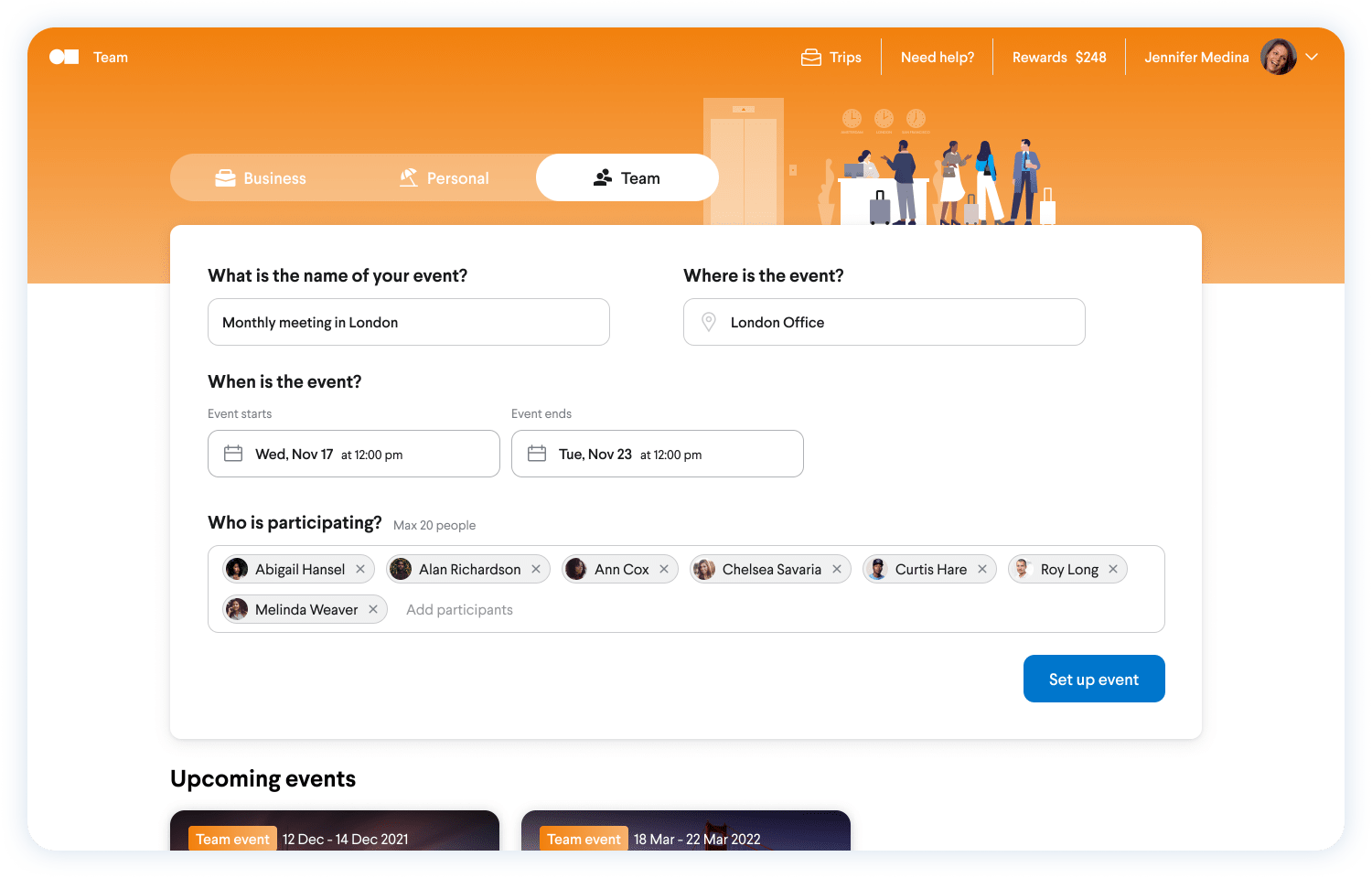 Carbon Calculator
What is it?
Report your company's carbon emissions using your choice of industry-leading methodologies: DEFRA, ICAO, and TREMOD.
Benefits
Freedom of choice for carbon emissions reporting
Use unique calculation methodologies for each mode of transportation: Flight, Hotel, Train, Car
How do you enable this feature?
Auto enabled, modifiable in the TripActions dashboard → Settings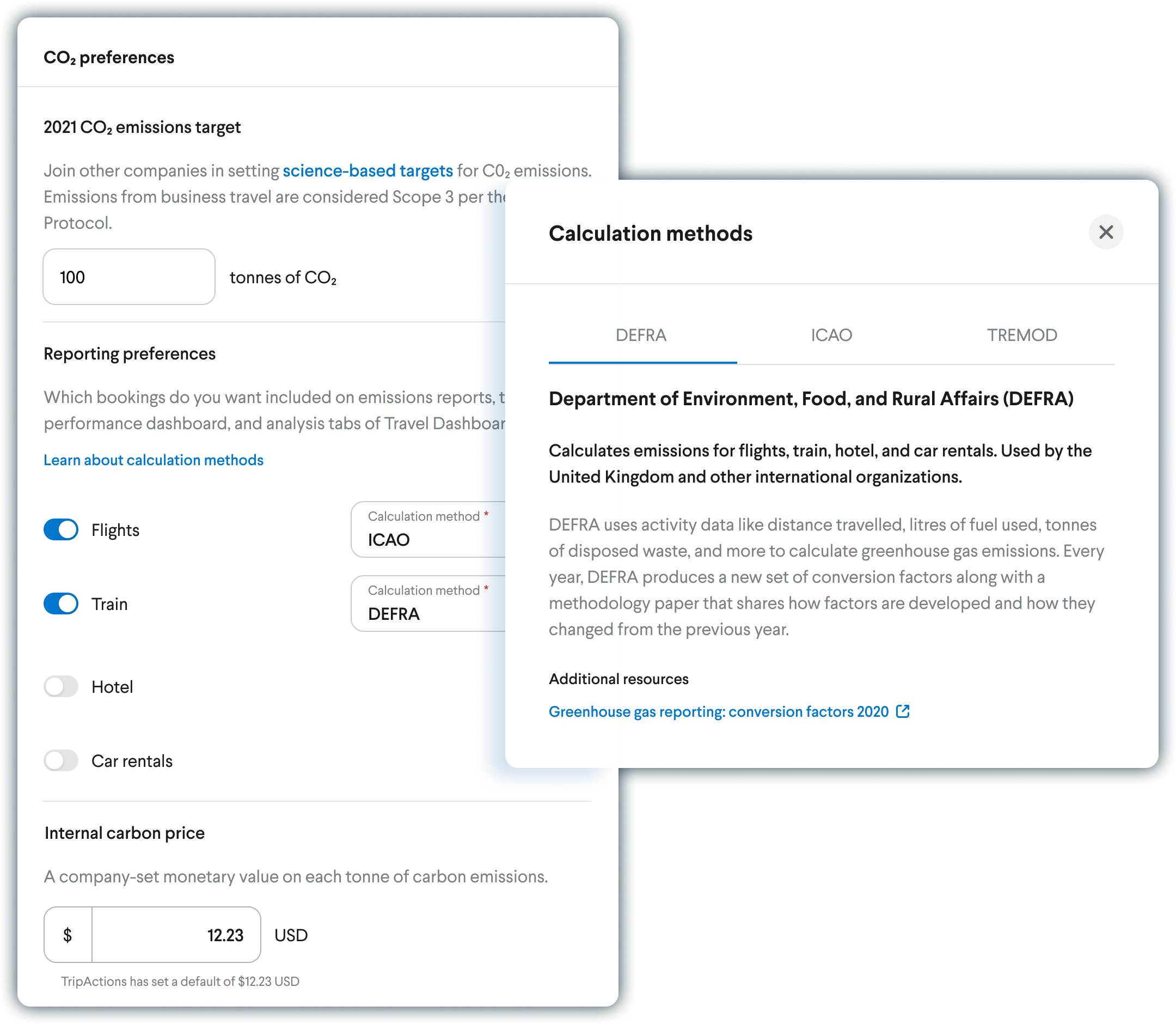 Carbon Budgeting
What is it?
Build annual carbon budgets and ensure your company meets its sustainability goals.
Benefits
Create a yearly budget and build plans to reduce your company's carbon footprint
Manage carbon offset cost expectations
How do you enable this feature?
Automatically enabled for all clients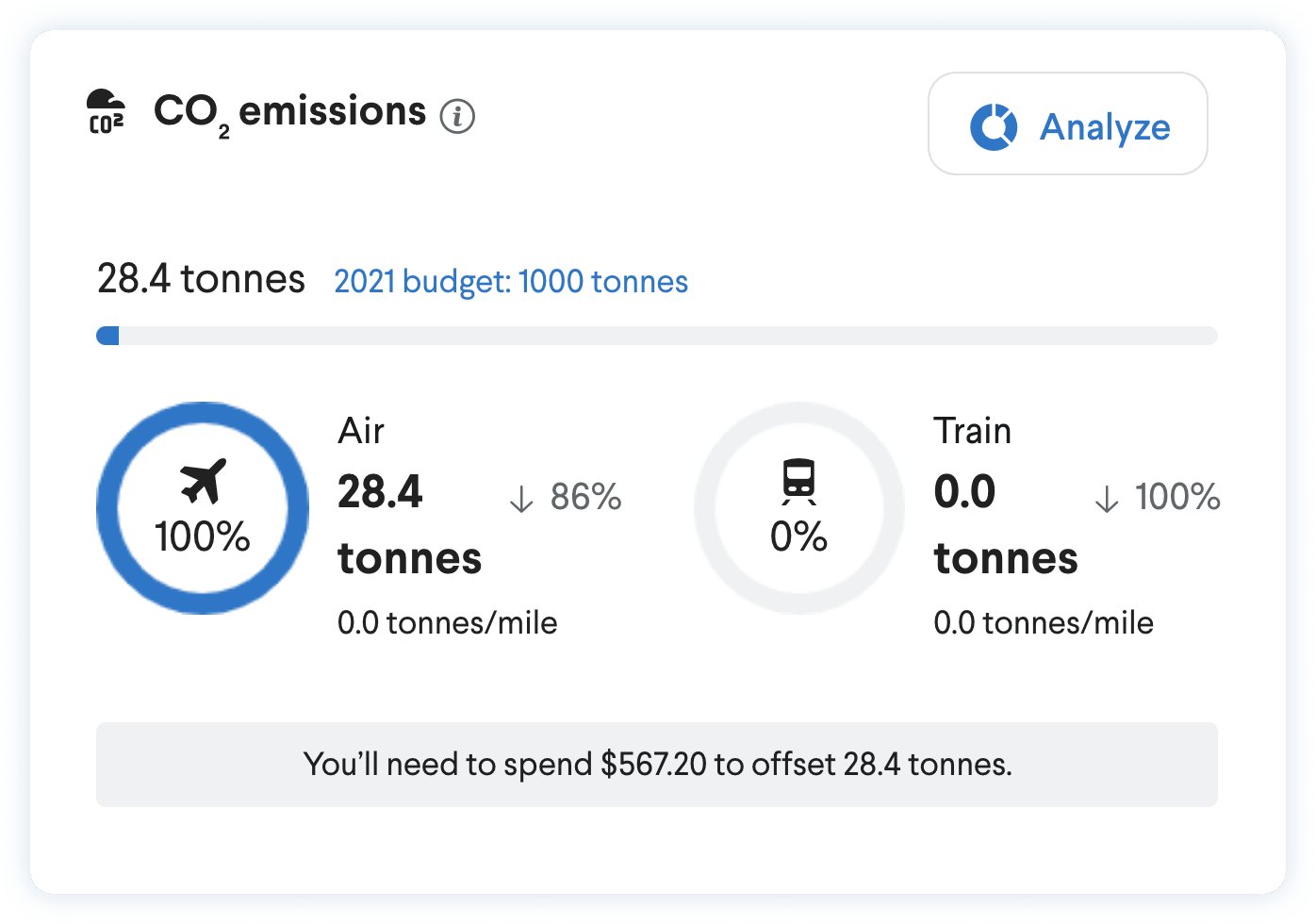 CO&sup2 Emissions Dashboard
What is it?
Analyze each employees, departments, and travel types emissions with real-time data accessible directly in the TripActions Analytics dashboard.
Benefits
Analyze your company's emissions with detailed, real-time insights
Identify top carbon spenders on an individual or department basis
Create a plan for carbon reduction
How do you enable this feature?
Automatically enabled for all clients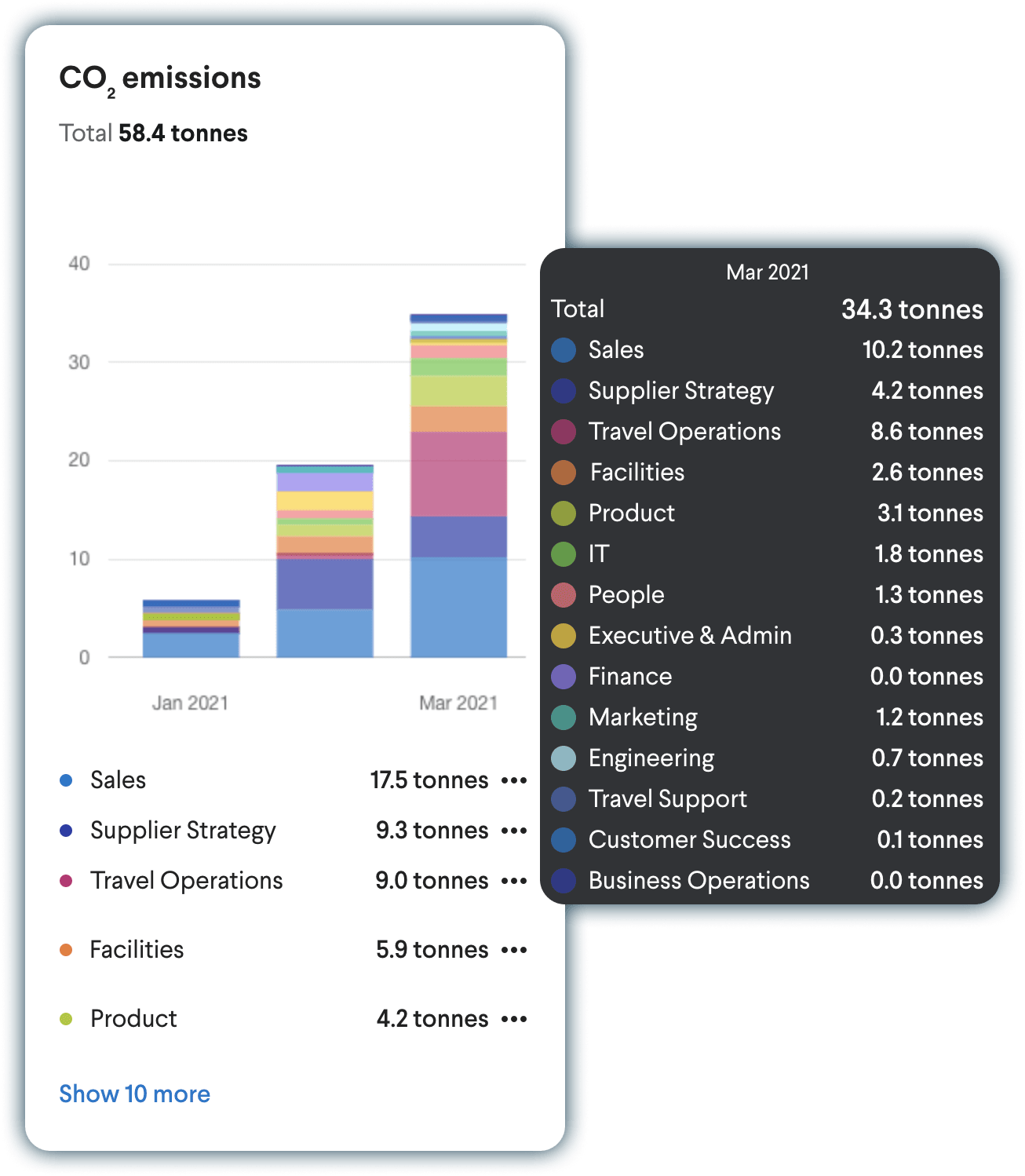 EUR Reimbursements
What is it?
Employees can now connect their European bank account (via SEPA) to receive reimbursements for approved manual transactions.
Benefits
Allows employees to get reimbursed in EUR via a SEPA (Single Euro Payments Area) transfer
Get paid back swiftly for all manually submitted expenses (typically 1-2 business days)
How do you enable this feature?
Employees can link their bank account within the "Profile" tab in their TripActions Liquid mobile app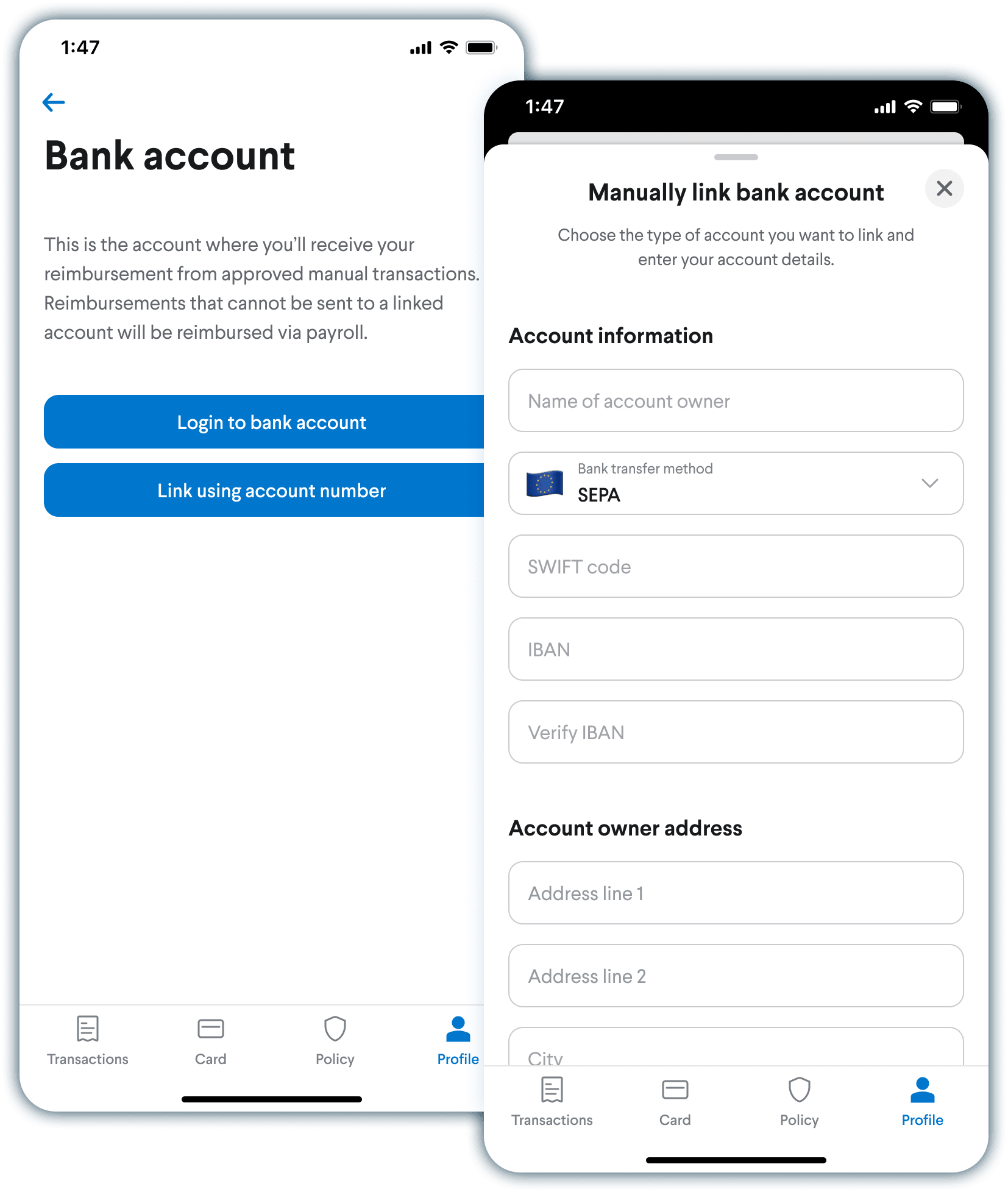 Credit Card Authorization (CCAs)
What is it?
Admins may issue a credit card authorization (CCA) form to authorize payments on the company's TripAction Liquid virtual card when travelers book pay-later hotels.
Benefits
Automate CCA delivery
Cover the cost of pay-later hotels
Support travelers with a seamless check-in process
How do you enable this feature?
TripActions needs to access the control panel to enable CCAs for admins.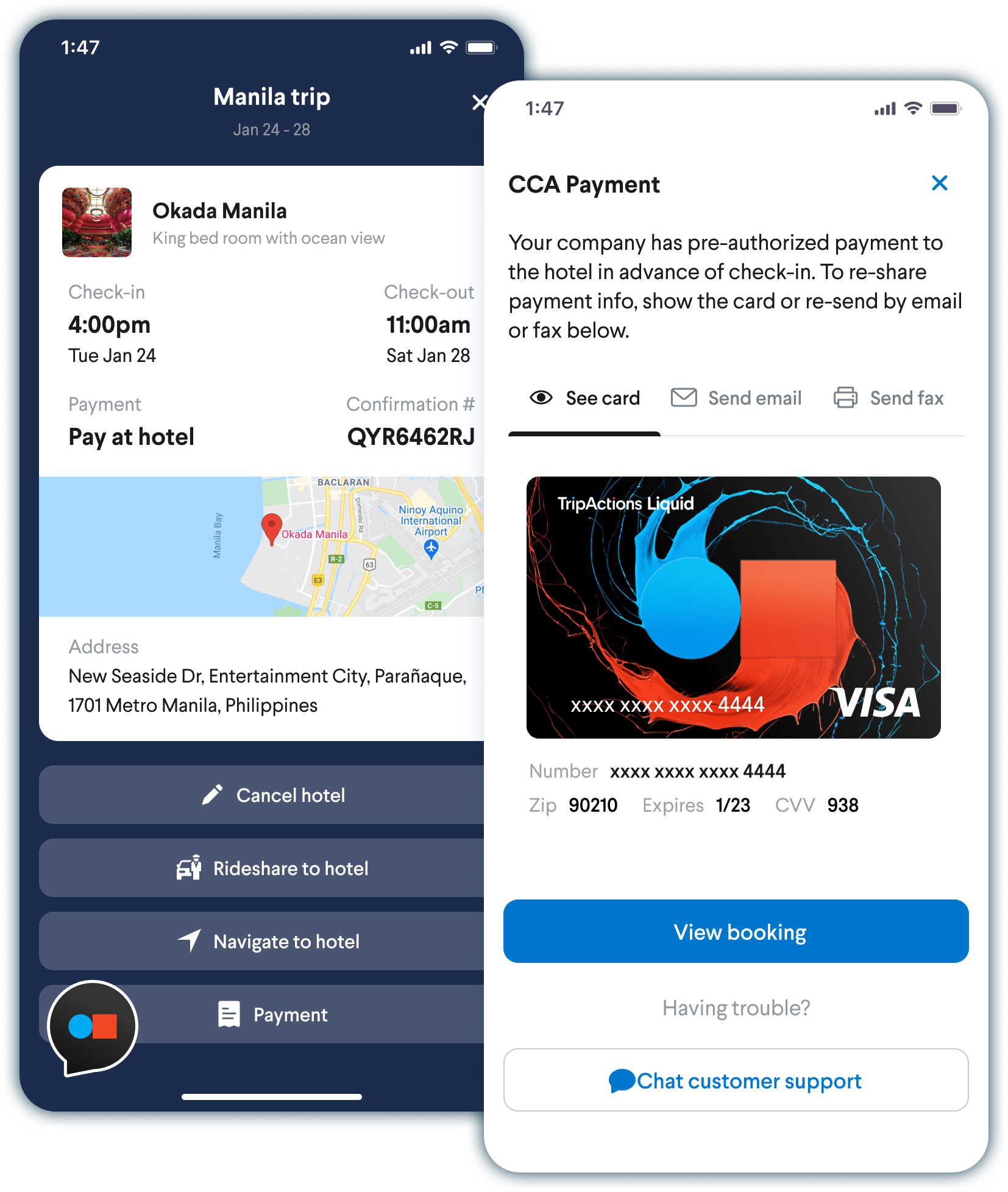 On-Demand Payroll Reimbursement Reports
What is it?
Admins can view and pull reports about transactions that are pending payroll reimbursements at any time.
Benefits
Give admins and users visibility into if and when a manual expense has been, or will be, reimbursed via payroll
Accelerate reimbursements to employees without a connected bank account
How do you enable this feature?
Admins can view transactions that either "Requires payroll reimbursement" or has been paid out under "Payroll Reimbursement" in the "Transactions" tab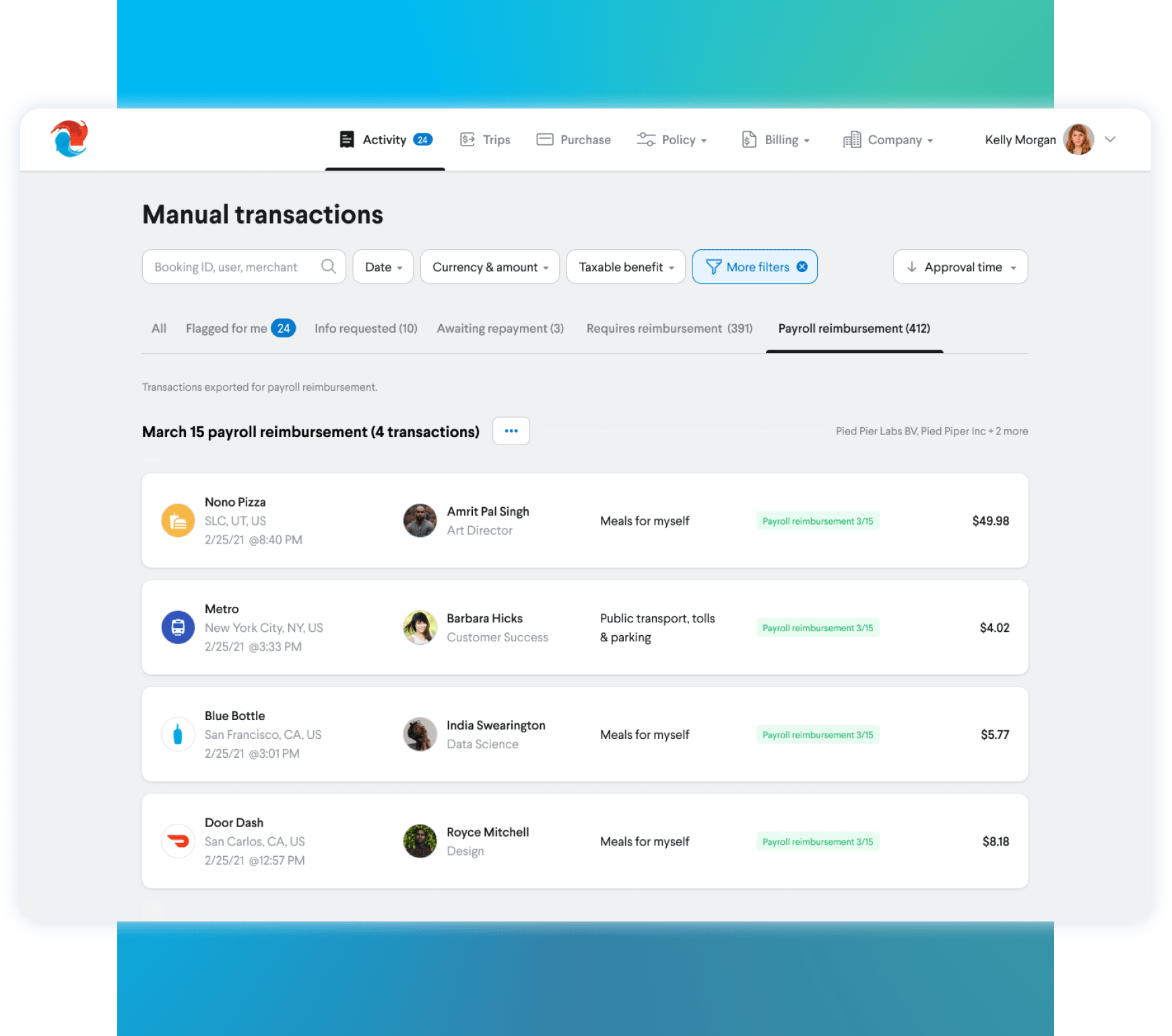 TripActions is helping you return to travel safely, save on costs and operate more sustainably.
Want to learn more about any of these new features? Click below to learn more