Return to blog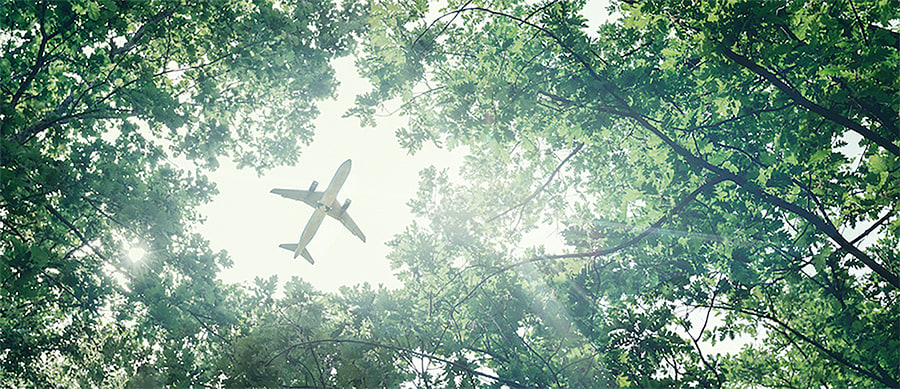 January 16, 2020
Aligning Business Travel with Europe's 2050 Carbon Neutral Goals
With the Paris Agreements calling on the EU economy to become carbon neutral by 2050, businesses across Europe are establishing ways to reduce their greenhouse emissions, particularly carbon. With travel, particularly flying, being one of the largest contributors of global carbon emissions, let's explore what it means to be carbon neutral, the airline carriers responding to these goals and how companies can mirror these advances for business travel.
The Agreement's core aims include keeping our global temperature rise to 1.5 degrees Celsius in this century and helping countries deal with the impact of climate change. To achieve these goals, it's crucial for us to reach carbon neutrality by 2050.
What does it mean to be Carbon Neutral?
Becoming carbon neutral means striking a balance between emitting carbon dioxide (CO₂) and absorbing it from the atmosphere. There are natural 'sinks' which remove carbon, like soil, forests, and oceans, but with our growing emissions rate they can only absorb up to 29% of our current global emissions.
This is why it is essential to create new means of absorbing carbon, take action and remove the stigma of leaving it to nature, as that is no longer enough. Businesses are being called to act and reduce their emissions, with regulatory requirements now calling for regular reporting on carbon and other gases. So what can you do to drive change in business travel?
Choose Airlines Acting on Carbon Neutral Goals
Despite business travel data not yet being required in regulatory environmental reporting, air travel is a huge contributor to carbon emissions and something to keep in mind from a corporate social responsibility perspective. Keeping track of innovators in the industry and sharing with travellers will help them make more environmentally conscious decisions in the future.
EasyJet: The low-cost carrier announced in 2019 that they'll be offsetting all of their jet fuel emissions. They announced that this will cost them around £25m next year, through donations to carbon offset schemes.
Lufthansa: The German airline carrier introduced a business fare option which automatically offsets European flights for corporate customers in 2020.
British Airways: As of January 2020, the UK legacy airline will offset carbon emissions on all its flights within the UK and place a cap on carbon emissions from international flights through the United Nations' carbon offsetting scheme.
Whilst solutions for green energy are also being developed, consumer rollout will not be for years to come -- so we're seeing solutions like carbon offsetting take precedence in industry solutions.
Carbon offsetting schemes are run on donations from individuals or companies alike, where their contributions pay to offset the equivalent number of CO₂ tonnes they've emitted. Schemes can include planting trees or funding renewable energy solutions that, in future, will absorb CO₂ -- you can explore our deep dive on carbon offsetting here.
Offsetting works well alongside any corporate social responsibility goals you have as a business regarding carbon emissions, something you might be keen on if travel is something your team are doing often. Offsetting solidifies your environmental values and drives morale internally as employees see their company working towards values they hold themselves. Despite this, it is important to remember that reducing trips is still the most impactful thing that can be done in cutting emissions.
How to Carbon Offset Business Travel
In order to offset, you'll need to find out the number of CO₂ tonnes you've emitted whilst flying. Carbon calculators are fairly accessible across the web; however, if you're a business with multiple employees on the go at any one time, this manual process is not sustainable from an admin or travel management perspective.
Corporate travel management tools like TripActions, simplify this process. Opting in to our carbon impact data feature means you can obtain real-time, company-wide reporting on CO₂ emissions generated for all flights taken. This lives in your TripActions Admin Dashboard and provides actionable data that enables you to purchase the equivalent carbon offsets through the organisation of your choice.
For additional visibility, travel managers receive comprehensive monthly reports that summarise their company's carbon footprint and offset target -- lending important insights that can help make bigger decisions. Whilst carbon offsetting is not a complete solution to tackle climate change, introducing tools, data, and mindsets that create transparency will begin to spark action first internally, externally and -- eventually -- globally.


Return to blog