Return to blog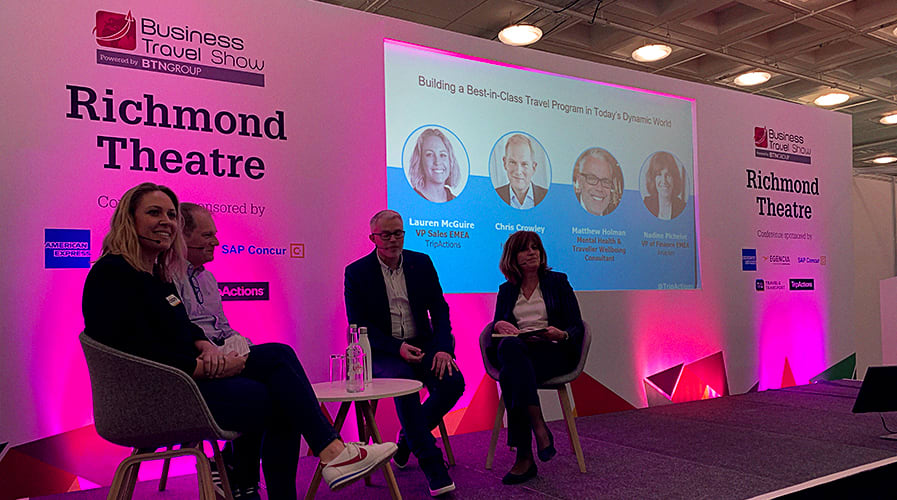 February 27, 2020
Business Travel Show Panel Takeaways: Building a Best-In-Class Business Travel Programme
Following our announcement of TripActions Liquid, we were excited to join the Business Travel Show and interact with the travel community at our booth, via live demos and in panel discussions.
Our kick off panel session was focused on the topic of building a best-in-class business travel platform in today's dynamic world. TripActions VP of Sales Lauren McGuire was joined by VP of Finance EMEA at Anaplan Nadine Pichelot, Mental Healthy & Traveller Wellbeing leader Matthew Holman, and Chris Crowley, Partner at Nina and Pinta Consulting. The panel covered traveller well-being, setting up corporate travel programmes and change management.
How To Build a Successful Travel Programme
Chris Crowley, as a consultant, is no stranger to building travel programmes that work. He explains that it's important to consider the different levels of maturity in the industry and that larger organisations will benefit from very different things than small or medium sized businesses. Understanding what it takes to build a successful programme all comes down to preparation - knowing the right questions to ask and putting the right processes in place.
It's important to consider that travel is a very large, diverse and emotive function within a business, due to the fact it encompasses employee safety, wellbeing, productivity and so on. This means that strong perspectives can develop when establishing a new programme, so it's crucial to run an internal engagement exercise before beginning the decision making process.
Following this exercise, it's useful to have a strong senior sponsor in the business who will support your mission and goals, like the CFO or of a similar level. Alongside this, take some time to really understand your business, what locations you operate in and of course why you travel. From here you can explore the data points that are essential to you and then move on to sourcing, procuring, consolidating and aligning.
"To write a travel policy you are essentially trying to combine financial compliance for the business, with the need to support traveller productivity and drive preferred supplier usages to make the business work." - Chris Crowley, Partner at Nina and Pinta.
Corporate Travel is Changing
Anaplan's corporate travel management process has changed dramatically as they've grown. Nadine Pichelot, VP of Finance EMEA, explains their journey from using a travel agency and intense email communications to implementing TripActions, an end-to-end experience in business travel. Anaplan's core goals were to drive compliance across the company in order to understand and moderate spend, alongside growing their duty of care capabilities. Through changing to a modern TMC, they managed to reduce their spend per person by 20% after having the data and platform they needed to track insights.
It's Time to Incorporate Wellbeing into Travel Programs
Matthew Holman has been in the travel industry for 20 years and from that experience is using his expertise to help guide companies in developing their travel programs to incorporate wellness. "The key element is simply remembering we are all the same. We're all human beings," Martin explains. "Develop a program to understand what humans need."
There are five ways to wellbeing that Martin shares with companies, the core employee takeaways on business trips should be that they grow, be reactive, learn, connect and be the best version of themselves. There is, of course, a focus on travel spend, ROI, savings and so on. But Matthew urges companies to ask whether they are encouraging employees to make healthy choices? It's possible to use data points to uncover insights that can help drive change.
"We become corporate robots. I'd go where they told me and I never thought about myself and my needs," Matthew says. "Put travellers at the center of the plan and ask whether they are getting the right support for their whole experience as a business employee."
Preparing for Change Management
Change management should be a structured process to facilitate the best results; set yourself clear and concise goals - knowing where you want to be in three months time will only help your success. The internal engagement discussions mentioned earlier in this article will help to develop considerations for travelling individuals and suppliers.
It's important to engage employees across the business in a variety of ways, from town hall meetings to creating content of interest to travellers - like health tips whilst on the road. Maintain good communication throughout employee trips and ensure they know who to go to if there is a problem or crisis. Create open feedback channels for your employees to provide feedback. Travellers will notice that you are listening.
"Companies think that traveller wellbeing is going to cost a lot of money - it's not. We need kindness and compassion, they don't cost money - just time." Matthew Holman, Wellbeing Consultant
Interested in hearing more from TripActions at the Business Travel Show? If you're attending the event, come visit the team at booth B322 or follow us on Twitter for live updates from the show.
Return to blog