Return to blog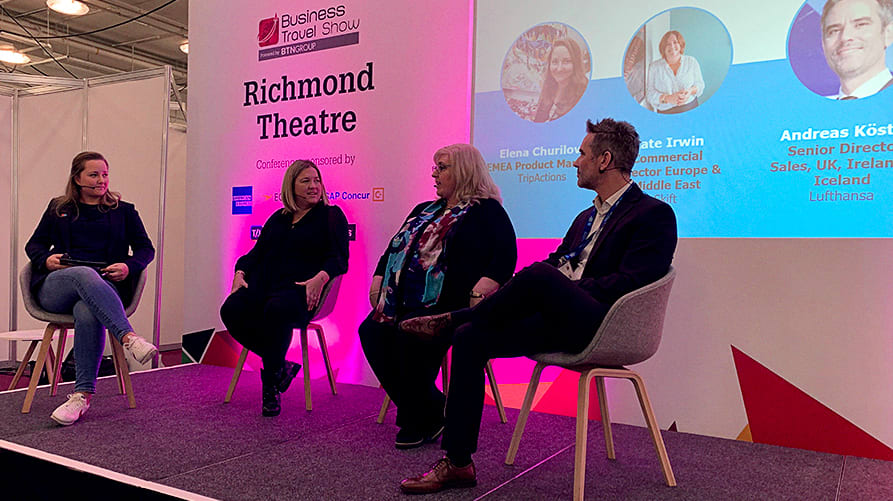 February 28, 2020
Business Travel Show Panel Takeaways: How Technology Can Help Make Environmentally Sound Decisions
TripActions was excited to host a second panel for the audience of travel industry professionals at the Business Travel Show on Thursday. In this session, we discussed sustainability in travel, a topic we're hearing more and more across the globe, but particularly in EMEA.
Elena Churilova, a Product Manager at TripActions was joined by a group of leaders in the travel space: Kate Irwin, Commercial Director of Skift EMEA, Sandy Mooring, Director of Education at ITM, and Andreas Koester, Senior Director Sales UK, Ireland & Iceland at Lufthansa Group.
Together they discussed what the current challenges are in sustainability, what has sparked change in the field, and what's to come in the future. Here's a quick recap of the session.
Sustainability is Evolving
Sustainability is not a new topic, however in the last two years it's evolved tremendously. Everyone is talking about it, from C-Suite execs, to travel managers to travellers, questioning what it really means to be sustainable. It's important that we look beyond flight shaming, and begin to look at the subject in a more holistic way - considering things like the length of a trip and the frequency of travel.
Kate Irwin shared a particular trend of interest around destination space. She explains that for many years, destinations have been focused on figures; for example, how many tourists can they attract. But now, with locations like Barcelona, Iceland, and Venice experiencing their own challenges from overtourism, the industry is beginning to recognise this and drive focus towards creating more sustainable destinations.
Kate Irwin of Skift summed it up nicely, "Protection and harmony of destination is imperative to the success of sustainability."
The Challenges of Change
Behind the scenes, there are many players that contribute to the running of an airline, like air traffic control, airports and so on. Lufthansa's Andreas Koester explains that it's imperative to get each of them onboard to facilitate change. "One of our biggest hopes for a greener future is sustainable fuel, which emits 80% less CO₂ than regular fuel. At the moment, it's only really available to a couple of airports globally. So, if airlines want it, they can't really get it and if they can it's really, really expensive."
Sandy Mooring of ITM agrees that there is a domino effect. "We're all in it together as an industry. It's important to make sure all links and chains are aligned to see change."
It's not just the corporate world that is adopting change in regards to sustainability, it's the social world as well.
Now, with a lot of fuelled conversation, it's common to stop and think how can we be sure we're doing the right thing. The truth is it doesn't matter -- sometimes you're ahead, sometimes you're behind -- but as long as efforts towards progress are being made it's a good thing.
Why the Corporate Approach to Sustainability is Shifting
One big factor is the change in reporting regulation, particularly in the UK and the rest of EMEA. "It's a requirement of HMRC to report on your emissions if you're a company of more than 500 people," Sandy Moore explains. "I believe that number will reduce and think that the future of reporting will see tax on emissions if you don't show year-on-year improvement."
From the perspective of an airline, Andreas expresses the industry need to minimise the environmental damage without jeopardising our responsibility to connect people in business. "It's our responsibility to connect people," he says.
Improving sustainability efforts is also a huge business opportunity, Kate adds. "It's important to recognise that 73% of millenials are making their decisions about travelling based on the ethics of the brand. They want to work for companies who are genuinely as concerned as they are about travel. They're now key decision makers, and they're choosing the environment they want to work in."
Is Carbon Offsetting Making a Difference?
The introduction of carbon impact data into travel management tools makes it easy for companies to create transparency of emissions, both company wide and as individuals. Carbon impact data shows tonnes of CO₂ emissions from journeys travellers have taken, calculating based on miles travelled and mode of transport. It then attributes a monetary price that can be paid to offset the same amount of emissions with a carbon offset programme.
Carbon offsetting is not an immediate solution to climate change nor does it make you instantly carbon neutral, contributions to programmes that plant trees for example, take time. It's important to do your research before investing in carbon offsetting to ensure your money is going towards a legitimate initiative. You can find out what to look for in this article.
Ultimately, embedding carbon offsetting into a travel programme process means you're educating employees on the impact of travel and that there are consequences. At TripActions we believe that changing mindsets is the prerequisite to implementing change and want to help our customers be more mindful about the way they travel. Our eBook, 'Taking Steps Towards Sustainability in Business Travel', breaks down what you can do as a business and as a traveller to be more environmentally friendly.
Return to blog