Return to blog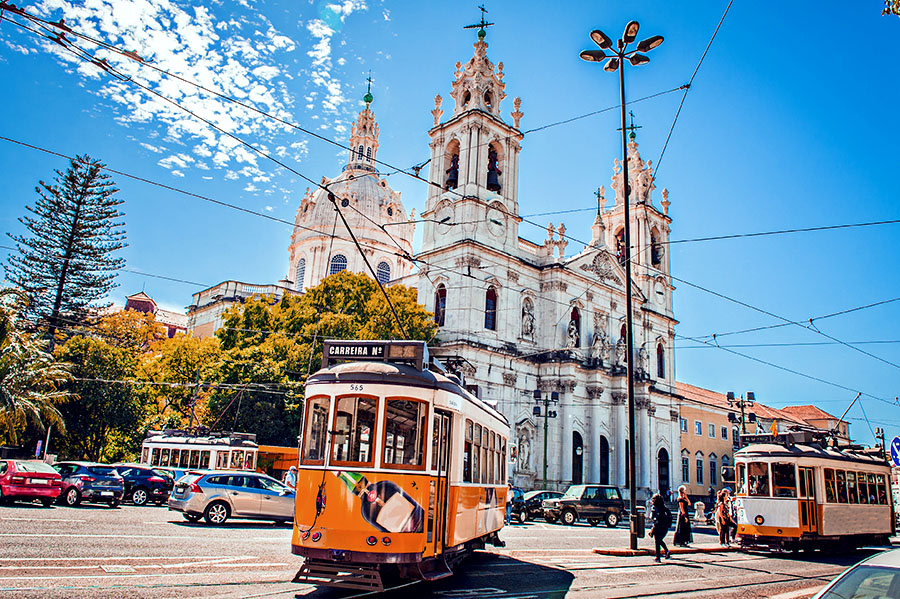 October 22, 2019
Business Travel Guide to Portugal's Lisbon & Lagos
A Business Travel Guide to Portugal's Lisbon & Lagos: Blending Business and Bleisure
With its cobblestone streets, tiled and colourful homes, and a seat in front of the sea, Lisbon is not the typical business travel destination. And although it doesn't often come up on business travellers' itineraries, it is host to a growing number of events and a diverse expat community. It will host Web Summit, one of the most respected Internet conferences in Europe, in November 2019. (Editor's Note: TripActions' co-founder and CEO Ariel Cohen, co-founder and CTO Ilan Twig, and CMO Meagen Eisenberg will all take the stage at Web Summit 2019.)
Lisbon has changed drastically in the past few years. A crop of locals and expats have brought new life to its neighbourhoods with boutique hotels, charming coffee shops, and iterations on global favourites like pho.
It is easy to get around the charming and compact city by foot. Visitors can buy a green 'viva via gem' card for the metro, local trains, and ferries. And they can get around to some destinations downtown by Tram, a highlight of Lisbon. In fact, the historic #28 tram that runs between Martim Monis and Campo do Orique is the most popular and gives visitors a cheap and quick way to pass through the centre of the city. The #15 tram is more modern and runs along the river to the Belem neighbourhood.
According to Roads & Kingdoms, the must-have meal for a traditional Portuguese experience is bacalhau à Brás, or salted cod, at Imperial de Campo de Ourique. Other picks to taste the typical flavours of the city are sardines, caldo verde (green broth with potatoes, collard greens, olive oil and salt), and pastel de nata (custard tart) from a pastry shop. One of the most famous and delicious in the city is Pasteis de Belem. It can get very busy with long lines, but we promise that it is worth the wait.
For happy hour with colleagues after a conference ends, head to one of the bars and restaurants around the Praça do Comércio. To get away from the bustle of city centre, TripActions content marketing manager Heather Lohmann recommends making a trip to the enchanting courtyard at Santo António de Alfama. Or head to Park Bar Lisbon in the Bairro Alto neighbourhood. It is one of Heather's favourite spots in the city with incredible views of the stunning sunset and a relaxed atmosphere. VP of Corporate Marketing Greg Perotto recommends Palacio Chiado, an XVIII century palace where you can select from a variety of kitchens and gastronomic concepts. All are perfect ways to wind down to a work day.
If nature is what you crave, São Pedro de Alcântara viewpoint provides panoramic views of the city from a quiet park filled with gardens, fountains, and statues of heroes and Gods from Greek mythology.
If you need a co-working space for an extended stay in Lisbon, Second Home is the place. With locations in Los Angeles and London, Second Home is an international home base, but business travellers can also pay for a special one-week membership in Lisbon during certain times of the year.
But enough of the city. Here's where to get out of town for a truly rejuvenating weekend.
A Weekend in Lagos
Although Lisbon is stunning, there is nature along the Portuguese coast that can calm and centre a business traveller's busy mind better than any metropolis.
Business travellers looking for that burst of bleisure travel can take a train or bus and arrive in Lagos from Lisbon in less than four hours. The cost is approximately 20 euros ($22) for each option. There are also multiple daily 45-minute flights, which can cost closer to 180 euros ($120). Amsterdam-based TripActions travel support specialist Henrique Mendes recently visited the seaside city of Lagos and shares what business travellers looking for a weekend escape need to know:
"Lagos is charming and cultured city with countless activities, glorious beaches, an active nightlife, incredible views, and a historical centre. Situated on the western Algarve coastline, Lagos provides the ideal base to discover the entire western sunny Algarve.
"Temperatures are perfect from early May to October allowing business travellers to enjoy the finest beaches on the peninsula after the summer crowds have left.
"Meia Praia is the largest beach in the area with four km of glistening white sand. Further south is Ponta da Piedade known for its series of highly weathered cliffs. Riddled with fabulous stone arches, grottoes, and caves, Ponta da Piedade represents the iconic views that sets the region apart. The best view is decidedly by boat.
"Lagos has small coffee shops, interesting restaurants, and lively bars on every street and square. There is an astounding selection of luscious, wholesome Portuguese cuisine and dazzling displays of fresh fish are a common sight.
"Although all of Algarve is worth exploring, Lagos is an idyllic location to touch the essence of the region in one or two days before business calls you back to the city."
Whether a business traveller books the first flight home to family, or takes the weekend to explore a city and its surroundings, TripActions is here to help. With a simple toggle, users can switch between their business and personal accounts and keep all bleisure reservations (and enjoy the same great support) in one place.
Return to blog