Return to blog

June 24, 2020
Business Travel Recovery Europe - 24th of June Update
I will be giving a weekly update on business travel trends as Europe begins to get back to business and travel safely and cost effectively. This is based on our internal booking numbers and might not be fully representative of business travel in Europe as a whole.
European Business Travel Recovery Continues to Outperform Global
While global recovery momentarily paused to catch its breath this week, European business travel recovery maintained a high growth rate with an impressive 35% increase in bookings week over week.
This is the second fastest week over week booking growth we have recorded since March and combined with last week's numbers, it highlights the restored confidence in business travel in Europe as businesses resume their business activity and plan ahead.
We expect the trend to continue and momentum to increase as long as travel restrictions remain lifted, sustaining businesses confidence to resume their operations.
Business travellers in Europe made almost three times as many bookings last week compared to the same period last month. The pace of recovery in Europe since mid-may is now significantly faster than in the rest of the world.
European Business Travel
Our average booking lead time remains short in Europe, close to 10 days on average. Most trips booked during the week of June 15 in Europe on our platform have start dates in June.
When looking at bookings by inventory type it is clear that cars have the shortest lead time. The majority of travellers (80%) will collect their keys in June. The remaining 20% in July showing an extreme negative correlation between bookings and date.
In comparison 65% of hotel bookings have check-in dates for June. With the remaining 35% spread between July, August and September. Worth noting, European business travellers seem to book UK hotels the furthest in advance with ⅔ of hotel check-in not due before mid july.
Flights see 44% of bookings with a departure date in June. The remaining bookings are distributed over a longer period. As we see booking numbers fluctuate across July, August, September, October and November.
Stats of the Week - Hotel Bookings Are Catching up with Flights
Last week we mentioned that flight bookings doubled in comparison to the previous week… well, this week... hotels grew the fastest. We saw no less than a 46% increase in hotel bookings while flight bookings increased by 10%.
Flight bookings continued to increase last week and even though the UK, Germany, The Netherlands and France remain the busiest countries flight-wise. The 10% growth week over week mostly came from an increase of air traffic in Scandinavia mainly between Denmark, Sweden and Norway.
In Germany, domestic flights continue to lead with the Netherlands, Austria and Switzerland as international destinations. The Netherlands - United Kingdom was the most booked international country to country air route last week with Germany - The Netherlands coming second.
Accommodation-wise, Germany remains Europe's top hotel destination booked on our platform for the third week in a row. France and the UK who were 4th and 5th last week, exchange their position with Italy and the Netherlands, and finish 2nd and 3rd this week.
While Germany and France hotel bookings are driven by domestic demand with most stays in June, in the UK inbound is driving demand with foreign travellers booking further in advance due to the measures still in place.
Poll of the week
I've been informally polling attendees during our Introduction to the TripActions webinar. Here are the results so far. I've asked them how they are currently thinking about their travel programme.
I've also asked them what their biggest concern was around restarting their travel programme. They overwhelmingly focused on how best to assess travel risk and keep up with information on restrictions.

This insight lines up with the results of my next poll question, which asks which TripActions capability or feature would most help you restart travel.
The COVID-19 dashboard, which brings together COVID-19 and travel data, was the most popular option.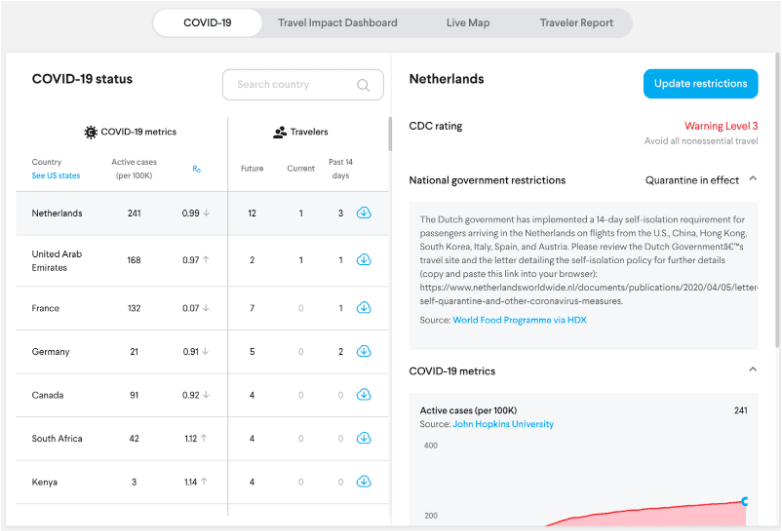 The Live Traveller Map and Traveller Report, which provide visibility into individual traveller plans, came in second. Live Traveller Map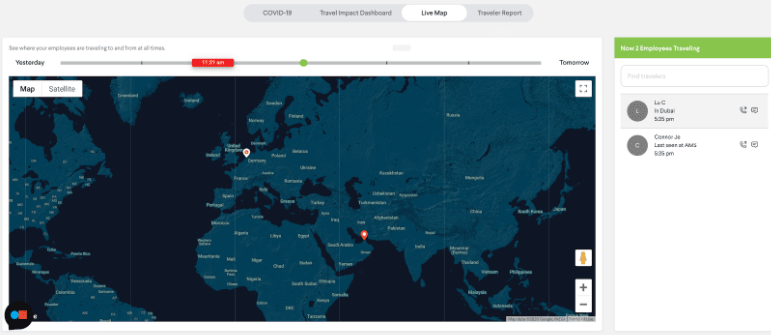 The Traveller Report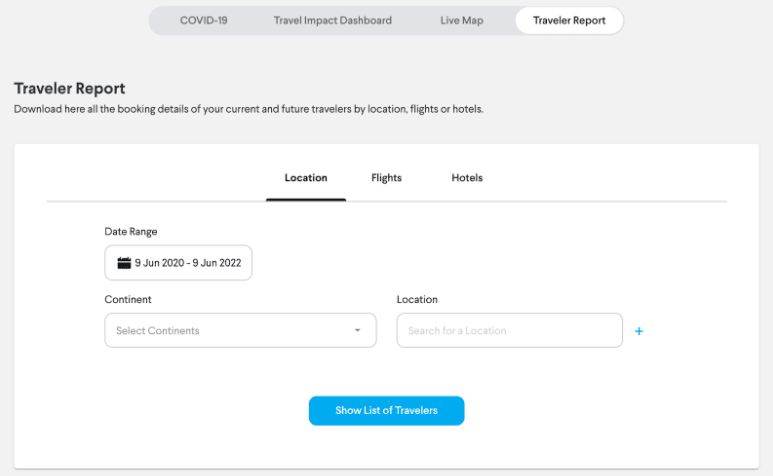 You can dig into the data yourself by checking out our TripActions Business Travel Recovery™ page and reading up on our predictions for the new reality of business travel in Europe.
Return to blog