Return to blog

June 4, 2020
Business Travel Recovery Europe 4th of June Update
I will be giving a weekly update on business travel trends as Europe enters a new phase of response to COVID-19. This is based on our internal booking numbers and might not be fully representative of business travel in Europe as a whole.
Business recovery started earlier in other parts of the world
Using April as a baseline, business travel remained stable in Europe during May (-2.7%) whereas it almost doubled globally (+77.5%), according to TripActions travel bookings.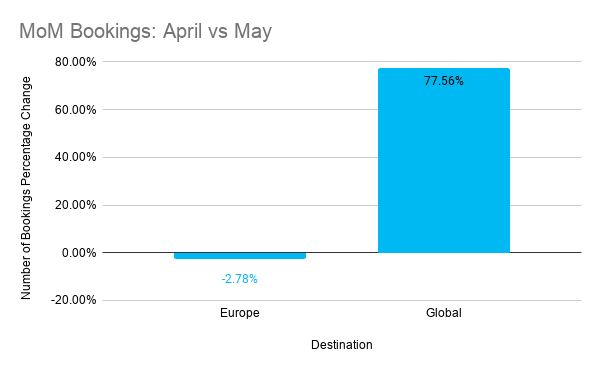 This trend can be explained by the majority of travel restrictions still in place in Europe. Some governments have started to ease their lockdown measures but it remains difficult to travel, especially across borders.
But things are starting to accelerate in Europe as of last week
Bookings on our platform recorded a higher percentage growth in Europe than they did globally.
Stats of the week
If we break down the bookings we see on our platform, hotel bookings are responsible for almost all of the growth, especially in countries where confinement measures and lockdowns have been particularly flexible.
The Netherlands has the most hotel bookings, followed closely by Germany. Living in The Netherlands, I can report that we haven't had the strict lockdown measures seen in some parts of Europe. Bars and restaurants started to reopen as of Monday (1st of June). Public transport and trains have never stopped running, providing you wear a mask while using them. Germany also eased its measures and companies are starting to get back to business, as reflected with the second highest hotel bookings. The UK comes third but activity is much lower than the other two markets, likely due to uncertainty over quarantine rules.
Looking at flights, numbers are still low so we shall take it with a pinch of salt. However, Heathrow is the busiest airport by far, both for departures and arrivals. Arrivals are mostly made up of transatlantic flights from the US. This was most likely due to people rushing to get back to the UK before the 14-day quarantine is implemented next week. The most frequent departures from Heathrow were to Paris Charles de Gaulle, Amsterdam Schiphol and Dublin Airport. Mostly intra European flights.
Poll of the week
Also this week, I informally polled individuals from the business travel world on the outlook for their travel programmes. Here are the results.
You can catch my weekly update live during the Introduction to TripActions webinar next Wednesday. You can dig into the data yourself by checking out our TripActions Business Travel Recovery™ page and read up on our predictions for the new reality of business travel in Europe.
Return to blog