Return to blog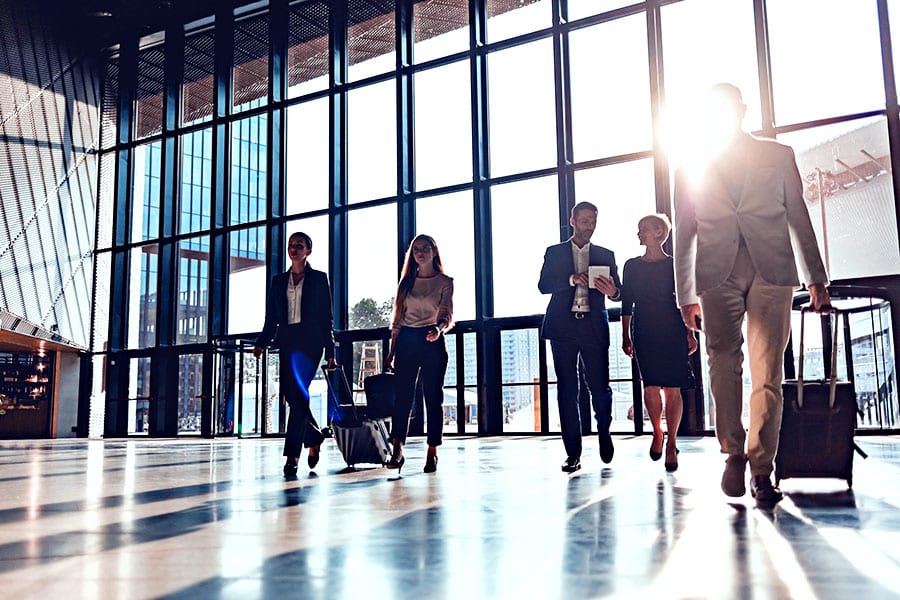 December 11, 2019
Data Will Be Key to Futuristic Business Travel
Business travel is undergoing a major transformation. The latest technologies are shifting how we book and manage business travel. The industry's New Distribution Capability will enable airlines to more efficiently pass ticket information to customers. Machine learning-fuelled personalisation will simplify and tailor the travel experience. And a mobile-first mindset will finally have taken hold.
It is fascinating to consider how further advancements will completely change how we travel. Using science fiction as a tool for predictions, futurist Dré Labre of the TBD Company explored what business travel could look like in 2032 during his session 'A Futuristic Vision of Business Travel' at TRAVERSE 19. You can register for TRAVERSE 20 now.
Throughout the coming weeks, TripActions is taking business travellers into 2032 -- which includes solar-powered autonomous transportation, friction-free airport terminals, and personalised hotel rooms -- to explore what might be possible through new technology.

Dré lays out a futuristic world in which business travel becomes a more eloquent dance between data and movement. It all starts with T.R.I.S.H.A -- the TripActions Responsive Intelligent Service and Hospitality Assistant charged with "taking care of employees on the front line and your bottom line too." T.R.I.S.H.A helps remove friction in business travel, for travellers, travel managers, and finance leaders alike.
Using data determined by the business traveller, T.R.I.S.H.A. is able to keep her business travellers on track, taking into account their professional and personal lives as well as their habits and health. Her capabilities are based on the data that business travellers constantly share through a bio-tracker.
"The bio-tracker is available as a wearable or implant and compatible with AuraAuthenticator - the best way to keep your private information private and to share and provision personal data with the people you love and the services you trust. This technology means you no longer need to carry cards or a digital device. You're constantly radiating an encrypted identification signal that can be shared with anyone or anything," explains Dré.
The bio-trackers track the business travellers' health so flight attendants can prepare an in-flight smoothie with the exact adaptogens that their body needs. It allows T.R.I.S.H.A to wake up the business traveller at the perfect moment in their sleep cycle, which we explained here.
AuraAuthenticator - on the other hand - has the potential to completely transform how we move through airports.
The airport experience can be one of the most harrowing moments of a business trip. There are strict time restrictions and the need to present passports, unpack laptops through security, and the question of what to eat. But this could all radically change in the future.
In 2032, Dré imagines that business travellers will walk directly to their gate after arriving at the airport in a driverless pod and working throughout the commute. In the friction-free terminal for business travellers, the traveller's AuraAuthenticator is scanned by passing detectors and sensors, removing the need for lines. There are many robots designed to do tasks such as security, cleaning, and therapy.
While we cannot whisk you through the airport without passing through security (yet), TripActions proactive global 24/7 365 travel agents are able today to anticipate problems before they occur and re-route business travellers to save time and frustration. Also like with TripActions today, machine-learning technology is able to learn business travellers' preferences and predict what travellers are going to book with 90 %+ accuracy.
We don't have to wait until 2032 to feel the incredible changes already happening in business travel. A combination of the latest technology and elevated standards is creating the ultimate win-win-win, allowing suppliers, corporate travel managers, and business travellers to work together towards unprecedented efficiencies and transparency. To learn more, get in touch with TripActions for a demo today.
Return to blog