Return to blog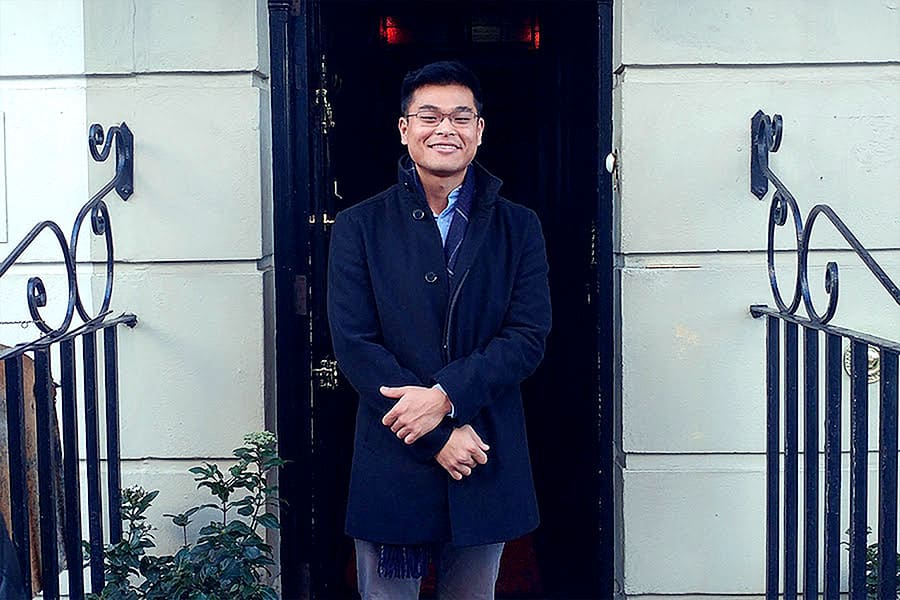 April 17, 2020
Flight Crew Series: Ruicong Yan on How Diversity Drives Innovation
Welcome to The Flight Crew Series where we sit down with our team members around the world to get to know them better. We talk about the careers that led them to TripActions, what their roles look like on a daily basis, why they believe in their teams, and even their favourite travel memory. The participants were selected by their peers for the incredible work, team spirit, and how they embody TripActions values. Read more from the series here.
This week we connected with Ruicong Yan, Team Lead of Global Business Operations, who moved from Palo Alto to Amsterdam last year to open TripActions EMEA HQ. He was part of the team that opened our international offices including offices in London, Sydney, and Amsterdam. Ruicong was one of the first people on the ground in each of those offices to set up the company's regional headquarters.
"It really feels like I've invested more than just my time, but a big piece of my heart and life into TripActions," said Ruicong.
The Road to TripActions
Ruicong joined TripActions three years ago as a CSM when the company was only 30 people working in Palo Alto. He previously worked in an implementation role where he was in charge of accounts for Medallia, which is a software for customer feedback management in the hospitality space.
"The concept was pioneered by Medallia and that's where I started developing my hospitality roots. My clients were all the major hospitality brands like Hilton, Royal Caribbean, Hyatt, and Delta Airlines. When the time came for a change, I wanted to do a similar role in the travel space and that's how I found TripActions early on," explains Ruicong.
"What sold me on the company was [TripActions Co-founder and CEO] Ariel. My interview at the time was with him in a coffee shop where we sat for almost two hours talking about his vision. Hearing him talk gave me a lot of energy and it was that energy that I felt I could get behind. It drove me to come to work every day and I felt like I was a part of something."
The TripActions product was still in its earliest stages of development and the customer success team played an integral role in developing relationships with early accounts and also understanding what the customers needed most.
"It also set me up to be involved in a lot of very critical junctures in our company. When we built the next big feature, almost all of it was driven by the need from our customers and the Customer Success (CS) team was their voice," says Ruicong who was exposed to each of the different aspects of the rapidly growing company. He knew the company back and forth and was excited when the opportunity arose to integrate these insights into building the company.
"Marketing was a team; CS was a team; support was a team. But there are a lot of bigger initiatives that fall across all of these functions that need someone or team to lead. That was what drew me to it. Of course, from a personal perspective, I was excited to expand my own exposure and horizons to just learn more."
*Gaining a Global Perspective *
Ruicong was still based out of Palo Alto, but started to travel frequently as the company opened its first offices in London and Sydney. As the company grew, Ruicong began to understand the true size and scope of the global corporate travel industry and just how important TripActions would be in its transformation.
"How should I describe our growth? I used to take surfing lessons and the wave just carries you forward. That's how it felt. There was so much momentum internally within our own teams and also from the market. It was so clear that what we were doing so obviously resonated well with everyone that we talked to. I could feel that energy. We were a Palo Alto-based Silicon Valley startup, and most of our customers at that time were forward-thinking software companies and startups so it felt, in some sense, very insular. But once you step out and you feel that same energy in other industries and across geographies around the world, that's when I realised what we were doing wasn't just a tech thing," explains Ruicong.
"We weren't going to be just a Silicon Valley company or the TMC of choice for tech companies. I think seeing it from another market, especially in Europe, gave me a different perspective on just how big the market opportunity actually is. Travel as I knew it already seemed like a beast to take on. If you include Europe and Asia, that's a whole different world. Being on the ground in the beginning, talking with new customers, really felt like back to being a CSM again. It was a very awesome opportunity to help everyone understand where we were in the market and how much opportunity we still had left. And despite our tenure as a company in the travel space, I noticed how immature some of our competitors were in their thinking about how to handle travel. It's night and day with some of the legacy solutions. It's just so obviously in need of a transformation."
His role evolved greatly over the 3 years and his current role as team lead of global business operations is most closely aligned with the product team. Ruicong's team essentially serves as the voice of the customer. All customer feedback about the product is triaged and reviewed by his team first. The ground swell of bottom-up feedback arrives to his team first who can bring those insights, in addition to feedback from executives and industry stakeholders, to create the right product roadmap.
"I'm really happy to be able to contribute to a portion of the process," says Ruicong.
A Cultural Shift
Ruicong relocated to Amsterdam one year ago right as the TripActions EMEA office was opening. Ruicong was in charge of onboarding product and engineering team members while also connecting them with the energy and perspective of HQ back in Palo Alto.
The most important elements when opening a new office were the physical surroundings, the team members that came from HQ, and the first few key hires in each market.
"It was so crucial that those first few key hires were the right cultural fit for what we wanted to bring. When we had a difficult decision to make, we always went back to asking if what we're doing is the right thing for the user -- the right thing for the customer that we're serving?"
It wasn't the first time that Ruicong watched cultures and perspectives mix and merge to create something wonderful. He was born and raised in Shanghai, China, and moved to the Bay Area during middle school. He thought that he had experienced what it is to live in a multicultural world, and then he moved to Amsterdam.
"I always thought that San Francisco and my background was a great melting pot of different cultures, but Amsterdam is on another level. My team has individuals from Italy, the Netherlands, Serbia, and China. I've never had a team that was that diverse before," says Ruicong.
The diversity present in the team helps leadership reconsider their assumptions and approach a problem from multiple perspectives. The impact of having teams located in each market is evident in the product and has evolved over time.
On a personal level, moving to Amsterdam from Redwood City was a huge lifestyle shift for Ruicong and he's eager to take as much from the experience as possible.
Looking Ahead
While the corporate travel industry that Ruicong has operated in for the past 3 years changed dramatically last month, he is hopeful and excited for the future. He knows that TripActions has a foundation that will only bring innovation and growth to the current situation.
"No one has a template for what this will look like. You can only fall back to the framework of how you address a situation or look at a situation," says Ruicong.
"At the end of day, we're humans and our company exists because we're serving other humans. Our entire business is based on people travelling to see and connect with other humans. As we can keep that in mind and allow each employee to have that freedom to act in that way, we'll come out of this stronger than we were before," says Ruicong.
Culture is an integral part of what makes TripActions and allows us to work together to innovate quickly. To learn about how we're supporting travel managers, finance leaders, and HR professionals during this unprecedented time, see here.
Return to blog