Return to blog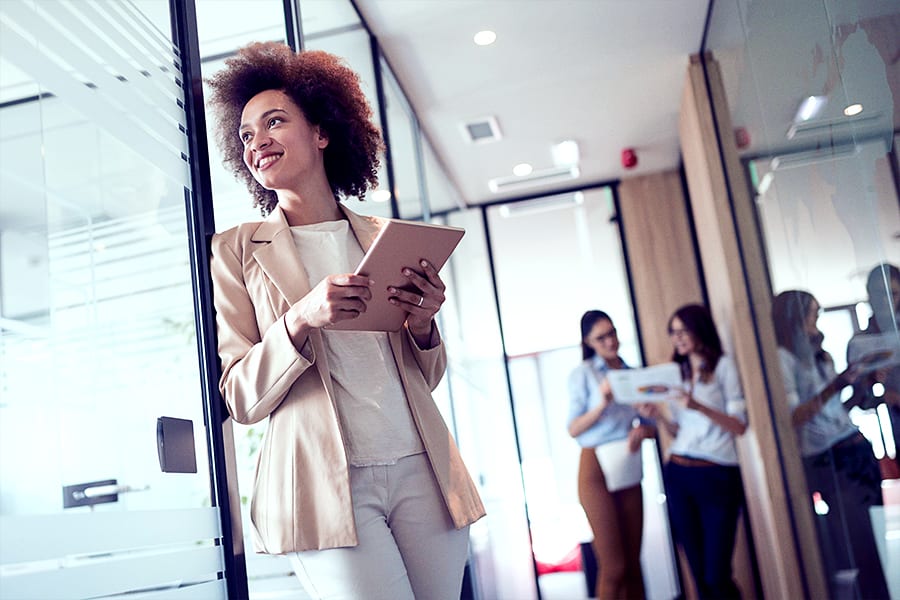 August 6, 2020
Enterprise Travel Managers No Longer Have to Compromise
The role of the travel manager has changed significantly in the past decade. Travel programme administrators operating in enterprise organisations throughout the past six months have been particularly affected. In addition to the traditional responsibilities of overseeing their organisation's travel programme and policies, enterprise travel managers today are tasked with leading the charge around ensuring duty of care, driving cost savings, delivering 24/7 support, and ensuring employee health, safety, and satisfaction.
Enterprise travel managers have risen to the challenge, but their has forever changed To be effective in today's reality, they require real-time data and flexible modern T&E tech to be able to protect travelling employees and control costs to save money, especially in support of their organisation's path to business and economic recovery.
The good news is that it is possible today for enterprise travel managers to embrace these new responsibilities of managing T&E to control costs without sacrificing employee experience -- all while supporting their organisations' growth trajectory up and to the right.
The enterprise travel managers of today and tomorrow are leading the charge within their organisations when it comes to digital transformation and building an internal culture that's data driven with intense focus on employee health, safety and satisfaction. They are charged with facilitating the visibility and control needed to optimise their travel programmes and policies to ensure every dollar spent delivers positive impact to the business. Thus, they are in the best position to champion the power of data that's accessible through a smart, sophisticated, and modern technology partner.
Increasingly, enterprise travel managers are working in conjunction with finance teams, operations leaders, and HR professionals to understand how to retain and attract talent in a competitive and changing market. Human capital is an integral factor in driving growth in uncertain times. That means in addition to cost savings, enterprise travel managers must keep employee satisfaction with their travel platform top-of mind.
Data-Driven Decision Making
Controlling spend as well as increasing visibility into expensing is a process that must begin with a foundation of data. This is especially important at a moment when organisations must be more mindful of their spending than ever before. Spend control and cost savings comes down to data access and quality.
As an enterprise travel manager, how can you track down where your organisation's cash is flowing if you're not starting with data? Clean, accurate, trustworthy data gives you a holistic view of who's spending effectively and who's not so you can target opportunities for improvement.
Data-driven decision making is a priority for every enterprise travel manager and it starts with getting visibility into where your spend is at any given time. Only sophisticated, centralised, tech-forward tools will give you access to the financial and organisational data you need in real-time to back up crucial decisions. This is an important step in crafting new policies and deciding what permissible travel looks like for your organisation.
Business Travel for Growth
Enterprise travel managers understand the importance of business travel — and protecting the ability to travel — in driving long-term performance. Enterprise travel managers are in the prime position of ensuring that systems are in place so that business travel can be leveraged as a strategic mechanism for growth.
Corporate travel traditionally made up 10% of controllable spend; while that number is currently lower, it's critical to measure the ROI of your company's investment, and exactly where and what it's spent on, to drive cost-effective business growth in the new normal.
Enterprise travel managers are also stewards of company culture and it is their responsibility to deliver an exceptional corporate travel experience that allows leaders across finance, HR, and the executive suite to gain control over travel data, get visibility into spend, and collect valuable insights into T&E programme performance.
While it may seem counterintuitive at this moment in time, investing in an overwhelmingly positive experience for your employees will help the bottom line as you rebuild your travel programme and your employees head back on the road. When employee adoption is high, you gain visibility into planned spend, expense reports, and more — sooner rather than later.
With the right tools in hand and a perspective that goes beyond straight travel management, enterprise travel managers can champion better business outcomes through a modern, traveller-first corporate travel, payment and expense programme.
Return to blog