Return to blog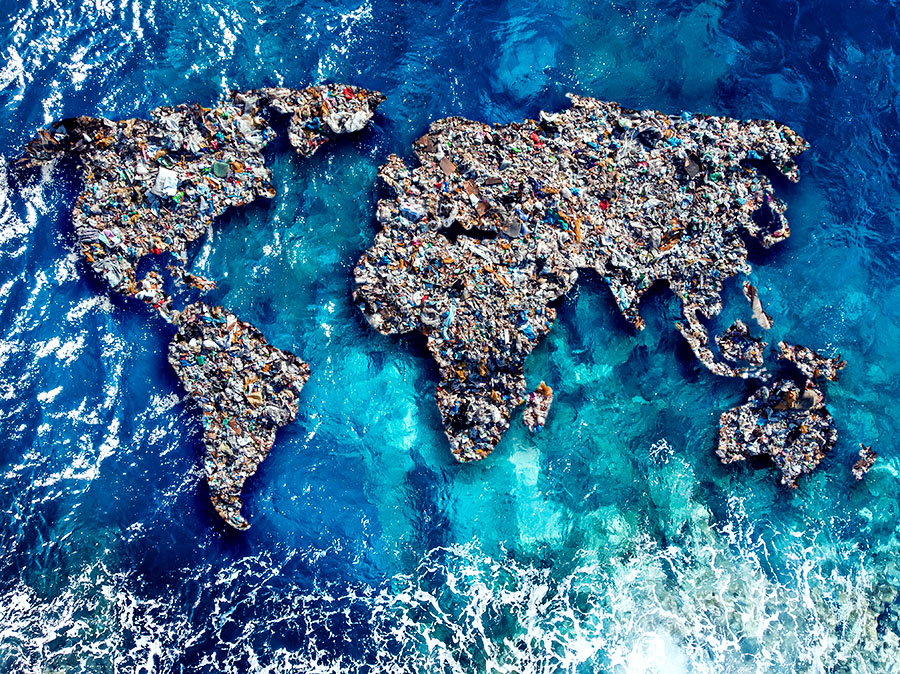 January 23, 2020
How to Travel With Less Plastic
Business travel is a strategic lever for growth and a critical part of building a thriving business -- but it comes at a cost to the planet if we're not mindful of its impact. Carbon offsetting has emerged as the primary channel with which to offset the impact of frequent air travel on the environment. Earlier this year TripActions announced that its corporate travel management solution would enable customers to opt in to monitor their carbon footprint from corporate travel. We're on board with business travellers' desire to drive towards more environmental sustainability in travel.
A September 2019 survey of more than 1,200 travellers by TripActions found that 80 % of travellers are very or somewhat concerned about the impact of business travel on the environment and 61 % of travellers think it is important for their employer to offset their business travel.
In addition to becoming more conscious of how we fly, there is another simple step that business travellers and the teams that manage them can take to reduce the environmental impact of our travel: Quit single-use plastic.
In 2019, it is estimated that eight million tons of plastic will end up in the world's oceans. Single-use plastic is prevalent today in every part of the travel experience. But as road warriors become more conscious, we can make different choices with our behaviour and spending power to make real change.
Here are five tips to reduce or quite single-use plastic as a business traveller:
Bring your own water bottle… and utensils.
This might seem like outdated advice as we approach 2020, but the number of plastic water bottles still consumed throughout the travel cycle is astounding.
The first major airport to ban plastic water bottles was San Francisco International, which announced in August 2019 that airport restaurants, cafes and vending machines could no longer sell single-use plastic water bottles -- following a 2014 rule that banned the sale of plastic water bottles on city-owned property. The airport sold approximately four million plastic water bottles per year prior to the announcement. The shift away from plastics is part of SFO's broader industry-leading initiatives to cut net carbon emissions, reduce energy use to zero, and eliminate most landfill waste by 2021. Travellers will have to buy refillable aluminium or glass bottles if they don't bring their own.
But it is not just water that you can take care of without plastic. By bringing your own reusable utensils and containers, you can completely eliminate all plastic used when eating out or on the go.
Choose your products wisely.
Strategies to combat jetlag and improve wellness and mental health on the road have become popular topics in the business travel community -- and new tools are emerging to assist business travellers in feeling their best. Companies that require employees to engage with frequent business travel are also looking for ways to further support their team.
One new product is tackling business traveller wellbeing and low-impact packaging to create a culture shift in flying. Local Time created powered packs of micronutrients to be taken before, during, and after a flight to help business travellers rebalance their body from the inside out. Not only are their travel-inspired formulas crafted with organic ingredients, but Local Time packaging is designed to be 100 % compostable. The bio-based packaging material, made primarily of pulp cellulose, is certified compostable for home and industrial facilities. It's designed to break down naturally, in a short period of time, and fully biodegrade whether put into a home compost bin, an industrial composting facility, or open landfill.
"We're serious about reducing waste and committed to seeking out the best packaging solutions for the integrity of our formulas and the environment. Because travellers have little control over the waste facilities available at global destinations, it's on us to package our products in materials that can be safely disposed of, anywhere in the world," says founder Gabriela Delano-Stephens.
These are the kind of products that business travellers can champion by voting with their dollars, aligning personal wellness with environmental good.
Understand how hotels are doing better.
Businesses today understand the importance of choice when it comes to business travel. Through a modern corporate travel management solution, they are offering employees more choice when it comes to their hotel selection, which means business travellers have the flexibility to choose hotels not only based on price and perks but on which hotels' practices and processes align with theirs.
Marriott International, Hyatt, and IHG all pledged to replace small individual bottles of shampoo, conditioner, shower gel, and lotion with large-format bathroom amenities. The hotels have taken other steps such as eliminating single-use plastic straws and drink picks and discouraging the use of single-use plastic bottles of water by increasing the number of drinking fountain-type water stations.
Ben Pundole, VP of Brand Experience at Edition Hotels and founder of A Hotel Life, launched the Stay Plastic Free initiative. His efforts encouraged Marriott International to remove all single-use plastic from thousands of hotels worldwide. EDITION is going even further by replacing all key cards with mobile entry or a plastic alternative by the end of 2020, removing all plastic products with EDITION's mini bars, and switching plastic toothbrushes to bamboo.
Industry media and watchdog Skift started covering the travel industry's addition to plastic in a new series Travel Beyond Plastics. But there is still so much to be done. Road warrior Joseph Paulas, Director at e4, posted a photo on LinkedIn of all the unused products that he collected from 100+ hotel stays in a single year. The post received more than 5,000 "Likes" and more than 500 comments.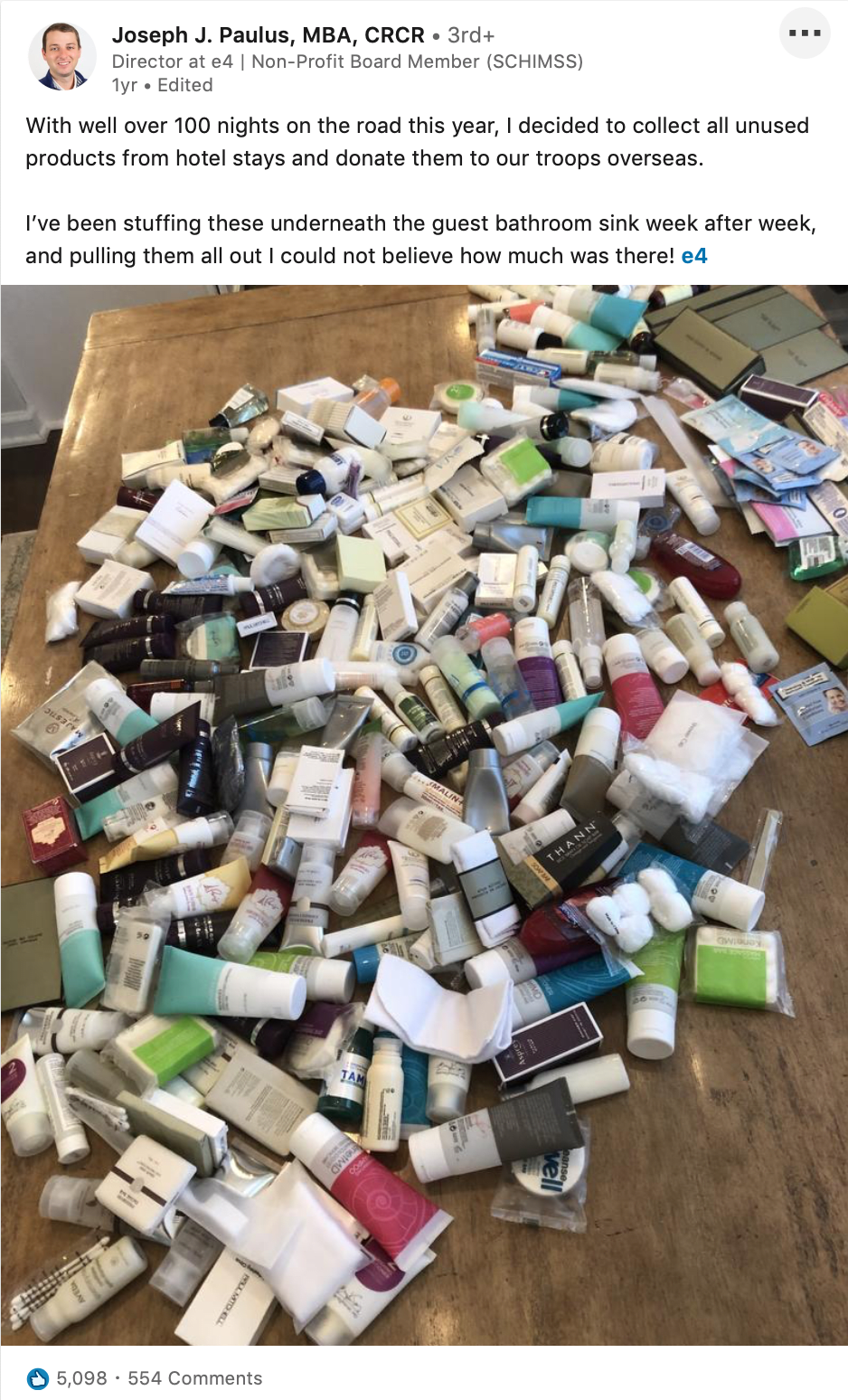 Raise awareness of rail companies who get it.
Rail companies are becoming more aware of their impact as well.
Britain's Network Rail, which operates some of the nation's busiest stations, is banning plastic cups and cutlery at its stations beginning in 2020. Canada's Via Rail began to reduce single-use plastics in 2018, replacing plastic straws and coffee stir sticks with paper-based and wood-based substitutes, and plans to place a country-wide ban on single-use plastics in 2021. Amtrak in the United States is actively working to find alternatives to all plastic use.
Skip the in-flight meal.
Plastic is present throughout the in-flight experience, and poses an interesting challenge to airlines: Plastic is lightweight and therefore helps minimise the plane's emission of carbon dioxide. The heavier the plane and its contents - even metal forks count - the more CO2 burned. However, airlines are starting to become more conscious of their impact. Delta has a long-term goal of eliminating single-use plastic, Etihad Airways tested bamboo and wooden cutlery in its search to replace plastic, and RyanAir is in the process of sourcing alternative packaging to be rolled out in-flight by 2023.
TripActions is committed to becoming more conscious around the impact of our travel. We're excited to support this movement with the business travel community and our customers, partners, and suppliers.
Return to blog