Return to blog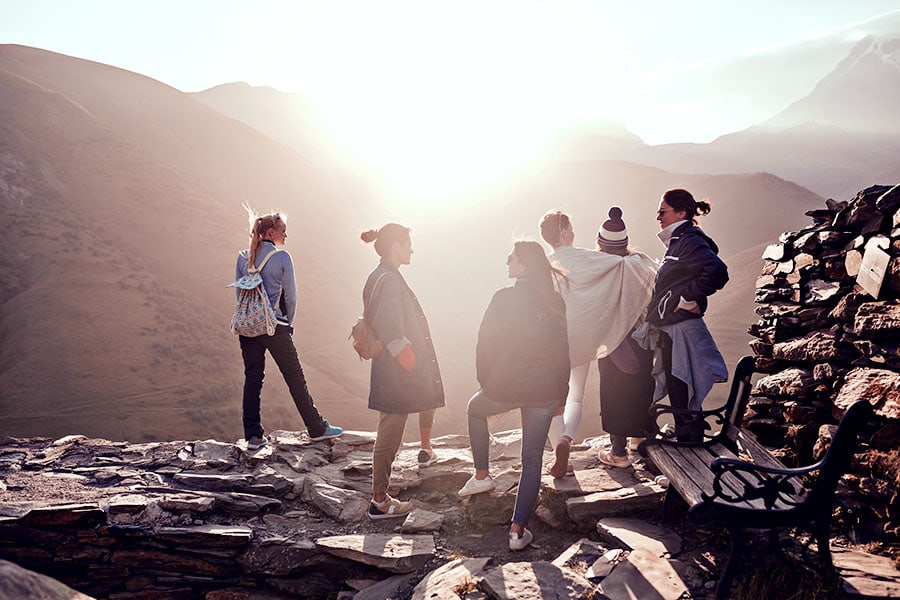 December 16, 2019
ICYMI: 5 Highlights from #TravelSkills Twitter Chat
Over the last decade, technology has fundamentally changed how we travel -- including how we connect with fellow travellers and corporate travel industry leaders, like in the latest #TravellerSkills Twitter Chat. Hosted by Chris McGinnis, travel columnist and TravelSkills founder, and Johnny Jet, one of Forbes' top 10 travel influencers, the weekly #TravelSkills chat features tips on the latest tech, travel hacks, best promotions, biggest travel news stories, and more.
TripActions was thrilled to join Chris and Johnny Jet for the second time as co-host and sponsor last week to talk about the tech that makes business travel easier. This was a particularly special #TravelSkills chat as it was the last one in 2019.
Johnny Jet joined the conversation from Los Angeles where he had recently returned after a trip to New York for The Points Guys Awards. Chris McGinnis joined the chat from San Francisco where he had just arrived after a week in Japan. And the TripActions team joined from New York, Palo Alto, Seattle, and San Francisco.
The conversation covered the tech trends that we expect to see in 2020, the most important gadgets and technology that we rely on for business travel, and what we're hoping to see more of next year. Read on for some of the most fascinating insights from our travel community.
A1: Do you consider yourself a tech-savvy business traveller? Explain!
A1: I suppose I am. I carry the essentials I need. Laptop & cord, phone with charging cable and backup battery pack, and outlet adapters where applicable. I usually have an extension cord for hotels as well. #TravelSkills

— Paul Thompson (@FlyingPhotog) December 13, 2019
A1 One of our favourite travel apps right now is Mobile Passport, which allows you to complete a digital version of the standard customs declaration and to enter customs through a dedicated window at the entry port. #TravelSkills https://t.co/GjCjTorhmR

— Travelzoo (@Travelzoo) December 13, 2019
A2: What travel tech trends do you expect to see emerge in 2020?
@TripActions A2 I think more and more places will adopt cash-free and paperless travel. Travellers will rely heavy on credit cards and facial biometrics. #TravelSkills

— JohnnyJet (@JohnnyJet) December 13, 2019
A2 #TravelSkills: Our vision is 2020! 🤓@TripActions empowers customers to achieve carbon neutral operations by offering the ability to opt in to receive carbon impact data at the corporate and traveller level, and offset their footprint. Learn more: https://t.co/lj6fZDnRrh pic.twitter.com/3QpXlEvOwa

— TripActions (@TripActions) December 13, 2019
A3: Besides your smartphone, what's the most important gadget you travel with?
Can't travel without the @Apple #AirPodsPro @Engagio pic.twitter.com/uzDEO3C5SL

— Meagen Eisenberg (@meisenberg) December 13, 2019
I have an iPhone, but I also have an iPad that's very handy for working on a cramped airplane (which is pretty much all of them these days). I can't open my laptop and work on most flights, but I have a portable keyboard for my iPad that's great. A3 #travelskills #Apple pic.twitter.com/CztJLh37IG

— Jim Byers (@JimByersTravel) December 13, 2019
A4: How does technology simplify your business travels?
A4 Apps like @TripActions can really help with putting travel plans together- great if doing multiple trips! #TravelSkills

— Andrea Feczko (@AndreaFeczko) December 13, 2019
#travelskills Technology gives me the gift of time. What used to take hours can sometimes take minutes!

— Paul M. Berliner (@pmberliner) December 13, 2019
A5: How does new technology help you get around while on a business trip?
TripActions completely changes how you travel. Business travellers no longer need to stand in long lines if something goes wrong, such as a flight cancellation, because they can quickly make hotel or flight changes on their mobile phone via chat, email, or phone call to one of the live travel agents. On average, TripActions travel agents answer within 60 seconds or less.
A5: @googlemaps, @uber and @lyft have helped getting around a new destination much easier. Also apps relating to local transit service for tracking arrival times and changes. #travelskills

— Michele Herrmann (@micheleherrmann) December 13, 2019
A5: I seriously don't know how I drove anywhere before Waze or walked around a new city with Google Maps. I get lost VERY easily, so they're literally a lifeline #travelskills

— Matt Long (@LandLopers) December 13, 2019
A6: What apps do you use to track, find or remember places to visit?
@TripActions A6 Facebook. I always share my travels with my friends and relatives and sometimes if I can't remember where I stayed, I look it up there or in my handwritten journal that I still use. #TravelSkills

— JohnnyJet (@JohnnyJet) December 13, 2019
A6 I have to admit.. I use instagram to find places to go! Yes- I am a sucker for Photo FOMO! #Travelskills pic.twitter.com/eMPQ1w7ImX

— Andrea Feczko (@AndreaFeczko) December 13, 2019
A7: Do you use any wearable tech devices? How do they improve business travel?
A7 #TravelSkills I recently bought the Apple Watch 4. It gives me weather, Starbucks card, tickets. It complements the phone well. pic.twitter.com/WcxwAXPc6k

— AOK (@aokNW) <a href="https://twitter.com/aokNW/status/1205543039432712192?refsrc=twsrc%5Etfw">December 13, 2019
A7. Wearable tech? I have a Matrix Powerwatch, which syncs to my phone and draws power from your skin. Most, importantly there's a high-tech alarm that tells me when Happy Hour is. ;-) <a href="https://twitter.com/hashtag/travelskills?src=hash&refsrc=twsrc%5Etfw">#travelskills #travel pic.twitter.com/nY7dgpNOjf

— Spud Hilton (@SpudHilton) December 13, 2019
A8: How has technology changed you airport experience? What's your favourite high-tech airport and why?
Everyone joined the chorus on the life-changing impact of expedited security passes (link) such as Clear, TSA Pre-Check, and Global Entry.
@TripActions A8 It's very cool seeing facial recognition used at passport control (vs human agents) in many airports around the world. Downside: no passport stamps. :-( #TravelSkills

— Chris McGinnis (@cjmcginnis) December 13, 2019
A8: Probably in ways I'm not even aware of and the airports in Asia are of course the most amazing #travelskills

— Matt Long (@LandLopers) December 13, 2019
A9: What's your favourite technology you've seen when travelling that you wish they had everywhere?
Johnny Jet remarked how his favourite technology seen while travelling is mobile payments. He recommends that business travellers alert banks that they are travelling before departure, to carry multiple cards, and to pay in local currency for better exchange rates at point of sale.
A10: What gadget or gizmo are you most excited to give or receive this holiday season?
A10 I wish that someone could register me for Clear & TSA Pre-Check because I haven't done it still! #travelskills

— Samantha Shankman (@SamShankman) December 13, 2019
A10. I am hoping Santa brings me noise-cancelling headphones. Pretty please #travelskills

— Dana Freeman (@DanaHFreeman) December 13, 2019
Return to blog